Jewish World Review August 1, 2003/ 3 Menachem-Av, 5763

Marianne M. Jennings
On the Sponge Bob Male and mandatory supervision
http://www.NewsAndOpinion.com | Two obvious eternal principles gleaned from recently revealed NBA extra-marital affairs and/or fornication are: (1) Never trust the people you're cheating with, whether we speak of corporate officers busily sautéing the books or NBA stars having their way with 19-year-old concierges trotting to their rooms after The Tonight Show has begun, MST; and (2) Deceptive activities percolate and bubble over the cauldron sides, the mess being uglier the longer the boiling in the dark, as it were, lasts.
Not to put too fine a point on this, but Kobe Bryant is a moron. He is, however, not alone among men cursed with a dearth of neurons. Michael Jordan, Mike Tyson, most of the Dallas Cowboys, Hugh Grant, Dick Morris, Bill Clinton and a host of other sports figures, politicians, and rappers with Escalades and 20-inch rims believe that, unlike others who have gone before them, they will somehow navigate the sexual frolic tightrope, negotiating that fine line between love and rape, between having a clandestine affair and being Greta Van Susteren's nightly topic.
Gentleman, check your bank accounts at the car, hotel or Oval Office doors, because that fine line cannot be walked without toppling and there is no safety net. Somehow the message of risk is not making its way into men's brains or libidos.
The humiliation of national news revelation of the untoward conduct is only the beginning. When push comes to shove, and it apparently it did in a few of these encounters, the finger pointing and lawsuits begin. Rolls-in-the-hay, hotel room, car and Oval Office leave newsworthy folks defendants in lawsuits, trying their inarticulate best to claim consensual relations or old reliable, the one-time mistake.
Who knows what the evidence in this case will show? But, for you women, remember this about close encounters of a dating kind: Sponge Bob exists only on Nickelodeon. These young women's understanding of the male of their species rivals that of Ado Annie from "Oklahoma," the girl who couldn't say no and took up with a traveling salesman, a bit of a volatile combination. In this post-feminist era, a 19-year-old traipsed to the suite of an NBA player late at night. Did she think Bryant wanted her thoughts on the three-point rule?
This naiveté of young women today was born of intellectual folderol. With their heads filled with feminist dogma about their right to expect eunuch behavior, women claim shock and surprise when testosterone has its way with them. A full generation of women holds sugar plum notions of the androgynous Sponge Bob society in which males avert their eyes from legs and other tempting locations and play Nintendo when young women come to their hotel rooms.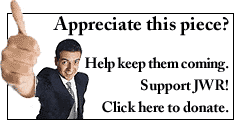 Rely on sexual harassment, they are instructed, and use sexual assault laws for redress. Civil litigation makes the soul whole again, not to mention the experience worthwhile. Mr. Bryant's summons will arrive shortly after the disposition of his criminal case. There will be one wealthy Colorado concierge as a result. Her demands will at least equal $4 million - the cost of the ring Mr. Kobe bought for his wife as his penance for his peccadillo.
The charm of romance must elude men these days as they fret about whether they are mistaken on signals. Men are not the most astute of creatures. To many men the fact that a woman has bathed is positive signal enough for full steam ahead. Young women, heads filled with Sponge Bob utopia, wear limited and tight clothing and are litigiously dismayed when things go awry.
Women have the best of all possible worlds: the ability to cry wolf when the wolf was invited and then behaves, well, as wolves do.
A man cannot risk or afford to be alone with a woman who is not his wife, at play or work.. Some professional athletes need to worry about even being alone with their wives, but that's a story for another time. The number of sexual harassment complaints has increased by nearly 50% since 1992 despite the fact that the EEOC finds reasonable cause in only 9.3% of the cases (3.8% in 1992). Forcible rape charges are increasing, up 4% this year, after years of decline.
The increasing legal redress creates a fear in men and carries systemic implications. How do men handle business travel with female coworkers, especially when there are late hours and hotel room meetings? If they refused to travel with a woman would the EEOC shriek? How does a man work alone with a woman in ye old Residence Inn? They're going to need witnesses.
But, wait, prior to the twentieth century, we and other cultures had the solution: a man and a woman could not be together without a chaperone until they married. These were not quaint customs. Our ancestors were realists whose heads were not filled with frou-frou notions about male/female encounters. Intellectual denials about gender, sex drive and late-nights in hotels and the costs of litigation and harassment claims make supervision and/or witnesses, a must. What man is safe from accusations if he spends time alone with a woman these days? Why, Sponge Bob! The new ideal and risk-free male. Have square pants, will travel, no chaperone needed.
Enjoy this writer's work? Why not sign-up for the daily JWR update. It's free. Just click here.

JWR contributor Marianne M. Jennings is a professor of legal and ethical studies at Arizona State University. Send your comments by clicking here.

07/25/03: HIPAA: The federal government strikes health care again
07/18/03: Boy scouts win Supreme Court case and still cave!
07/11/03: Hepburn couldn't hold a candle next to Mom
07/02/03: With conservatives like these on the Court, who needs a liberal?
06/17/03: Hillary the geek!
06/12/03: MARTHA, SAMMY, AND AMBER
06/05/03: Misplaced anxieties
05/30/03: Commencement
05/23/03: PC (Pathologically Correct) Libs
05/15/03: FORGET VIRTUE: JUST GROW UP!
05/08/03: The Divine, man, war, and leaders
04/28/03: Dixie Chickens
04/22/03: "Squaw"king over a peak
04/16/03: Pulling the old Johnnie Cochran
04/07/03: The other casualties of war
02/27/03: War and principle
02/20/03: Diabolical women
02/14/03: Deadhead poets and society
02/07/03: Misguided compassionate conservative
01/31/03: The Wisk "fix it!" mentality
01/24/03: There are only two types of people in the U.S.: Trial lawyers and their clients and those who have had to pay trial lawyers and their clients
01/16/03: "My ex is a minority, so I deserve special treatment"
01/07/03: Why libs will never have a Rush Limbaugh
01/02/03: The year that was
12/26/02: Capital offenses, power and Harry Potter
12/20/02: Mundane superlatives cause trouble
12/09/02: Let the sacking begin
12/05/02: Amazing Grace that saved me from my CO2 emissions
11/27/02: Free speech, Harvard, and First Amendment looneys
11/25/02: Eminem culture
11/14/02: Hollywood trash
11/04/02: Patron Kennedy Saints
10/28/02: What the snipers and Moose taught
10/22/02: Nobel Prizes and other ventriloquist acts
10/17/02: The window on the liberal mind and war
10/14/02: Leaders don't change; followers do
10/07/02: Do it yourself
09/27/02: Hosers rise again
09/20/02: Girly gridiron
09/13/02: Erudite buffoons
09/11/02: One year later, crass demands, greed, and litigation are back --- but rights are diminished
09/06/02: Public schools: An unqualified success
08/30/02: The Shakespearean tragedy of affirmative action
08/23/02: Hollywood Joe's admission
08/15/02: Cheapskates
08/08/02: Ode to a coal miner
08/02/02: Sarah Brady's gun gift
07/26/02: Don't do it, Tiger
07/18/02: Reality Muppets
07/09/02: We're all going to die, live with it
07/02/02: From the eye of the storm
06/27/02: Nick not right
06/20/02: Behind the music
06/14/02: The sum of all fears in vouchers
06/06/02: Where was Agent Rowley when the FBI needed her?
05/30/02: Of big hair and sanity
05/24/02: Should I embrace liberalism?
05/20/02: Some passion about Israel
05/09/02: A mother who cares enough
05/02/02: Go ahead, pass judgment
04/29/02: The irritation of the modern wedding
04/18/02: Claire's life
04/15/02: Harvard takes off its pants one leg at a time
04/09/02: The Clinton legacy: Politics of personal destruction
03/31/02: Oscars' subtle bigotry was embarrassing
03/22/02: Blame Oprah, Rosie, Sally, Ted, David
03/14/02: The costs of women's feeble choices
03/08/02: Botoxic faces
02/28/02: The dangers of organized philanthropy
02/25/02: Don't take the gold
02/14/02: Ease up on the brothers and sisters
02/11/02: Because I was courted
02/05/02: Fat fault
01/24/02: Tolerance does not mean stupidity
01/17/02: Too old too soon
01/10/02: Ethically challenged firms
01/03/02: The year that was
12/27/01: The Twelve Days of inconsistency
12/20/01: Free Speech and the political spectrum
12/13/01: Curbing brats
12/06/01: Power to influence
11/29/01: The disappearing art of grading
11/21/01: The Big Two-Five
11/13/01: You can never find a lib when you need one
11/01/01: Unlucky in sports
10/26/01: An epidemic of counselitis
10/16/01: A touch of class
10/12/01: Of human nature and monsters
10/05/01: Sensitive man
10/01/01: Post-September 11 security
09/20/01: No tinhorn terrorists can frighten us
09/06/01: If there is no honor in youth sports, it is because of the adults
08/27/01: The draw of Condit
08/23/01: Lowering expectations and flying high
08/17/01: Thoreau, Walden and stems cells
08/13/01: Our masters: The animals
08/02/01: FRAN, MARY JO, MONICA & CHANDRA
07/30/01: When principle hits too close to home
07/13/01: Rage born of sublimation
07/06/01: Patient's rights and the Valley of Death
06/29/01: There is no excuse
06/21/01: I want an eternal soulmate, but the marriage thing is another issue
06/14/01: Which way maverick McCain? An Arizonan's perspective
06/07/01: No stroke of genius
05/30/01: The lesson of the Mr. Green Jeans senator: 'Moderate' is a classy term for wishy-washy
05/25/01: Baseball has not been so good to me
05/18/01: Clothes make the woman
05/11/01: Selective precaution
05/04/01: Grades: Equality of students, by students, for the students
04/27/01: The Horowitz revelations as seen by a college professor
04/20/01: First, let's kill all the tests
04/13/01: The continuing mistake of underpricing electricity
04/06/01: That pill, Julia Roberts
03/29/01: If it weren't for the parents, we might accomplish something
03/23/01: The melt down of the academy
03/15/01: Columbine redux: Moral infants
03/09/01: The lessons of Tom and Nicole
03/01/01: Pardon the temporary outrage
02/23/01: In defense of homework
02/20/01: A Message for faith-based organizations: Don't take the money, just run
02/06/01: Enough already with the Clintoons
01/26/01: The challenge to be better than we have been
01/19/01: Where have you gone Frieda Pushnik?
12/29/00: The year that was
12/23/00: Litigation: It's the American way
12/15/00: In defense of rhetoric
12/06/00: The company we keep: Lawyers and elections
12/01/00: Liberals' art of trashing of women
11/20/00: Put me out of my misery
11/17/00: On being a statesman
11/13/00: When it's broke, fixing it wouldn't offend the Framers
11/08/00: ELECTION 2000: I SURRENDER
10/27/00: Al in the package? Memo to women: Choosing presidents and husbands
10/20/00: Ten things the gay community should understand
10/13/00: "You Have a Lump."
10/06/00: The government as the pharmacy: Don't
09/29/00: The capacity for truth
09/22/00: Charity with strings and an agenda
09/15/00: The taming of the shrew: Gloria Steinem takes a husband
09/09/00: Why rich folk don't bother me none
08/28/00: Survival of the not-so-fit but conniving
08/25/00: Conventions: A study in contrasts
08/18/00: Resenting the accusations of racial prejudice
08/04/00: Women: Their own worst enemy
07/21/00: Hillary: Our longshoreman First Lady
07/21/00: SUVs: The root of all evil
07/14/00: The basketball gene and white men not jumping so well
07/07/00: I wanna be around
06/23/00: The liberal conversion
06/14/00: Sex and the City: The shallow but vulgar female
06/08/00: No excuses schools
06/02/00: Oh, Canada: Our Nutty Neighbors to the North
05/23/00: The new mollycoddling coach
05/16/00: On adultery and leadership
05/12/00: Taking your lumps
05/02/00: Elian: There's never a liberal around when you need one
04/25/00: Life's circle and tenderness
04/18/00: Womyn who want it both ways
04/11/00: The monsters we're raising with the ergo proposition
04/05/00: Endowing the Hooters Chair for Literature Appreciation
03/28/00: Dr. Laura: The passive/aggressive kid's mom
03/21/00: Dough and campaigns
03/14/00: The volunteerism of conscription and pomp
03/07/00: Hope and pray that religion remains a force in politics
02/29/00: Ditzes in TV Land
02/22/00: Cranky nitpickers make writing a [sic] experience
02/15/00: Those chameleon 60s activists
02/08/00: McCandidate McCain: Flirting with principles
02/01/00: The demise of marriage
01/25/00: Stroke of the pen, law of the land: Clinton's Camelot
01/18/00: Off the Rocker Rorschach Test
01/11/00: Oprah's lemmings
01/04/00: Struggling mightily amidst the comfort
12/23/99: Confused fathers
12/14/99: Drop-kicking the homeless
12/07/99: Turtles and teamsters, side-by-side in Seattle
11/29/99: When conservatives behave badly
11/22/99: Compassionate conservative: Timing and targets
11/18/99: The elusive human spirit and accountability
11/11/99: Succumbing to the intellectual child within with the help of crackpots and screwballs
10/28/99: Live by litigation, die by litigation
10/22/99: Jesse, Warren, Cybill, Donald and Oprah
10/14/99: Inequality and injustice: It's the big one
10/05/99: Dan Quayle, morals and schoolyard bullies
09/30/99: The monsters of epidermal parenting
09/21/99: The Diversity Hoax
09/15/99: Waco Wackos
09/09/99: Selective censorship
09/01/99: The village, the children, judicial imperialism and abortion
08/24/99: Naughty Newt?
08/17/99: In defense of Boy Scouts and judgment
08/10/99: Ruining the finest health care system in the world
08/03/99: Nihilism and politics: ethics on the lam
07/26/99: Of women, soccer and removed jerseys
07/23/99: Not in despair, a mere mortal doing just fine
07/20/99: "Why me?" How about "Why us?"
07/13/99: Bunk, junk & juries
07/06/99: An Amish woman in a Victoria's Secret store
06/30/99: That intellectually embarrassing Second Amendment
06/24/99: Patricia Ireland eat your heart out --- but check out the recipe in 'women's mags' first
06/22/99: Dems and the Creator coup
06/17/99: True courage is more than just admitting troubles

© 2002, Marianne M. Jennings