Don Feder
Fascism in the
name of fighting fascism
(JWR) --- (http://www.jewishworldreview.com) THE FIRST AMENDMENT TO THE CONSTITUTION reads in part, "Congress shall make no law ... abridging the freedom of speech, except for ideas that are particularly odious or offensive to most Americans, in which case it may use the sledgehammer of state action to pulverize the same."
OK, the First Amendment doesn't really say that. It prohibits the federal government, and (through the 14th Amendment) the states, from interfering with political expression, period.
Matthew Hale, age 27, is the head of a creepy outfit called the World Church of the Creator. An avowed racist, Hale believes that blacks are intellectually inferior, "The Protocols of the Learned Elders of Zion" is an accurate depiction of Jewry and all non-whites ("mud races") should be expelled from the country.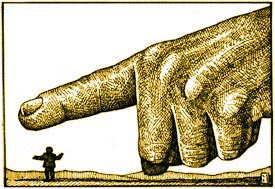 In short, he is the sort of disgusting demagogue who deserves to be shunned by civilized society. Thanks to the state of Illinois, Hale is also a victim.
A law-school graduate who passed the bar exam, Hale is being denied admission to the practice of law solely because of his exercise of First Amendment rights.
A state panel that evaluates the fitness and character of prospective lawyers has determined that Hale's views show "a gross deficiency in moral character, particularly for lawyers who have a special responsibility to uphold the rule of law for all persons." After Hitler, we know where racism can lead, it darkly hints.
Thus the self-designated speech police justify denying Hale admission to the profession for which he was trained and has qualified.
In First Amendment cases, courts have distinguished between advocacy and incitement. If there were credible evidence that Hale sanctioned attacks on minorities (like the savage slaying of a black man, for which the first of three white racists is now on trial in Jasper, Texas), the committee would be on firm ground.
To the contrary, Hale has been scrupulous about promoting change through peaceful and democratic means -- toward admittedly evil ends. Don't expect any sort of consistency in the application of Illinois' anti-racist standard. The establishment doesn't even recognize minority racism, much less consider it a danger.
It's unlikely that African-American candidates who disclose their affiliation with the Nation of Islam will be denied the opportunity to practice law.
Louis Farrakhan, who heads that particular hate group, would doubtless endorse Hale's sick assertion that marriages between blacks and whites are like humans mating with apes -- disagreeing only on which partner is the simian.
Leonard Jeffries' racist advocacy is not only tolerated, it's subsidized by New York taxpayers.
A professor in the black studies department of the City College of New York, Jeffries uses his classroom to expound his "sun people/ice people" theory -- whites (whose racial forebears developed in colder climes) are by nature greedy, unsympathetic and bent on domination, whereas blacks are naturally giving, cooperative and (thanks to sufficient melanin) intelligent.
While the Afrocentrist was removed as department chairman in 1992, he continues to enjoy a tax-paid forum for the expression of views that the Illinois officials assure us lead directly to Auschwitz.
The panel implies that since racist views caused Nazi genocide, they are justified in preventing Hale from hanging out his shingle.
But Nazism wasn't the century's only killer ideology. From Stalin's gulags to Mao's forced collectivization and Pol Pot's holocaust, communism is conservatively responsible for 100 million deaths.
Should marxists be excluded from legal practice on the grounds that we know where their advocacy leads? How about Islamic fundamentalists who lend moral support to suicide bombers and fatwas.
Or, what about those who are opposed to the legal/social sanction of homosexuality? Most liberals believe that this is hate speech which spurs violence. Should individuals active in "homophobic" groups -- like the Catholic Church and Orthodox Judaism -- be kept out of the legal profession?
The possibilities for punishing political expression are almost infinite. Of course, once the genie is out of the bottle, any unpopular minority is fair game. And, as majority opinion shifts over time, today's sacred cows could become tomorrow's endangered species.
Huey Long, who should have known, predicted that if fascism ever came to this country it would be in the guise of fighting fascism. The Illinois bar committee is far more of a threat to democracy and civil liberties than the racist ramblings of Matthew Hale.