Don Feder
Dems' triumph over Constitution complete
(JWR) --- (http://www.jewishworldreview.com) WE KNEW ALMOST FROM THE OUTSET that Bill Clinton has no moral compass. What we didn't know was just how far his party would go to protect him from the consequences of his criminal conduct.
Whatever the future holds in store for the Democrats, this will stand to their everlasting shame.
Can this be the party of Thomas Jefferson and Andrew Jackson, of gutsy Harry Truman (who took the heat and knew exactly where the buck stopped), of Hubert Humphrey, who defied public opinion of his day by calling for equal rights for all Americans on the floor of the Democratic National Convention in 1948?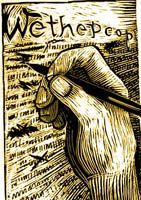 Is this the party of country lawyer Sam Ervin, tenacious in his defense of the Constitution against another president who thought himself above the law?
Last week, a solitary Democratic senator (Russell Feingold, a maverick from Wisconsin) voted with the solid Republican majority against dismissal and in favor of calling a short list of witnesses.
The best that the party has to offer stood by their felon. Connecticut Sen. Joe Lieberman, he of the pious pronouncements on the president's disgraceful conduct, Daniel Patrick Moynihan (once dubbed the conscience of the Senate) and West Virginia's Robert Byrd -- that fair-weather friend of the Constitution -- all voted to dismiss the case. Adding to his dishonor, Byrd offered the resolution.
But, mark this well, not a single Republican defected. Liberals like Sen. Susan Collins (Maine), John Chaffee (R.I.) and James Jeffords (Vt.), who rarely side with their party's majority on any issue, cast their lot with Jesse Helms and John Ashcroft.
Even if they're out of sync with the Republican philosophy, GOP moderates know what's at stake here: the integrity of our system of government.
This refutes the latest White House spin -- that by pushing the case against Clinton, congressional Republicans are kowtowing to their party's right-wing base.
When was the last time Olympia Snowe took her marching orders from Gary Bauer? John Warner will not have the Christian Coalition's support even if he single-handedly persuade 12 of his Democratic colleagues to vote to convict. Unlike their counterpart, the Republican Party from left to right is standing on principle.
At every stage of the process, Democrats have been a rigged jury, so stubbornly biased as to make the 12 who acquitted O.J. Simpson seem impartial by comparison.
In 1974, all but four House Republicans voted in favor of a "resolution of inquiry" into Watergate. In 1998, only 31 House Democrats approved a similarly open-ended inquiry of Clinton's criminal misconduct by the Judiciary Committee.
Democrats on the committee, from Barney Frank to Maxine Waters, played the obstructionist game to the hilt, then voted solidly against reporting articles of impeachment to the full House.
Following a debate in which they carried on like temperamental tots (actually whining because the majority would not allow a vote on a resolution of censure, as meaningless as it was unconstitutional), with the exception of five brave souls, Democratic representatives voted against the articles of impeachment, then scurried to the White House to applaud Vice President Al Gore when he called the perjurer in chief one of our "greatest presidents."
After taking an oath from the chief justice of the Supreme Court to fairly consider the evidence and reach an impartial verdict, Democratic senators immediately betrayed their opposition to conducting a real trial.
Two days of abbreviated presentations followed by a vote on adjournment was their preferred scenario. A trial with witnesses was beyond their comprehension.
It took the Democrats decades to arrive here, to reach the point where they would gleefully shred the Constitution to save their president.
This is no longer the Jeffersonian party of limited government, but the party of $1.77 trillion federal budgets and the highest level of taxation in our history.
In place of Jackson's fierce defense of American independence, the party now clamors to cede ever more of our sovereignty to world government and condones the treasonous transfer of military technology to China.
Its defense of quotas and other race-based privileges would astound the late Minnesota senator.
Democrats are willing to ignore perjury, to wink at obstruction of justice, to tolerate the nation's chief law-enforcement officer actively working to subvert our legal system.
Having dealt representative government a thousand blows in this century, the Democrats' triumph over the Constitution is now complete.