Don Feder
Majoring in 'weirdness'
REGRETTABLY, MOST PARENTS DON'T READ COLLEGE BULLETINS describing the courses to which their children will be subjected.
If they did, they'd see exactly what they and their kids are getting for upward of $30,000 a year -- in many cases, indoctrination in political, racial and sexual theories that could only find a home in academia, or the darker recesses of the Clinton administration.
For the fourth year running, Young America's Foundation, a conservative outfit in Herndon, Va., combed the bulletins of 55 of the nation's leading institutions of higher learning.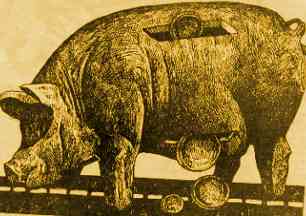 It found that increasingly colleges and universities are offering indoctrinational courses that present left-wing dogma as revealed truth.
In an academic version of Gresham's Law, political posturing is pushing out traditional instruction.
With the exception of Princeton, every Ivy League school now offers more courses in women's studies than economics, even though economics majors outnumber women's studies majors by roughly 10-to-1.
Half of the schools in New York's state university system no longer have a Western civilization requirement, but mandate multicultural courses to graduate.
Multiculturalism, women's studies, gay studies, collectivist economics and revisionist history all push a particular party line: that virtue is color-coded, masculinity is evil, sex has no moral dimension and Marxism works -- gulags, rationing and failed five-year plans not withstanding.
Thus, Amherst College has a course called "Taking Marx Seriously." None of the 55 schools has a course on "Taking Adam Smith (or Milton Friedman or Reaganomics) Seriously."
DePaul University has a course titled "White Racism." Balance in the form of, say a course on "Minority Justice a la the O.J. Simpson Criminal Trial," is beyond the realm of imagining.
The University of Pennsylvania offers "The Feminist Critique of Christianity." You will search in vain for a "Christian Critique of Feminism," which, in light of NOW's defense of Clinton in the Monica Lewinsky scandal, might be called "Hypocrisy 101."
The Weirdness is by no means confined to -ist and -ism studies departments.
Cornell's English 279, "Lesbian Personae," asks, "What does it mean to read as a lesbian?" while Government 467, "Radical Democratic Feminisms," focuses on "socialist feminism, radical democratic pluralism, critical race theory and radical anti-racist and anti-heterosexist multiculturalism." With whipped cream and a cherry on top?
While traditional Western religion is disdained, courses on witchcraft, magic and the supernatural have proliferated. Harvard, founded to train ministers for the Puritan clergy, has courses in witchcraft and shamanism.
Students can study "Vampires: The Undead" at U. Penn. For a multicultural flavor, there's "The Slavic Vampire," taught at the University of Chicago. Why not a course on "The Welfare State Vampire," with a biography of Ted Kennedy as assigned reading?
In its description of "Witchcraft, Witch Hunts, and Society," Emory University's bulletin is instructive: "Finally, the course will employ insights gained from the study of witchcraft to examine more contemporary witch hunts, including the persecution of Jews in Nazi Germany and the rise of anti-Communism in the United States in the 1950s." The patriots who fought a totalitarian menace are lumped with those who burned innocents at the stake and S.S. camp guards.
Environmentalist and feminist courses often give college credits for activism. At Middlebury College, Environmental Studies 305 is an "independent studies program based on work at the Sierra Club's Northwest Regional Office."
Some of the courses transcend ideology into the realm of pure nuttiness. It's hard to find a finer example than the University of California-Santa Cruz's course in "Feminist Cyborg Fiction," which includes (the bulletin discloses) stories about a "lesbian-of-color vampire."
Young America's Foundation has mirth-provoking, gut-wrenching descriptions of over 300 such politically correct courses in its publication "Comedy and Tragedy: College Course Descriptions and What They Tell Us About Higher Education Today, 1998-99."
Until ordinary of parents are made aware of this situation, and encouraged to put their foot down -- on the pointy heads of professors and administrators -- college classrooms will continue to resemble self-criticism sessions in the People's Republic of Korea.