Don Feder
Educating the democratic voters of tomorrow
(JWR) --- (http://www.jewishworldreview.com) PUBLIC EDUCATION HAS PLAYED A VITAL ROLE in Clinton's otherwise inexplicable approval ratings.
The current administration needs citizens who are oblivious to history and incapable of coherent thought --- sheep to be led in pastures of the welfare state.
The public schools have provided this commodity in abundance. I have in my possession essays from budding scholars in an advanced placement high-school government class. The letters, a class assignment, were written in response to one of my columns on the impeachment trial.
The punctuation, spelling and sentence structure are uniformly atrocious. Their reasoning is a wonder to behold. Students' names have been changed to protect the ignorant.
Apparently, none of my correspondents has heard of the quaint custom of grouping ideas together in paragraphs. Their letters are all a solid mass of words. In some instances, sentences run on for what otherwise would be paragraphs.
Timothy begins: "You know some people may think of Clinton as a pig, a cheat or alier (sic), but you can't say he isn't a strong person. Every (sic) since this impeachment and perjury and sex scandal stuff started, people have tried to put Clinton down, like you."
(He means, people like me have tried to put Clinton down.)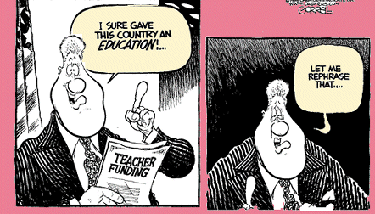 "But it seems that the president doesn't pay these people no mind."
Anyway, people like me "should be banded." Has he misspelled "banned," or does he mean "banded" like a waterfowl?
Arthur admits: "Bill Clinton should be removed from office. But the idea of Hillary taking over has to be the best thing the Clinton's (sic) can do."
You didn't know that the Constitution provides for the first lady to assume the presidency in case of the president's incapacity or removal from office? The first enabler is also in Wayne's thoughts. "As many say President Clinton's 'back-bone' (sic) is Hillary who has served her position in office."
Huh?
"I believe that a woman president or supreme advisor is what this world needs. And whom better than Mrs. Hillary Rodham Clinton." (No question mark.) Who indeed?
Dwayne remarks that, "The facts will always remain." (Profound.) Moreover, "We are all human so we are entitled to the inferiority of not being perfect."
T.J. declares, "The information you sent out in your article is lots of Bad Science." Astrology? Alchemy? Physiognomy?
Ralph charges, "Your (sic) looking at this issue one sided (sic), the way you see it and only that way." A columnist who views an issue from his own perspective? How curious.
"It's people like you not Clinton that give columnist (sic) and people a bad name," Ralph reminds me. On the other hand, Clinton gives president a bad name. So there!
Norman, who agrees with my one-sided perspective, expresses the fervent hope that "the Senate eats him (Clinton) alive and boots him out of office."
After the president has been thoroughly digested? Mix metaphors well. Michael puts the matter in its proper perspective. "I think people are just hoping that this mess will end so they can get back to letting the government run their lives."
Damn those Republicans, distracting government from its vital work of running our lives!
The point isn't to make fun of victims of educational malpractice. No one expects teen-agers to write with the felicity of expression of award-winning essayists. But these youngsters sound like a bad parody of dead-end kids. I spoke to their teacher, a pleasant enough gentleman. As if in explanation, he disclosed that his school is 90 percent black and Hispanic.
That makes it worse. As education has always been the path of upward mobility, these students are being trained for failure. (Middle-class parents should avoid complacency. Suburban high schools are only marginally better.)
Is it too much to expect someone to teach the citizens of tomorrow the rudiments of grammar, spelling and sentence structure (not to mention the elements of logic and how to analyze an argument)?
If I had turned in such an assignment in third grade, I would have been strung up by my thumbs and beaten severely with metal rods. Now you know why Clinton is such a fan of public education, so committed to the cause that he'll veto opportunity scholarships for minority students and fight against tax reform that would make educational choice more affordable for the middle class.
It's not just that teachers' unions have a first mortgage on his soul for political services rendered. He and his party rely on government schools to crank out the Democratic voters of tomorrow.