Don Feder
Without a home the heart knows no rest
(JWR) --- (http://www.jewishworldreview.com) THERE'S NO PLACE LIKE HOME. Home is the hunter home from the hills, and the sailor, home from the sea. Home is where the heart is.
America has an increasingly fickle heart. The Census Bureau calculates that the average American changes residences 11 times. In 25 years of marriage, my wife and I have made 12 such moves, and there are likely a few more in store for us.
Our shortest stay was a matter of weeks, in an apartment with the ambiance and charm of a rest stop on an interstate. The longest was just over 13 years, in the house where our children grew up. Now, with trepidation, we confront our second move in less than two years.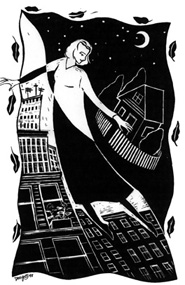 For one who likes the settled life, this can be --- unsettling.
For the first six months, there's the feeling of being lost in interiors, of waking up at 2 a.m. and wondering where the refrigerator has wandered off to, of not quite remembering which switch illuminates the deck.
Like a desert tribe, Americans have become a nomadic people. Every few years, we strike our tents, mount our sport utility vehicles and head for the next mortgaged oasis.
Employment opportunities beckon in the next state or we're shuffled around to fill the needs of corporate giants. Then, too, we've come to believe in the tailor-made house, whose size fits exactly.
Newlyweds want a cozy dwelling, young professionals a low-maintenance condo. As the family grows, more square footage is required. As the nest empties, we ask ourselves, "Who needs all this space?"
The idea of a family home, inhabited for generations (or even for a single generation), recedes into the realm of legend.
Like the family home, the idea of loyalty to a house, to become so attached to a dwelling that departing seems an act of betrayal, appears oddly romantic.
Yet there were houses I felt so much a part of (or which seemed such a part of me, it's hard to tell where the floor plan ends and your heart begins) that on moving day I felt like a traitor.
The home of my youth -- my father bought it in 1955 for $11,000 -- shines in my memory. I can still hear the creak of the porch swing on lazy August evenings. I can feel the comfort of our snug kitchen and measure the advance of icicles on our garage roof in January. Our attic was a mysterious place, especially on rainy afternoons, the repository of lost photos and family secrets.
Our ancestors felt this pull strongly. They were rooted in hearth and home. Their houses were familiar, radiating warmth, comfort and the security of a blanket pulled tightly around one on a chilly night.
A man's home was more than his castle, it was an emotional fortress holding the troubling world at bay -- a safe harbor from the storm-tossed seas of life.
Homeowners of the '90s may be proud of their dwellings, may take pleasure in furnishing them (matching wall-to-wall carpeting to tufted upholstery) and entertaining in them, but they can still discard them as easily as first wives. They feel no attachment, no sense that this is my place. I belong here.
Our diminished connection to home is related to the decline of community.
Once, householders were part of something called a neighborhood. We knew everyone up and down our street. We borrowed hedge clippers and cups of sugar, congregated on front porches and celebrated life's occasions together.
Now, neighborhoods are desolate from dawn to dusk. Mothers work. Young children are consigned to day care; older kids have after-school activities; and seniors have retreated to retirement communities or nursing homes.
Where once neighborhoods bustled, rang with the joyous tumult of kids at play, buzzed with gossip over back fences, today they're no-man's land, devoid of color and vibrancy, places that come alive (if at all) only on warm-weather weekends.
Without a home, there's no sense of permanence. Our homelessness, in the ultimate sense, fosters the ephemeral in nearly everything --- food we've forgotten the moment it passes the palate, leaders whose speeches are an invitation to ennui, popular songs one can't remember from week to week, fashions that change at a dizzying pace.
Homeownership reportedly has reached the highest level in our history. But do we really possess a thing so casually surrendered? How can it be a part of our lives? How does it shape us? Can we be rooted in anything -- nation, community, faith or culture -- without being rooted in a home.
Life is transitory, but must we forever be transients? Come home, America, if you can recall the address.