Don Feder
Clinton moves Middle East closer to war
JERUSALEM -- Eager to please his terrorist host, Bill Clinton told the assemblage in Gaza: "For the first time ... the Palestinian people and their elected representatives now have a chance to determine their own destiny on their own land."
To reciprocate, Yasser Arafat went through the motions (with fingers crossed behind his back) of removing those sections of the Palestinian charter that call for the annihilation of Israel.
He had promised to eliminate these clauses in the 1993 Oslo agreement, in Oslo II (1995), in the Hebron protocol (1997) and in the Wye River accord, signed in October.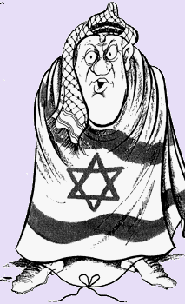 All it took to get the terrorist-cum-statesman to finally come around was five years, sizable territorial transfers and Clinton's veiled endorsement of Palestinian statehood.
Even then, the stipulated procedure for amending the charter wasn't followed, so Arafat can later claim that he didn't really make peace with Israel.
In his determination, his cold calculation and his ruthless cunning, Arafat is the venom-spitting image of the last demagogue to negotiate a nation out of existence -- at a place called Munich.
On Monday, the Palestinian chairman played at revising the charter. Here are the commitments he hasn't kept: Arafat hasn't extradited 36 Palestinian terrorists who murdered Israelis after Oslo, but demands that Jerusalem send him 750 prisoners with blood on their hands.
He has refused to reduce the size of his police force from its current level of 40,000 to the 24,000 provided by Oslo. He hasn't collected illegal arms, estimated at over 300,000, in jihad land.
The incitement never ends. In its attacks on Israel and Jews, its Holocaust denial and its repetition of every anti-Semetic canard ever uttered, Palestinian television is Der Sturmmer in a keffiah.
Arafat uses rock-throwing demonstrators as his storm troops while he courts the suicide bombers. In July, he invited Hamas to join his government.
Hitler made his intentions clear years before he came to power. Every time Arafat opens his mouth before an Arab audience, he demonstrates his determination to wipe Israel off the face of the Earth.
In September, he told a group of schoolchildren in Ramallah, "We are prepared to sacrifice the lives of the last Palestinian boy and last Palestinian girl for the Palestinian flag to fly over the mosques and churches of Jerusalem." He could have added, but really didn't have to, "and over the mosques and churches of Haifa, Netanya and Tel Aviv."
The Palestinian leader regularly invokes the "plan of stages" first set forth by the PLO in the 1970s -- take as much territory as possible, declare a state, get international recognition, undermine the rest of Israel and enlist the Arab world in a war with the "Zionist entity."
Arafat marches relentlessly toward this genocidal goal. His 40,000-man army (it's a police force the way he's a peacemaker) constitutes three divisions. Uzi Landau, who heads the Knesset's security committee, told me that when Jordan occupied the West Bank, it never had more than one division stationed there.
This force is being put through military maneuvers. Civilians are trained as paramilitary units. Weapons like anti-tank guns are smuggled across the safe-passage corridor that connects Gaza to the West Bank.
Now that Arafat has gone through the motions of changing the charter, Clinton will twist Prime Minister Benjamin Netanyahu's arm to get him to relinquish the rest of the 13 percent of the West Bank promised at Wye.
That will give Arafat 40 percent of the territories with 95 percent of its Arab population, and more importantly, it will connect currently isolated areas under Palestinian control.
Absent the realistic expectation of further "redeployments," Arafat will fulfill his threat and proclaim a Palestinian state in May. From Beijing to Buenos Aires, they will rush to welcome Palestine to the community of nations. The new government will declare a right to return for 4 million Palestinians living outside the state.
Then, a low-level guerrilla war will begin against isolated Jewish settlements, with the hope of provoking an Israeli response. Perhaps Jordan, with its Palestinian majority (and whose tottering Hashemite dynasty can offer little resistance) will be absorbed into Greater Palestine.
Finally, says Elyakim Ha'etzni, the philosopher of the Jewish settlement movement, "Arafat will fulfill his dream of being the tripwire for an all-Arab war with Israel -- a war that might succeed."
Winston Churchill once said that no war was as easy to avoid as World War II before Munich, and no war more inevitable after it. Truly, Clinton has brought the Israelis "peace for our time."