Don Feder
Will Bubba get
away with it again?
(JWR) --- (http://www.jewishworldreview.com) IN THE MOVIE "L.A. CONFIDENTIAL," a young detective is asked why he became a cop. He reveals that his father was killed in the line of duty by a thief who was never caught. The son made up a name for his father's murderer, "Rollo Tomasi," to make him more real.
He joined the force to get the guy who gets away with it.
Rollo Tomasi goes through life breaking oaths, breaking the law and generally violating the norms of decency. Bill Clinton is Rollo Tomasi.
Revelations that would ruin a lesser mortal cause his ratings to rise.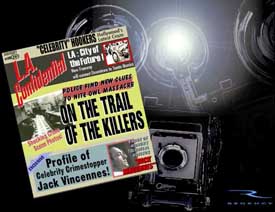 Will Bubba star as himself
in a remake of this flick?

Subpoenas, his voice on telephone tapes, grand-jury testimony -- apparently, nothing matters.

Clinton's career as an escape artist began in 1969, when he lied, cajoled and enlisted the powerful to avoid the draft in a war where more than 58,000 of his contemporaries died.

Few seem care that the leader who now sends airmen in harm's way over the skies of Iraq himself refused to serve his country.

Clinton also evaded responsibility for Whitewater -- a legendary scam involving fraudulent SBA loans, the looting of a savings and loan that ultimately cost taxpayers $57 million, a Clinton-appointed regulator keeping a financial institution open long after its insolvency was known and fat legal fees paid to St. Hillary.

The president has been implicated in criminal activity related to Whitewater and Madison Guarantee by both David Hale and the late James McDougal.

Four of his close associates, including former Arkansas Gov. Jim Guy Tucker, have gone to jail for Whitewater offenses. Susan McDougal spent 14 months behind bars for refusing to testify about Clinton's involvement. The president has yet to be brought to justice.

Gary Hart's 1988 presidential campaign foundered after a short sail on The Monkey Business.

Clinton's Arkansas years were filled with hundreds of affairs -- women procured by his security detail, one-night stands, oral sex in parked cars, "residuals" passed out like party favors and state funds used for amorous pursuits.

Not all of the "ripe peaches" consented to be plucked. Kathleen Willey charges the president assaulted her. Paula Jones was paid $850,000 to end a sexual harassment suit the Clintonistas insisted was totally without merit. To keep this laundry off the line, Clinton and his operatives have smeared, intimidated and shoveled dirt by the metric ton.

Gennifer Flowers, Paula Jones and Kathleen Willey were branded bimbos, disenchanted groupies, trailer-park trash trawled with $100 bills.

When Jones' case was pending, the president's lawyer announced he would put the lady's character on trial. Absent DNA evidence, the White House would still be claiming that Monica Lewinsky was a stalker.

News of an affair Henry Hyde had sometime in the late Middle Ages was shopped to ABC News by a White House employee before it appeared on the first family's favorite Internet magazine.

Bob Livingston's private life was publicized by a pornographer who brags of his investigators' White House contacts.

Like his lechery, Clinton's m.o. as a smear artist was established in Arkansas. Trooper Larry Patterson says that, as governor, Clinton "was always asking us to research his opponents. If he had a source, he'd ask us to drop a dime on them."

When the president decries the "politics of personal destruction," the angels must weep.

Draft evasion, financial fraud, adultery and smear campaigns aren't impeachable offenses enumerated in the Constitution. Treason and bribery are.

The president says he never "changed government policy solely because of a contribution." Note the qualifier.

Yet millions in campaign funds flowed to Clinton and the Democrats from individuals with ties to communist China. John Huang (who went from a vice presidency with the Lippo Group -- a conglomerate in partnership with Beijing -- to a Commerce Department job and a top-secret security clearance) raised $6 million for the party of perjury.

In return, the president pushed for permanent Most Favored Nation trade status for the folks he used to call the "butchers of Beijing," personally lobbied Long Beach, Calif., officials to approve the lease of a vacant naval base to a mainland Chinese shipping company and retroactively approved the transfer of missile technology to a nation we could be at war with in the next century.

The Rosenbergs were small fry by comparison.

Now, after impeachment by the House, some senators want to cut a deal for Clinton. Following a pro-forma trial, they want to let him off the hook with the wet-noodle slap of censure.

Will Rollo Tomasi -- the guy who gets away with it -- get away with it again?