Don Feder
"Pleasantville" a countercultural morality play
WHILE MOST OF WHAT HOLLYWOOD Inflicts on us can be charitably characterized by a "d" word (disgusting, depressing or dumb), it isn't often that a movie like "Pleasantville" comes along that's pure evil.
It's particularly unexpected in a film with no nudity, only the insinuation (instead of the simulation) of sex and the barest hint of violence. In "Pleasantville," the evil is far more subtle, as evil often is.
Predictably, the critics are lapping it up. Roger Ebert calls "Pleasantville" "one of the year's best and most original films," which "encourages us to re-evaluate the good old days, and take a fresh look at the new world we so easily dismiss as decadent."
"Pleasantville" is fantasy, satire and parable. The plot: Two '90s teens (a nerd and his sister -- who, one could reasonably surmise, lost her virginity in the fifth grade) are magically transported into a '50s sitcom, where they become Bud and Mary Sue to a "Father Knows Best" family.
This alternate universe is, literally, a black and white world of suburban normalcy whose motto is "Honey, I'm home!"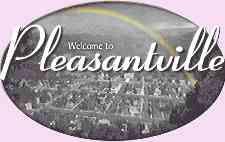 Everyone and everything is pleasantly bland. There's no crime, rudeness or adolescent rebellion. Families are intact, streets safe and clean, and kids nice.
It's also sterile (books at the local library all have blank pages), ultra-conformist and, while superficially content, devoid of the juice and joy of life. Married couples sleep in twin beds; kids go to Lover's Lane to hold hands. Sex is non-existent.
Into this cardboard paradise the siblings are injected, with their '90s individualism and disdain for authority, bringing the yeast of eros. Soon, the residents of "Pleasantville" are thinking, expressing themselves, getting it on and colorizing as they evolve from cliches to flesh and blood people.
The epitome of this humanizing process is the Donna Reed character in the sitcom family. Mom discovers the delights of solo sex, runs away from home and poses nude for an aspiring artist. By the end of the film, we aren't sure who she ends up with --- Robert Young or Pablo Picasso.
Aside: It is a peculiar conceit of the '60s generation that the '50s was marked by conformity, mental stagnation and a lack of challenge -- not to mention the fact that no one had sex before 1967 (or, if they did, weren't enjoying it).
Anyway, back to our counterculture morality play. "Pleasantville's" reactionaries, who remain black and white, respond with increasing nastiness and repression tinged with racism against the "colored" whose new emotional life causes them to burst into glorious Technicolor.
The bowling-league brown shirts try to stem the tide of progress but are hilariously routed in the climax. The film's message: 90's America may have its little problems (AIDS, drugs, divorce and teen violence), but -- thank whomever -- at least we are unrepressed, autonomous and in hot pursuit of happiness.
"Pleasantville" proffers any number of false dichotomies -- either we will have mindless conformity or social anarchy, celibacy or promiscuity. Gary Ross, the film's writer-director (who did a stint as a Clinton speechwriter), offers some ersatz Freudian analysis. "'Pleasantville' is what happens when folks react to change with fear," he cautions us. "If we're afraid of something in ourselves, we'll project it on to someone else."
In "Pleasantville," Ross shows us only that which affirms his message. We see newly eroticized teens imitating rabbits in parked cars, and opening up intellectually as well as sexually as a result. (If it really worked that way, the president of the United States would have the IQ of the Harvard faculty.)
We don't see teen pregnancy, the creation of welfare families, and the spread of sexually transmitted diseases, pornography and sex crimes (rape, incest and the sexual abuse of children), all cultivated by a laissez-faire moral climate.
Hollywood is the vanguard of the new morality. It is obsessed with trying to convince us not only that today's social climate is healthy and liberating, but everything that came before it was neurotic, repressive and boring.
The entertainment industry takes the ethos of Beverly Hills and projects it nationwide. But what it's selling doesn't even work for its own (eternally beautiful millionaires who are equipped with a retinue to clean up their messes), much less for ordinary people.
The place "Pleasantville" becomes -- a land of sex without consequences, self-centeredness without cultural disintegration -- is as much a fantasy as the place "Pleasantville" was. Such realms exist only in the movies.