Don Feder
Why gutless Republicans lost
JESSE "THE BODY" VENTURA IS GOVERNOR-ELECT OF MINNESOTA, and Republicans are looking like 90-pound weaklings. By running timidly, and running way from their issues, Republicans are on the ropes.
As Tuesday evening wore on, hopes of a GOP gain of three to five seats in the Senate and a dozen House seats evaporated. Instead, the Democrats are up five in the House. For the first time since 1934, the party that controlled the White House picked up seats in an off-year election.
Despite excellent prospects, Republicans couldn't increase their Senate majority by a single vote. Of six vulnerable Democratic incumbents, Republicans defeated only Carol Moseley-Braun in Illinois (a lady with more ethics problems than Clinton), while Democrats picked off Al D'Amato in New York and Lauch Faircloth in North Carolina.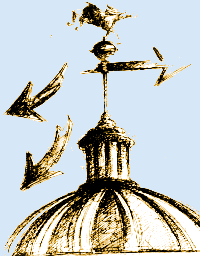 What went wrong? Plenty.
1) The Republican Congress acquiesced to a disastrous budget deal. In its Oct. 30 issue, Human Events, the nation's oldest conservative weekly, was brutally frank, "This Congress stank."
After four years of sweet talk, here's what Speaker Newt Gingrich and Senate Majority Leader Trent Lott delivered to their core constituency -- no broad-based tax cuts (even though federal revenue has risen 8 percent a year since 1992 and we have the first budget surplus since 1969), another $18 billion for the International Monetary Fund to subsidize Russia and Indonesia, $1.1 billion to hire 100,000 teachers (and reward the National Education Association, Clinton's most reliable ally), a funding increase in Title X (contraceptives for kids), a re-authorization of the pornographic National Endowment for the Arts, etc.
Pocketbook and social conservatives had every right to feel seduced and abandoned.
2) Newt and company refused to challenge the Democrats on their agenda -- Social Security, education and health care. Instead of pointing out the obvious -- Clinton has no plan to "rescue" Social Security; if nothing is done, the system will go bust early in the next century; and, some form of privatization is crucial -- Republicans cowered under the covers.
Families must have an alternative to public-school illiteracy factories. The Democrats are exposed here. Polls show most Americans (including minorities) favor school choice. Clinton vetoed education scholarships for low-income families in the District of Columbia. But the most Republicans could do was push tax-favored education savings accounts, a measure as exciting as ... Bob Dole.
Rather than pointing out that government regulation and spending are responsible for rising health-care costs, Republicans wrangled over Clinton's patient's bill of rights.
3) Because they didn't want to appear mean-spirited, Republicans avoided their own hot-button issues -- quotas, gay rights and immigration control. While Democrats were taking Republicans to the cleaners, 69 percent of voters in liberal Hawaii endorsed a ban on gay marriage. Following California's lead, Washington state voters passed a constitutional amendment prohibiting racial quotas.
While Clinton was out pumping for immigrant votes, pledging the Democrats would open our borders even wider, the GOP once again refused to confront the issue. Republican Dan Lungren, who lost the California governorship, absurdly opposed a measure on the June ballot that ended bilingual education.
4) On impeachment, Republicans offered too little, too late. Until September, they were mute on the subject, preferring to let Special Prosecutor Kenneth Starr carry the ball.
Those anti-Clinton ads were too low-key ("This year, the question is, should we reward Bill Clinton?") and ran in only about 30 hotly contested House districts, where the focus group-obsessed GOP thought they would prove a net advantage.
Republicans should have stated the case bluntly: The president committed perjury and violated his oath of office (to take care that the laws "are faithfully executed."). Will the country condone Clinton's lawlessness and abuse of power? They should have framed the election as Bill Clinton versus the Constitution.
The 1998 debacle can be summed up in four words: no guts, no glory.
The GOP can still salvage 2000, but only by defying post-election media wisdom and taking the offensive with an agenda of fiscal conservativism, family values and impeachment.
Whether or not impeachment succeeds, the country must be educated with no-holds-barred hearings. Every Democrat in Congress must be forced to vote on whether we are to remain a nation of laws. Those who side with Bubba Capone will one day rue their choice.