Don Feder
We can learn
a lot from Teddy
(JWR) --- (http://www.jewishworldreview.com) EIGHTY YEARS AGO THIS WEEK, a great American passed from the scene. In Theodore Roosevelt's time, America grappled with national identity and wondered how immigrants could be turned into citizens. At the end of the 20th century, we are still perplexed by these questions.
Roosevelt didn't just address American nationalism as a politician, but as a man whose war-time service caused Congress to recently recommend that he be awarded the Medal of Honor and as a historian of note, author of "The Winning of the West."
At the time of World War I, our 26th president raised the term "Americanism" as his battle standard. "America is a nation and not a mosaic of nationalities," Roosevelt insisted.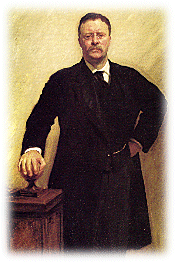 TR

Still, there was room for all who adhered to certain values and vision.

("Americanism is a question of purpose, of idealism, of character ... not a matter of birthplace, or creed, or line of descent.")

American ideals were a passion for justice, equality of duty and obligation, "honor ... and hardihood." Americanism spurned class conflict.

("All privileges based on wealth, and all enmity to honest men merely because they are wealthy, are un-American.")

Until the present, the years 1880 to 1920 saw the greatest influx of immigrants in our history. Roosevelt welcomed them, provided that they become one with us.

("We need every honest, efficient immigrant fitted to become an American citizen.")

That meant potential immigrants should show "proper proof of personal capacity to earn an American living," which would exclude "paupers and assisted immigrants of all kinds." And this was before handbooks circulated abroad on how to emigrate to America and get on welfare.

Persons of "low moral tendency or of unsavory reputation," as well as those lacking "some intelligent capacity to appreciate American institutions," should be similarly rejected. The idea that a nation lacked the moral right to control its borders was alien to Roosevelt.

For those who were admitted, TR insisted on complete equality ("exactly the same rights, not merely legal, but social and spiritual").

Roosevelt disdained the notion that immigrants would somehow assimilate simply by living among us. He demanded that they learn English. ("We have room for but one language, the language of Washington and Lincoln, the language of the Declaration of Independence and the Gettysburg speech.") Instruction in the schools should be in English only. (TR would not have found bilingual education bully.) Night schools should be provided for adults. "If after, say five years," an immigrant hasn't learned our language, "he should be sent back to the land from whence he came."

If he expected much of new Americans, Roosevelt was no less exacting with the native born. The first requisite of citizenship is an individual's willingness "to pull his own weight -- that he shall not be a mere passenger, but shall do his share in the work that each generation of us finds ready to hand."

The citizen who doesn't involve himself in the workings of government, at least to the extent of being an informed voter, is "fit only to live under a government where he will be plundered and bullied."

Roosevelt couldn't abide divided loyalties or special-interest appeals in political campaigns.

When, in the years leading up to the Great War, Germany announced that Germans who became naturalized Americans could retain their citizenship, TR was incensed. A similar policy adopted by Mexico last year is even more alarming. America never shared a border with Germany.

Roosevelt scorned politicians who pandered for ethnic votes. Citizens (native-born or naturalized) should vote as Americans and nothing else, the hero of San Juan Hill declared. "The one absolute certain way to bring this nation to ruin ... would be to permit it to become a tangle of squabbling nationalities."

He should see us now, with candidates cringing and grovelling to demonstrate their devotion to the interests of this or that group. Among the evils that would destroy the republic, TR mentioned "prosperity-at-any-price, peace-at-any-price, safety first instead of duty first, the love of soft living and the get-rich-quick theory of life."

Today, Americans are so mesmerized by the Dow Jones that they are willing to condone presidential perjury.

On Roosevelt's death, son Archie telegraphed TR's siblings serving in Europe, "The old lion is dead." In the lion's roar echoed the ideals of American nationalism.

Theodore Roosevelt was the first president elected in the 20th century. In the century's waning days, there's much we can learn from the Rough Rider.