Don Feder
Blood of victims will drown out breakfast prayers
(JWR) --- (http://www.jewishworldreview.com) An unrepentant terrorist is as out of place at a prayer breakfast as the president would be at a Promise Keepers' rally.
To pray in the presence of a mass murderer is both an affront to justice and a mockery of religious service.
Why is this so difficult to understand?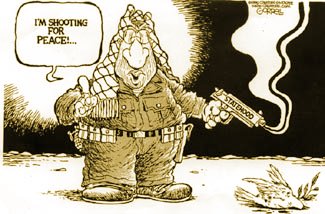 The annual National Prayer Breakfast in Washington, D.C. -- long noted for its bipartisan goodwill -- was the last place anyone would have expected such an abomination to occur.
But thanks to Rep. Steve Largent, R-Okla., the chairman of this year's event, when Washington's power elite bow their heads in prayer Thursday morning, Yasser Arafat will be among them, flashing his vulture's smile. Largent claims he didn't invite Arafat, but refuses to rescind the invitation.
"The idea of the prayer breakfast is to bring people together for reconciliation and healing and forgiveness, and talk about those issues that Jesus taught," observes the ex-football player, sounding like a bible-belt audio-animatron.
Is Largent suggesting that the capital's movers and shakers can't come together for reconciliation and healing without a terrorist in their midst?
Does he expect the prayer breakfast to work a miraculous transformation in Arafat that subsidies from American taxpayers and territorial concessions from Israel have failed to achieve?
Among Christian conservatives, the move is widely deplored. Randy Tate, executive director of the Christian Coalition, who says he won't be attending the function, told me: "This event confers legitimacy on a terrorist. Yasser Arafat's only prayer is that Israel is destroyed."
The Traditional Values Coalition, representing over 40,000 evangelical churches, is asking members of Congress to boycott the event.
On Monday, the Rev. Louis P. Sheldon, chairman of the coalition, wrote to legislators, "Until Arafat repents the many murders of innocent people that he has encouraged or silently approved, there should be no place for him at the Prayer Breakfast table or any other table of civilized people for that matter."
In the past month alone, Arafat has released over 60 terrorists from his revolving-door prisons, in direct violation of his commitments under the Oslo Accords and the Wye Protocol. (Ho hum, what else is new?)
These criminals include agents of Hamas and Islamic Jihad who are directly responsible for the murder of Americans Matthew Eisenfeld, Sara Duker, Ira Weinstein, Leah Stern and Yael Botwin in terrorist bombings over the past three years.
Arafat still issues calls for "jihad" and praises suicide bombers before Arab audiences. He exploits negotiations the way his mentor, the German chancellor of the '30s, used the Central European peace process to achieve bloodless territorial gains while preparing to deal with the Zionists of his day.
My knowledge of Christian theology is imperfect. However, as I understand it, repentance comes before forgiveness. Otherwise, why atone?
Largent has a reputation for being pro-life. What of the right to life of Arafat's victims -- men, women and children whose body parts are scattered over the Middle Eastern landscape?
The Oklahoma congressman is known as a champion of family values. There are families in Israel still grieving for fathers, husbands, sons and daughters who died on Arafat's command.
Another GOP politician (who's much further from my brand of Republicanism than Steve Largent) has a far more realistic perspective on socializing with terrorists.
In 1995, New York Mayor Rudolph Giuliani had Arafat ejected from a concert for world leaders at the Lincoln Center to mark the 50th anniversary of the United Nations.
"I would not invite Yasser Arafat to anything, anywhere, anytime, anyplace," the mayor resolutely declared. Giuliani disclosed that as a U.S. attorney in the '80s, he had investigated Arafat's ties to a number of terrorist incidents, including the brutal slaying of American Leon Klinghoffer aboard the Achille Lauro cruise ship.
"I would rather not have someone who has been implicated in the murders of Americans there, if I have the discretion not to have him there," Giuliani explained.
Like the blood of Able, the blood of Arafat's victims cries out from the earth. Such cries for justice will drown out any supplications rendered in the presence of a butcher who aspires to genocide.