Don Feder
First Amendment doesn't apply to pro-life cause
(JWR) --- (http://www.jewishworldreview.com) WHEN IS POLITICAL SPEECH NOT POLITICAL SPEECH? When the message is overly critical of abortion.
When the Founding Fathers wrote the First Amendment, they thought they were protecting all political communications, even those that are unpopular and offensive.
But then, they were a bunch of white guys in ruffled shirts who believed in gun ownership and the right to rebel against excessive taxation, so what did they know?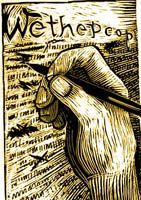 Now, wiser heads have prevailed. A federal jury in Oregon has awarded $107 million to a group of abortionists and abortion advocates who were psychically wounded by words appearing on a pro-life Web site.
"The Nuremberg Files," on the World Wide Web, had pictures of abortion doctors in Western-style wanted posters. The site included the addresses of many of the docs, who were referred to as "baby butchers."
"The jury saw the posters for what they are -- a hit list for terrorists," charged Gloria Feldt, president of Planned Parenthood.
"The Nuremberg Files" contained no threats, implicit or explicit, or any incitement to violence. The language may have been crude and tasteless, but it takes a fevered imagination to see this as an invitation to assassination.
The site contained the sort of strident advocacy pursued across the political spectrum in a culture where civility is sacrificed to a take-no-prisoners style of debate.
Environmentalists have said worse about industrialists, feminists about religious conservatives, animal-rights advocates about meat packers and anti-war protesters about their own government.
But then, judges, juries and legislators have written a whole new rule book to cover the pro-life movement and no one else.
You can picket your congressman. You can picket a church or synagogue. But demonstrate too close to an abortion clinic (where your peaceful presence is considered intimidation and harassment) and you risk several years in jail and thousands of dollars in fines.
If you try to hand a pamphlet to someone going into a clinic, and they believe you're blocking them, you can be prosecuted under the federal Freedom of Access to Clinic Entrances Act.
The pro-death movement has decided that whatever the pro-life movement says is incitement, that a direct causal relationship exists between anti-abortion rhetoric and acts of violence committed against abortionists and clinics.
"Baby butchers" is not a term I would use. But how does one describe the intentional taking of human life without resort to euphemisms?
When Dr. Barnett Slepian was murdered last October, up popped National Abortion Rights Action League President Kate Michelman to denounce the "climate of hate" that supposedly led to the doctor's death.
"They must stop referring to abortion as murder and to doctors who perform them as murderers," Michelman demanded.
Well, can we describe abortion as a "killing," or is that also too loaded a term, implying, as it does, that the person committing the act is a "killer"?
Are we permitted to call those killed (excuse me, disposed of) by abortionists "babies," or does that suggest that the one wielding the scalpel is something other than a humanitarian?
How should we describe 1.3 million deaths a year in this country? How do we characterize this wanton destruction of innocent life, given our advancing knowledge of fetal development?
Last month, the Supreme Court refused to hear an appeal from a lower court decision dismissing Operation Rescue's libel suit against Sen. Edward M. Kennedy.
Following a 1993 fund-raiser, Kennedy explained his support for the then-pending clinic access bill by observing, "When we have a national organization like Operation Rescue that has as a matter of national policy firebombing and even murder, that's unacceptable."
For the record, Operation Rescue is dedicated to the non-violent tactics of civil disobedience pioneered by the late Dr. Martin Luther King.
Now, if Kennedy were pro-life and those he defamed pro-choice, his accusation ("murder") would be considered a provocation. As it was, the defamation suit was dismissed on the grounds that the senator maligned the organization in his official capacity.
Why bother with the pretense?
Why not simply admit the double standard here -- that words like "butcher" and "murder" can be either an incitement to terrorism, or entirely benign, depending on the speaker's motivation?
The First Amendment is inoperative when the speech in question offends Gloria Feldt and Kate Michelman.