Don Feder
Answering arguments against impeachment
HOUSE REPUBLICANS SAY they're not cutting a deal with the felon in chief to allow him to avoid impeachment.
(Please, hold the applause until we can gauge their determination.)
Since the process seems to be in motion, let's consider the arguments against the exorcism of Bill Clinton -- pleas which are almost as desperate as the man himself.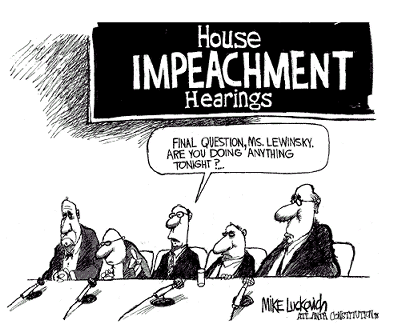 The president hasn't committed impeachable offenses.
Special Prosecutor Kenneth Starr, a former federal appeals court judge, thinks otherwise.
The expression "high crimes and misdemeanors" isn't limited to violations of the criminal code.
Based on the English parliamentary experience, which the Constitution's drafters had in mind, an official could be impeached for a breach of trust, malfeasance and (yes) immoral acts -- Clinton is guilty of all three.
Additionally, by any reasonable interpretation of Article 2, Section 4, commission of a felony (perjury, witness-tampering or obstruction of justice) constitutes an impeachable offense -- again, a three-fer for the president.
Anyone who believes Bill Clinton thought that what he did with Monica Lewinsky did not constitute "sexual relations" -- and thus that he wasn't lying under oath -- needs a keeper.
Impeachment would reverse the 1996 election.
When he ran for re-election, Clinton got 49.3 percent of the popular vote. Richard Nixon won the 1972 election with 61 percent, while carrying 49 states. Did Democrats steal the '72 election with Watergate?
This anti-constitutional argument suggests that the impeachment clause should simply be ignored. Impeachment always alters the results of an election.
Through his criminal acts, Bill Clinton threw away his mandate. Still, he would be succeeded by his running mate. Thus, in a way, the outcome of the election would be maintained.
The president apologized.
After lying for seven months, Clinton apologized when confronted with unavoidable evidence of his guilt. Even so, his first apology was laced with recrimination and self-justification. He had to keep practicing until it sounded somewhat earnest.
However, assuming that he's sincere, so what?
When the president commits any of the enumerated offenses (bribery, treason, high crimes and misdemeanors), Article 2, Section 4 says he "shall be removed from office" -- not may, but shall. There is no provision for an apology circumventing impeachment.
If, prior to his resignation, Nixon had donned sackcloth for trying to cover up the Watergate break-in, should he have been allowed to finish his term? Hounding the president over his affair with an intern is "sexual McCarthyism."
The argument assumes that sex excuses everything, including flagrantly criminal acts.
Poor Nixon, if he had only discussed a romance with Martha Mitchell on those notorious tapes, he could have refused to surrender them on the grounds that they were covered by a newly posited sexual-privacy clause of the Constitution.
Public opinion doesn't support impeachment.
Public opinion is turning around. In a recent Chicago Tribune poll, 40 percent said the president should be impeached or resign. Watching the impeachment hearings live will have an impact, which is why the White House dreads them.
That a majority doesn't support impeachment at this point in time is irrelevant. The Constitution doesn't operate on focus groups. (Majorities can't ban unpopular speech or cancel other civil liberties.) The impeachment power is vested in Congress alone, not in the Gallup organization.
If the president committed an impeachable offense, the Constitution requires his removal, public squeamishness notwithstanding.
Impeachment will be traumatic.
Making difficult but necessary decisions is never easy.
Far more agonizing, and ultimately debilitating, would be to allow a man of Clinton's character and culpability to remain in office. America will be stronger by reasserting the principle that we are a nation of laws, where even the most powerful are held accountable.
The integrity of our system of government is at stake. Will our highest elected official be allowed to abuse his authority, exploit his aides (in a variety of ways), break the law and get away with it?
If congressional Republicans don't go through with impeachment, they will demonstrate their ultimate irrelevance. If the American people don't insist on Clinton's removal, they will demonstrate that they don't deserve this country.