Don Feder
Working families -- Dems love 'em (stuffed)
EASILY THE MOST IRRITATING aspect of the campaign season is the Democratic refrain about "working families."
In introducing the president and vice president at a Boston fund-raiser in September, Sen. Ted Kennedy hailed them as "the home-run kings of working families." Presumably, Clinton and Gore copped this prestigious title by opposing educational vouchers for the poor and tax cuts for the middle class.
Kennedy looks as if he never lifted anything heavier than a cocktail shaker and hasn't missed a meal since the Roosevelt administration (Teddy's). The spectacle of this plutocrat holding forth on "working families," at a $1,000-a-plate gala no less, is rich in irony. What next, a Clinton sermon on Seventh Commandment (adultery)?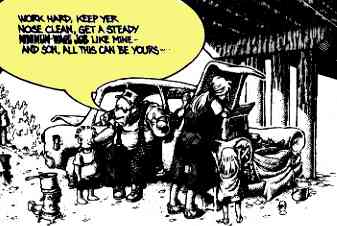 Still, Democrats are addicted to the catchphrase. An ad for a Democratic gubernatorial candidate charges that his opponent's tax cuts "favor the rich," while his own target "working families."
You will search in vain through the liberal lexicon for a definition of "working families," which surely is intentional. The never-defined phrase can mean anything.
"Working families" has such a nice, homey ring. It conjures up an image of Mom and Dad at the kitchen table, with a pile of bills in front of them, making out the household budget -- trying to stretch Dad's paycheck to cover Junior's braces and Sis' piano lessons. Mom wears an apron, Dad a sweater with elbow patches.
By "working families," apparently Democrats do not mean the subsidized poor (although one campaign press aide assured me that a welfare mother who worked 20 hours a week would qualify because she was "struggling"), nor the disgusting rich, even though many of them struggled to make their wealth and work just as hard to keep it from rapacious politicians.
Instead, the standard appears to be one of exertion in the face of obstacles combined with an income cap.
In my family, everyone works, from my 86-year-old mother who knits afghans for friends and relatives to my 17-year-old son who delivers pizzas after school.
I get up at 5:15 a.m. to drive an hour and a half, each way, to the office and put in 8-hour days. With work at home in the evenings and weekends, the total often rises to 60-hours a week.
Still, malefactor of great wealth that I am, our income is more than twice that of the typical American family. Even though we're working hard to meet mortgage and car payments, alas, we do not qualify as a working family.
At least, that's the way we're treated by the self-proclaimed party of same.
On those rare occasions when Democrats can bring themselves to propose a tax cut, there's always an income ceiling well below our earnings, on the theory that it would be a mortal sin to reduce the tax burden of the undeserving rich, even though those in upper income-brackets pay most of the federal taxes. According to the Tax Foundation, the top 10 percent of income-earners pay 60 percent of federal income taxes.
Faced with a Republican Congress in 1995, Clinton proposed a $500 per-child tax credit that began to diminish at $60,000 (for a median-income, two wage-earner family) and disappeared completely at $75,000. This is the Democrats' line of demarcation, above which a family no longer struggles.
The Feders will just have to overcome their disappointment at not being designated a "working family" by popping a few bottles of Dom Perignon on our yacht as we contemplate the sunset over our palatial villa in St. Barts.
The Democrats' agenda for working families can be summed up in the phrase, "Let them eat social programs."
They are forever ballyhooing this or that statist scheme -- subsidized child care, a patient's "bill of rights," minimum-wage hikes, yet more money shoved down the sinkhole of public education -- as the salvation of working families.
After 65 years of New Deals, Fair Deals, New Frontiers, Great Societies, etc., you'd think we would have arrived at working-family nirvana, instead of a situation where few families can get by on one paycheck.
Like the carnival hustler, we're not supposed to notice what Democrats have up their sleeves -- taxes (now consuming 38 percent of the average family's income), business-annihilating regulations, trade policies that export jobs and support for quotas that deprive certain families of employment and educational opportunities for belonging to the wrong race.
The Democrats care about "working families" -- the way timber companies care about tree frogs.