Jewish World Review Sept. 16, 2003 / 19 Elul, 5763

ScrappleFace

Reruns: bin Laden, al Jazeera ink syndication deal


http://www.jewishworldreview.com | Osama bin Laden's publicist announced today that the reclusive video star has signed a syndication deal with Al-Jazeera TV which should keep his old episodes running for "as long as he keeps running."

The deal, which involves "lots of cash and other means of support," will allow bin Laden fans to see classic episodes, known as "the dark beard series."

The show will be sponsored by "Just for Men" hair coloring.

A spokesman for Al-Jazeera said, "We're overjoyed that we are able to maintain our close relationship with Osama and his organization. We plan to re-edit some of the episodes to create spin-offs like 'Ossie and Marriott', which celebrates the bombing of the hotel in Jakarta."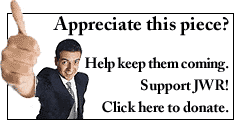 Enjoy this writer's work? Why not sign-up for the daily JWR update. It's free. Just click here.


JWR contributor Scott Ott publishes the satirical website ScrappleFace.com, whose motto is "News fairly unbalanced. We report. You decipher." Comment by clicking here.

09/15/03: Exiling Arafat Could Bring Violence to Mid-East
09/11/03: American history book revisions bring balance
08/29/03: CNN to Tally 'Great Society' Casualty Figures Daily
08/28/03: Congress Makes Law Establishing Religion
08/27/03: Hamas Merges with French Foreign Legion
08/26/03: U.S. to Send 22 Million Troops to Protect Iraq
07/17/03: Dem Candidates Demand Bush Share Campaign Funds
07/16/03: Gephardt, Lieberman Vie for Underdog Status
07/14/03: Bush To Personally Verify Future CIA Reports
07/11/03: PETA Defends Ball Player Who Hit Sausage
07/10/03: Islamic Jihad Chosen as 'World's Most Responsible' Group
07/02/03: CBS Pairs Rather with Donahue to Boost Ratings
07/01/03: Palestinian Terror Leaders Prepare to be 'Joint Chiefs'
06/30/03: Palestinian terror groups look forward to off-season
06/26/03: CNN Has Lots of News That It Still Can't Tell
06/25/03: More creative decisions expected from Supreme Court
06/24/03: Palestinian Bomb Explodes Early: No Virgins Await
06/23/03: Kerry to Block Court Nominees Who Had No Abortions
06/11/03: French tourism plunges after WoodyAllen ads
06/10/03: Muslim illegal immigrants demand American homeland
06/03/03: FCC: Readerless Papers May Buy Viewerless Stations
06/02/03: Sean Penn's NYTimes ad boosts Mescaline sales
05/22/03: Lieberman Proposes Govt. Agency to Cut Bureaucracy
05/21/03: Republicans Raise Money to Help Gephardt Miss Votes
05/19/03: Wal-Mart to offer more books that few people read
05/13/03: DNC Devises New Strategy to Attract Donors
05/09/03: Dems: New Filibuster Rule Unfairly Targets us
05/08/03: Drug Makers End Video Deal with News Anchors
05/06/03: Failure to Find Saddam Proves He Never Existed
05/01/03: Clinton still humbly serving his country
04/29/03: Hillary Clinton Memoir Tops Harry Potter
04/28/03: Coalition Hires British Paper to Dig for Evidence
04/22/03: NOW Defends Scott Peterson's Right to Choose
04/15/03: Shroud of CNN Missing from Baghdad Museum
04/14/03: Pelosi praises U.S. troops for defending immorality
04/11/03: Chirac Apologizes for Applauding Fall of Saddam
04/07/03: United Nations Holds 'Grand Re-Opening' Event
04/07/03:Chemical agent found at Iraqi Information Ministry
04/04/03: War Provides Terrorists Long-Awaited Motive
04/01/03: Lieberman won't promote gay marriage on Sabbath
03/31/03: Lennon joins dead celebs opposed to war
03/28/03: New War Show Lets Audience Call Shots
03/26/03: U.S. offers Iraq Russian-made equipment
03/24/03: Decapitation attack on 'peace movement' succeeds
03/20/03: Gulf War, a golf war? U.S. presses to end war before Masters Tourney
03/19/03: France proposes using metric hours for ultimatum
03/18/03: Airport screeners halt Hussein exodus
03/17/03: Encryption experts work to decipher Kaptur comment
03/14/03: U.S. to Return Statue of Liberty to France
03/13/03: CIA Leaks Again: Shhh! Don't tell bin Laden
03/12/03: "We're damaging these homes and vehicles as a form of political speech"
03/11/03: Bush caves in to Russian and French veto
03/07/03: Speechless: U.N. delegates await translation of Bush remarks
03/06/03: Moseley-Braun Drops Hyphen, Hopes for Sponsor Deal
03/05/03: Bush Admits to Belafonte's 'Possessed of Evil' Charge
03/04/03: Powell continues 'saber rattling' in Pakistan interview
03/03/03: Daschle demands release of top al Qaeda operative
02/28/03: Rather to interview prez on same terms as Saddam
02/27/03: U.S. accepts Saddam's latest proposal
02/26/03: 'Win Without War' releases new talking points
02/25/03: Blix orders Iraq to destroy 'human shields'
02/24/03: Secret U.S. Plan for Cyber-War to Feature Windows XP
02/21/03: Gephardt insists he's really running for President
02/20/03: French President changes name to 'Chiraq'
02/19/03: Chirac offers new EU members 'Freedom of Silence'
02/18/03: Meteorologist Fired for "Positive" Snow Report
© 2003, Scott Ott