http://www.NewsAndOpinion.com | There are many advantages, in my opinion, to the Apple Macintosh OS X operating system, most recently enhanced by version 10.3, also known as "Panther." It's more stable than Windows XP can ever hope to be (sorry, Mr. Gates). Its default Web browser, Safari, is smooth, slick and smart. And Apple's Mail.app is a very good e-mail client, perhaps one of the best.

Perhaps a key advantage of the Mac platform is the sheer inventiveness of the people who work with it that are not a part of the Apple empire. Two software experts, Arlo Rose and Perry Clarke (stet), have come up with a little Java application for Mac users that is perhaps the most helpful personal computer development since Philippe Kahn's famed "Sidekick" of nearly 20 years ago.

The Rose-Clarke product, supported by a $25 registration fee but free to try, is called "Konfabulator," (www.konfabulator.com) and it allows you to run small applications called "widgets." Of the ones on my computer desktop, one tells me the weather (it's 23-degrees Fahrenheit outside, but feels like 11), another rotates a display of pictures from my photo album, another shows the strength of my wireless network signal and yet one more will show a Bible verse of the day. Two other favorites unobtrusively let me know when e-mail has arrived as well as flash headlines from one of the major metropolitan newspapers in America.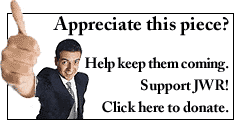 Other widgets will pull down news feeds from various computer sources, list updated software applications for your Mac, countdown the days till your retirement or let you know just how long you have drawn breath on the Earth. There are a couple of games, reference tools such as one to look up dictionary definitions online or display current prices for your stock portfolio. Want to know the time in Timbuktu? There's a widget that'll show a world clock just the way you'd want it.

How many of these widgets exist? A check of www.widgetgallery.com reveals a total of 490 different mini-applications to use (as of Jan. 25, 2004). That should be enough to meet just about any need that you might have. Countdown clocks will tell you how many days, hours, minutes and seconds remain until your retirement - or any other date of your choosing. A miniature controller will run your iTunes (stet) player. There are widgets to track revisions and additions to the Mac software universe, the scores of Major League Baseball Games and the prices of items you're selling on eBay (stet). Want to know what the latest Department of Homeland Security threat level is - a widget will get it for you.

Now, you need a continuous Internet connection to have some of these items constantly update; otherwise, you'll get them refreshed when your dial-up account logs on to the net. My sense, however, is that many Mac users, if not most, will have such "persistent" connections either at home, school or work. Indeed, yet another widget tells me how fast my wireless connection speed is, at the moment.

You can probably end up cluttering your computer desktop with too many of these little items, but a control- (or right button) mouse-click on any widget will bring up a menu that lets you close the item while leaving others untouched. As I write this, there are six widgets operating on my screen, and it doesn't look that bad.

All this hasn't cost me a penny yet, although I do plan to donate and support the developers of Konfabulator. It's just amazing that you can find this variety of features with such ease and basically for free, apart from the cost of the main software.

Similar small applications are available for the Mac without Konfabulator, but authors either sell the programs outright or uniformly ask for donations. Windows users have some similar desktop applications available, either for sale or with all sorts of advertising vehicles that you may not want. I've not seen an applications engine like Konfabulator that works as well on the Windows platform, even though I'd like to. If you own a Mac, check this stuff out - it's addictive and fun.
Find this column useful? Why not sign-up for the daily JWR update. It's free. Just click here.
JWR contributor Mark Kellner has reported on technology for industry newspapers and magazines since 1983, and has been the computer columnist for The Washington Times since 1991.Comment by clicking here.