http://www.NewsAndOpinion.com | A fellow named Howard Dean recently used an Internet Web site to rake in a ton of money for his presidential campaign, much to the chagrin of some of his Democratic Party rivals.
On the other hand, type "www.education.gov" into your Web browser and you are directed to a page from the White House that spells out achievements claimed by the Bush administration.
Everybody needs a Web site, it seems, though creating one has been a hassle. But that's changing, thanks to some programs from San Francisco-based Macromedia Inc. The firm's $399 Dreamweaver MX Web page creation software is now the de facto standard for ultraprofessional Web page design.
For $500 more, Mac users get the firm's Studio MX bundle, including Dreamweaver MX as well as Freehand MX, Flash MX and Fireworks MX, animation and a host of other features to Web sites. On the Windows side, the same money buys a Studio MX Plus bundle that includes a Web collaboration tool. Trial versions of all the products - good for 30 days of use - can be found at www.macromedia.com.
I've been working with two of the four components in Studio MX: Fireworks, a graphics editor, and Dreamweaver. Fireworks is a straightforward graphics program: with a few clicks and selections I was able to create a logo that has become the banner for my Web site. More exploration of Fireworks would probably allow me to create a design as complex as I would like, but for now, the simple banner works just fine. The program will allow you to save a large PNG image file into smaller sizes for easier Web loading, and handles other output tasks quite well.
Having the banner at hand, I moved on to the creation of a Web page. Here, I relied on a how-to article in the August 2003 issue of MacAddict magazine (www.macaddict.com). I could just as easily have pored through Dreamweaver MX For Dummies, written by Janine Warner and Ivonne Berkowitz (Wiley Publishing Inc., $24.95). This book is essential for anyone who is serious about Dreamweaver. It's concise, funny, clear and - hallelujah - indexed, the latter being essential when needing to find out information quickly.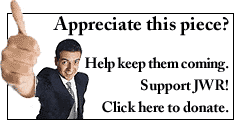 However, at that particular moment, a book wasn't my concern. I wanted to see how quickly I could have a page up and running, and the MacAddict tutorial by Niko Coucouvanis did the trick quite nicely. What's more, Dreamweaver commands and dialogue boxes are the same across both platforms, so even a Windows user can use these instructions rather profitably.
Within about 30 minutes, I had a rudimentary page that worked very nicely. It took some time to get my settings right so I could upload the page to the Web server. But it's there now, and you can find it at www.kellner.us.
What was nice about Dreamweaver is that I could be a little creative with the layout, font colors and background colors, without a lot of heavy lifting. These elements came together quite nicely with a few clicks. Of course, much more needs to be done on my Web site, and much more can be done by the serious student of Dreamweaver. But my quick trial was a good experiment and demonstrated to me the value of such a powerful program.
The end isn't anywhere in sight for Web developers, however. Microsoft Corp. is readying its 2003 version of FrontPage, a very popular Web development tool, one I have used (and endorsed) in the past. However, a key advantage of Dreamweaver (among many) is that it works on both Mac and Windows systems, something FrontPage hasn't done in years. If you are looking to advance your Web site's development, Dreamweaver is worth looking at and considering.
Find this column useful? Why not sign-up for the daily JWR update. It's free. Just click here.
JWR contributor Mark Kellner has reported on technology for industry newspapers and magazines since 1983, and has been the computer columnist for The Washington Times since 1991.Comment by clicking here.