http://www.NewsAndOpinion.com | It's almost a caricature, to be an American wandering through Europe with a camera slung around one's neck. But in the old city of Riga, Latvia, with its unique cafes, architecture and scenes, or at the astonishing "Hill of Crosses," a lay-created Roman Catholic shrine near Diauliai, Lithuania, not having a camera to capture these sights would be almost criminal.
On a recent trip to Finland, Latvia and Lithuania, my photographic companion was the FinePix S602Zoom digital camera from Fuji Photo Film U.S.A., Inc., a $700 (list price) wonder that isn't a SLR digital - you can't change the lenses as you can with a camera such as Nikon's D-100 digital - but is less than half the Nikon's price while delivering incredible pictures.
The S602 (for short) is everything it advertises: a digital zoom camera, capable of delivering pictures with a resolution of up to 6 megapixels, far above what's usually needed for print publication, let alone nice prints for the photo album. You can also snap photos at lower resolutions, in color or black-and-white, and a range of ISO speeds from 160 to 1600, something advanced photographers will appreciate.
Frankly, there are far more features on this camera than I was able to use during a ten-day trip. You can add a 30-second voice annotation to photos, you can shoot short videos with the camera, things in which I wasn't very interested. I wanted to take pictures, and I took lots of them, as many as 250 in a single day.
Were I using a conventional camera, taking 250 photos might require between seven and 11 rolls of film and a lot of switching. With the S602, however, all it required was having enough AA batteries to power the camera (at high resolutions, power is consumed) and an IBM Microdrive, in my case one that holds 340 Mbytes of data. The Microdrive fit in a slot that could also be used by some Compact Flash cards as well; IBM is now offering the tiny hard disks in capacities up to 1GB, which Fuji says can hold 938 photos in "normal" mode. Another slot holds a super-thin SmartMedia card, available in sizes up to 128MB, which the maker says translates to 113 normal-resolution photos.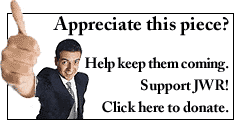 Transferring the pictures to a computer requires either a USB connection - the faster FireWire connection is not available, alas - or generally an adapter for the Microdrive or SmartMedia card. The Toshiba Portégé 3500 I carried, oddly enough, had an adapter for the Microdrive, making it super-easy to transfer photos without taxing the camer's batteries. On the Mac side, the camera works just fine with Apple's iPhoto software.
What I liked about the camera was its heft, about 18 ounces without batteries. It felt like a SLR camera, like the ones I began with in photography years ago; this made me feel as if I was taking photographs and not snapshots. Because of this, I felt free to be a bit more creative and spontaneous in my picture taking, and the results were, generally, good.
Not being as experienced as I might have been, some "sudden" photos took more of an artistic cast, when the camera's autofocus wasn't as quick as I'd have liked. No bother, however: the photos that were more carefully composed and focused came out quite nicely.
Battery life for the camera can be a bit of a challenge. Shoot pictures a fine or high resolutions and you can tax the camera's resources quickly. The same can apply to storage media: at highest resolution, the 340 MB Microdrive can hold only 19 images. But, a "pro" would find it easier to swap out Microdrives than changing rolls of film.
The Zoom lens on the S602Zoom is the equal of a SLR telephoto that ranges from 35 millimeters to 210 millimeters and it allowed me to capture some wonderful images. You can get an optional Tele Conversion Lens that would increase the range of the zoom, if desired.
Would I buy this camera? Most likely, if I were getting serious about photography again, or if I wanted something substantial on hand for everyday events. Information can be found at http://www.fujifilm.com; the camera is in many stores and online, often at a bit of a discount on the list price.
Find this column useful? Why not sign-up for the daily JWR update. It's free. Just click here.
JWR contributor Mark Kellner has reported on technology for industry newspapers and magazines since 1983, and has been the computer columnist for The Washington Times since 1991.Comment by clicking here.