Jewish World Review July 9, 2003 / 9 Tamuz, 5763

Jeff Jacoby
Same-sex marriage vs. society's ideal
http://www.NewsAndOpinion.com | One way to approach the same-sex marriage debate is to think about something else entirely. So let's talk about welfare.
In the 1960s, welfare spending soared. New welfare programs were created, while existing programs like food stamps and Aid to Families with Dependent Children swelled. Tens of billions of dollars were spent to provide the poor with cash aid, social services, food, and housing. Eligibility rules varied, but in general the bar was low: Welfare recipients did not have to be employed or married to qualify for the dole. They only had to be very low-income, with children to take care of.
All this was urged on the grounds of justice and compassion -- as a way to help the least affluent members of society, a disproportionate number of whom were black and female. But it isn't hard to imagine the objections a discerning critic might have raised.
Handing out money to unmarried mothers without jobs -- in effect, paying for non-marriage and non-work -- would prove disastrous, our critic could have argued. It will erode the recipients' work ethic and lead to massive illegitimacy. By replacing working husbands with government checks, welfare will fuel widespread family breakdown among the poor, and lock in multigenerational dependency on government largesse. You are paving the way for a crime-ridden underclass, this Cassandra might have warned. Your intentions are good, but the consequences will be dreadful.
To which the advocates would have replied with derision.
"Alarmist nonsense! How is extending a helping hand to the needy going to threaten anybody's work ethic? Do you really think any woman will avoid marriage or bear out-of-wedlock children just to get a few dollars from the government? Nobody wants to be on welfare, and nobody will stay on it any longer than they have to. Your critique is insulting, Cassandra. You're opposed to welfare because you're a racist and a snob."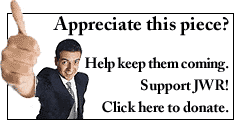 Cassandra would have lost that debate -- but she would have been proved right in the end. The rise of the welfare state was a disaster. It caused wholesale disintegration among low-income families, and sent the rate of black illegitimacy and fatherlessness skyrocketing. An underclass did indeed emerge, one plagued by violence, crime, educational failure, and joblessness.
It didn't happen overnight, but the War on Poverty ended up doing great harm. By toppling the social values that had governed life in poor urban neighborhoods, it eventually undermined those neighborhoods and damaged the people who lived in them.
The adoption of same-sex marriage would likewise topple a longstanding system of shared values. It would change assumptions and expectations by which society has long operated -- that men and women are not interchangeable, for example, and that the central reason for marriage is to provide children with mothers and fathers in a safe and loving environment.
Society's ideal is for boys and girls to grow up, choose a life partner of the opposite sex, and form a new family. Of course there are people who find it impossible or intolerable to live up to that ideal, and contemporary American culture provides them with many other options. The big tent we live under now has room for lifelong singles, gay and lesbian partnerships, cohabiting heterosexuals, and second, third, and fourth marriages. All those options can include children -- while yet another option is to stay childless by choice.
But the ideal arrangement remains the permanent and fruitful union of a loving husband and wife. That is the relationship in which society has its strongest survival stake, and our legal system privileges traditional marriage in order to send the message that it is still, despite all the other choices out there, the ideal.
Legalizing same-sex marriage would change that message. It would signal that we no longer attach unique importance to the union of married opposite-sex couples. It would affirm that same-sex unions are as valuable in every way as conventional marriage. And its most dramatic impact would be not on the gays and lesbians who would joyfully embrace the right to wed today, but on the children who would grow up in a world of normative homosexual marriage tomorrow.
The truest answer to the question "How will same-sex marriage hurt conventional marriage?" -- like the answer to "How will welfare erode the work ethic or family life of the urban poor?" -- is, in essence: Wait a generation and see. Social behavior changes when society's expectations and values change. Teach children by example -- as welfare did -- that money can be had without work, and many of them grow up unwilling to work. Teach children by example that traditional marriage is nothing special, and many of them will grow up unwilling to marry -- or hopeless confused about what marriage is for.
My foreboding is that a generation after same-sex marriage is legalized, families will be even less stable than they are today, the divorce rate will be even higher, and children will be even less safe.
To express such a dire warning is to be labeled an alarmist, a reactionary, a bigot, and worse. Similar slurs rained down on those, like the late Daniel Patrick Moynihan, who warned in the 1960s of the disaster that was coming.
But it is not bigotry to try to learn from history, or to point out that some institutions have stood the test of time because they are the only ones that can stand the test of time. A lot of things in American life badly need fixing. The ageless definition of marriage isn't one of them.
Like this writer's work? Why not sign-up for the daily JWR update. It's free. Just click here.

Jeff Jacoby is a Boston Globe columnist. Comment by clicking here.
07/07/03: The lull before the storm
06/30/03: The 'benefits' of race-based admissions
06/20/03: An uprising to cheer 06/11/03: Musings, random and otherwise
06/09/03: A growing rift with Europe
05/27/03: Preferences, racial and otherwise
05/23/03: The bottom line for teachers unions
05/12/03: Castro's cheerleaders
05/08/03: In 'enlightened' New England, it hurts to give
05/06/03: Help the living before the dead
04/25/03: The search for the 'smoking gun'
04/21/03: Trading truth for access?
04/14/03: Kerry's abortion litmus test
04/11/03: Meanwhile, in Cuba, the tyranny goes on
04/07/03: Explaining the war to a six-year-old
03/31/03: Empowering a terroristocracy in the name of 'peace'?
03/27/03: America the liberator
03/10/03: THE UNITED NATIONS, RIP
03/10/03: Changing the definition of marriage
03/07/03: Liberate Iraq -- even with unclean hands
03/03/03: Why talk radio tilts right
02/21/03: A boost for Saddam
02/10/03: On outing Kerry
02/06/03: The neverending voyage
02/03/03: This hasn't been a 'rush to war'
01/31/03: Killing the terror regimes
01/29/03: How not to win the war
01/24/03: The UN's moral irrelevance
01/22/03: Musings, random and otherwise
01/17/03: The Sharpton hypocrisy
01/13/03: The fig leaf of 'diversity'
01/10/03: Israeli restraint makes terrorism more likely
01/02/03: The double standard on political hate speech
12/30/02: Good for the spirit, good for the body
12/23/02: The college president who owes a greater duty to a fugitive serial killer than the public or to the law
12/20/02: The death penalty by the numbers
12/16/02: Yes, Virginia, there is (still) a liberal media bias
12/03/02: On the brink of regime change --- in Iran
11/27/02: Light's victory over darkness
11/25/02: A 'Republican' lesson from a Democratic convention
11/22/02: The slippery senator
11/18/02: The campus 'diversity' fraud
11/14/02: MURDER AT A KIBBUTZ
11/01/02: Saddam's shop of horrors
10/24/02: Musings, random and otherwise
10/17/02: Jimma's ignoble prize
10/14/02: New Jersey's bigot laureate
10/11/02: Today it is libs who are most likely to demand the silencing of speech they disapprove of
10/04/02: Learning English from Day 1
09/30/02: The world will follow us to war
09/27/02: The face of antisemitism
09/20/02: Starving time in Zimbabwe
09/14/02: Against moral confusion / 9-12-2002
09/03/02: With 'eternal friends' like these
08/30/02: Enriching survivors was a costly mistake
08/26/02: John Kerry's absent passion
08/23/02: Bonnie, get your gun
08/19/02: A screenwriter's remorse
07/29/02: The real abortion extremists
07/26/02: Another round of Kemp-Roth
07/19/02: Jews among Arabs, Arabs among Jews
07/15/02: Musings, random and otherwise
07/12/02: The new civil rights champions
07/03/02: Riding the rails
07/01/02: The prerequisite to peace
06/24/02: Frisking AlGore
06/17/02: Offense, not defense, is the key to homeland security
06/14/02: Looking at the horror
06/07/02: The cost of a death-penalty moratorium
06/03/02: Executing 'children,' and other death-penalty myths
05/29/02: A real threat?
05/24/02: The message in Arafat's headdress
05/20/02: (Mis)playing the popularity card
05/10/02: Outspoken, Muslim -- and moderate
05/10/02: The heroes in Castro's jails
05/06/02: The disappearing history term paper
05/03/02: Musings, random and otherwise
04/29/02: The canary in Europe's mine
04/15/02: Powell's crazy mission
04/12/02: The slavery reparations hustle
04/08/02: Peace at any price = war
03/26/02: Decency matters most, Caleb
03/22/02: The U.S. embargo and Cuba's future
03/19/02: The keepers of Cuba's conscience
03/15/02: A walk in Havana
02/26/02: Buchanan's lament
02/12/02: What 'peace' means to Arafat
02/08/02: STEVEN EMERSON AND THE NPR BLACKLIST
02/05/02: Antismoking: Who pays?
02/01/02: Turn the Saudis
01/25/02: Making MLK cry
01/21/02: Ted to tax cut: Drop dead
01/18/02: Musings random and otherwise
01/14/02: An ultimatum to Saudi Arabia
01/11/02: Friendship, Saudi-style
01/07/02: Shakedown at Harvard
01/04/02: More guns, more safety
01/02/02: Smears and slanders from the Left
12/28/01: Congress gives to others -- and itself
12/24/01: The littlest peacemakers
12/20/01: How to condemn terror
12/18/01: Greenland once was
12/14/01: Parents who never said ''no''
12/11/01: Wit and (economic) wisdom
12/07/01: THE PALESTINIANS' MYTH
12/04/01: The war against Israel goes on
11/30/01: Tribunals, motorcycles -- and freedom
11/19/01: Friendship and the House of Saud
11/12/01: The Justice Department's unjust monopoly
11/09/01: Muslim, but not extremist
11/02/01: Too good for Oprah
10/29/01: Journalism and the 'neutrality fetish'
10/26/01: Derail these subsidies
10/22/01: Good and evil in the New York Times
10/15/01: Rush Limbaugh's ear
10/08/01: With allies like these
10/01/01: An unpardonable act
09/28/01: THE CENSORS ARE COMING! THE CENSORS ARE COMING!
09/25/01: Speaking out against terror
09/21/01: What the terrorists saw
09/17/01: Calling evil by its name
09/13/01: Our enemies mean what they say
09/04/01: The real bigots
08/31/01: Shrugging at genocide
08/28/01: Big Brother's privacy -- or ours?
08/24/01: The mufti's message of hate
08/21/01: Remembering the 'Wall of Shame'
08/16/01: If I were the editor ...
08/14/01: If I were the Transportation Czar ...
08/10/01: Import quotas 'steel' from us all
08/07/01: Is gay "marriage" a threat?
08/03/01: A colorblind nominee
07/27/01: Eminent-domain tortures
07/24/01: On protecting the flag ... and drivers ... and immigrants
07/20/01: Dying for better mileage
07/17/01: Why Americans would rather drive
07/13/01: Do these cabbies look like bigots?
07/10/01: 'Defeated in the bedroom'
07/06/01: Who's white? Who's Hispanic? Who cares?
07/02/01: Big(oted) man on campus
06/29/01: Still appeasing China's dictators
06/21/01: Cuban liberty: A test for Bush
06/19/01: The feeble 'arguments' against capital punishment
06/12/01: What energy crisis?
06/08/01: A jewel in the crown of self-government
05/31/01: The settlement myth
05/25/01: An award JFK would have liked
05/22/01: No Internet taxes? No problem
05/18/01: Heather has five mommies (and a daddy)
05/15/01: An execution, not a lynching
05/11/01: Losing the common tongue
05/08/01: Olympics 2008: Say no to Beijing
05/04/01: Do welfare mothers a kindness: Make them work
05/01/01: Another man's child
04/24/01: Sharon should have said no
04/02/01: The Inhumane Society
03/30/01: To have a friend, Caleb, be a friend
03/27/01: Is Chief Wahoo racist?
03/22/01: Ending the Clinton appeasement
03/20/01: They're coming for you
03/16/01: Kennedy v. Kennedy
03/13/01: We should see McVeigh die
03/09/01: The Taliban's wrecking job
03/07/01: The No. 1 reason to cut taxes
03/02/01: A Harvard candidate's silence on free speech
02/27/01: A lesson from Birmingham jail
02/20/01: How Jimmy Carter got his good name back
02/15/01: Cashing in on the presidency
02/09/01: The debt for slavery -- and for freedom
02/06/01: The reparations calculation
02/01/01: The freedom not to say 'amen'
01/29/01: Chavez's 'hypocrisy': Take a closer look
01/26/01: Good-bye, good riddance
01/23/01: When everything changed (mostly for the better)
01/19/01: The real zealots
01/16/01: Pardon Clinton?
01/11/01: The fanaticism of Linda Chavez
01/09/01: When Jerusalem was divided
01/05/01 THEY NEVER FORGOT THEE, O JERUSALEM
12/29/00 Liberal hate speech, 2000
12/15/00Does the Constitution expect poor children be condemned to lousy government schools?
12/08/00 Powell is wrong man to run State Department
12/05/00 The 'MCAS' teens give each other
12/01/00 Turning his back on the Vietnamese -- again
11/23/00 Why were the Pilgrims thankful?
11/21/00 The fruit of this 'peace process' is war
11/13/00 Unleashing the lawyers
11/17/00 Gore's mark on history
40 reasons to say NO to Gore
© 2002, Boston Globe