Jewish World Review June 30, 2003 / 30 Sivan, 5763

Jeff Jacoby
The 'benefits' of race-based admissions
http://www.NewsAndOpinion.com | Last week's Supreme Court rulings in the University of Michigan cases set a modern record for shamelessess. State universities are not barred by the Constitution from engaging in racial discrimination, five justices decided. They are only prohibited from doing so blatantly. The court had the opportunity to declare, once and for all, that penalizing or rewarding people on the basis of skin color is repugnant to the Constitution. It declared instead that when racial preferences march under the banner of "diversity," the Constitution winks and looks the other way.
And so another generation is condemned to the racial obsessiveness that now permeates American campuses.
Justice Sandra Day O'Connor wrote in her majority opinion that there is a "compelling state interest" in racial and ethnic diversity in academia, because it promotes "cross-racial understanding" among students and "helps to break down racial stereotypes." But that is at best a debatable proposition. As The Washington Post reported last month, the data show that "students are no more likely to engage one another across racial lines when they finish college than when they arrive."
Far from turning universities into gardens of racial harmony and understanding, the "diversity" fetish has left them racially wary and balkanized. If O'Connor had been in Ann Arbor earlier this spring, for example, she might have encountered "Black Celebratory 2003," the blacks-only graduation ceremony the University of Michigan hosts each year.
Such segregated events are not unique to Michigan. They take place at many schools, including Vanderbilt, Washington University, Stanford, Berkeley, and the University of Pennsylvania. But the separatism begins long before graduation. On many campuses, minority students begin their freshman year by attending racially separate orientations. They frequently go on to live in racially separate dorms, get counseling and other assistance at racially separate "resource centers," eat at racially separate dining tables, review their notes in racially separate study groups, and socialize at racially separate fraternities and sororities. Once, this ugly isolation of people by race was called Jim Crow. Today it is called "diversity."
Defenders of this self-segregation say it helps minorities surmount the difficulties of attending a largely white university. "Our students need the support they get from one another," Patricia Williams, dean of the black dormitory at Penn, has said. "Often, they don't receive the same recognition and psychological support as other students at the university."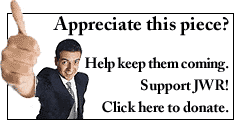 But black students would not need so much support if they weren't attending colleges and universities at which so many of them are academically outmatched. In that sense, students who take part in segregated graduation galas do indeed have something to celebrate. Unlike many of their racial peers, they're actually graduating.
But to point that out is to commit the social faux pas of noticing the elephant in the affirmative-action living room: the failure of far too many black students to finish college. Nearly half of all black Americans between 25 and 29 have been to college, Stephan and Abigail Thernstrom wrote in their sweeping 1997 book, "America in Black and White," but only 15 percent managed to earn a bachelor's degree. The Journal of Blacks in Higher Education said in 1994 that the black college dropout rate was "disastrous." It still is.
This is the unfortunate and unavoidable result of race-based admissions. To achieve a racially balanced student body, universities lower the academic standard black and Hispanic applicants must meet. That enables the schools to avoid the embarrassment of an insufficiently "diverse" entering class. But it also condemns the racially preferred minorities to an academic environment in which they are consistently outperformed. That embarrassment, apparently, the schools don't mind.
"The educational benefits that diversity is designed to produce," O'Connor's opinion asserts, "are substantial." Those "benefits" include pervasive racial separatism, markedly lower black grade-point averages, and a black dropout rate that is a national disgrace.
Affirmative action is not about "educational benefits." It is about aesthetics -- about ensuring that students matriculate according to a politically correct color scheme: so and so many whites, so and so many blacks, so and so many browns and yellows and reds. "The law school is not looking for those students who, despite a lower LSAT score or undergraduate grade point average, will succeed in the study of law," wrote Justice Clarence Thomas in his coldly furious dissent last week. "The law school seeks only a facade -- it is sufficient that the class looks right, even if it does not perform right."
American universities will never perform right until the day they stop judging people by the color of their skin. Thanks to five Supreme Court justices, that day is farther off than ever.
Like this writer's work? Why not sign-up for the daily JWR update. It's free. Just click here.

Jeff Jacoby is a Boston Globe columnist. Comment by clicking here.
06/20/03: An uprising to cheer 06/11/03: Musings, random and otherwise
06/09/03: A growing rift with Europe
05/27/03: Preferences, racial and otherwise
05/23/03: The bottom line for teachers unions
05/12/03: Castro's cheerleaders
05/08/03: In 'enlightened' New England, it hurts to give
05/06/03: Help the living before the dead
04/25/03: The search for the 'smoking gun'
04/21/03: Trading truth for access?
04/14/03: Kerry's abortion litmus test
04/11/03: Meanwhile, in Cuba, the tyranny goes on
04/07/03: Explaining the war to a six-year-old
03/31/03: Empowering a terroristocracy in the name of 'peace'?
03/27/03: America the liberator
03/10/03: THE UNITED NATIONS, RIP
03/10/03: Changing the definition of marriage
03/07/03: Liberate Iraq -- even with unclean hands
03/03/03: Why talk radio tilts right
02/21/03: A boost for Saddam
02/10/03: On outing Kerry
02/06/03: The neverending voyage
02/03/03: This hasn't been a 'rush to war'
01/31/03: Killing the terror regimes
01/29/03: How not to win the war
01/24/03: The UN's moral irrelevance
01/22/03: Musings, random and otherwise
01/17/03: The Sharpton hypocrisy
01/13/03: The fig leaf of 'diversity'
01/10/03: Israeli restraint makes terrorism more likely
01/02/03: The double standard on political hate speech
12/30/02: Good for the spirit, good for the body
12/23/02: The college president who owes a greater duty to a fugitive serial killer than the public or to the law
12/20/02: The death penalty by the numbers
12/16/02: Yes, Virginia, there is (still) a liberal media bias
12/03/02: On the brink of regime change --- in Iran
11/27/02: Light's victory over darkness
11/25/02: A 'Republican' lesson from a Democratic convention
11/22/02: The slippery senator
11/18/02: The campus 'diversity' fraud
11/14/02: MURDER AT A KIBBUTZ
11/01/02: Saddam's shop of horrors
10/24/02: Musings, random and otherwise
10/17/02: Jimma's ignoble prize
10/14/02: New Jersey's bigot laureate
10/11/02: Today it is libs who are most likely to demand the silencing of speech they disapprove of
10/04/02: Learning English from Day 1
09/30/02: The world will follow us to war
09/27/02: The face of antisemitism
09/20/02: Starving time in Zimbabwe
09/14/02: Against moral confusion / 9-12-2002
09/03/02: With 'eternal friends' like these
08/30/02: Enriching survivors was a costly mistake
08/26/02: John Kerry's absent passion
08/23/02: Bonnie, get your gun
08/19/02: A screenwriter's remorse
07/29/02: The real abortion extremists
07/26/02: Another round of Kemp-Roth
07/19/02: Jews among Arabs, Arabs among Jews
07/15/02: Musings, random and otherwise
07/12/02: The new civil rights champions
07/03/02: Riding the rails
07/01/02: The prerequisite to peace
06/24/02: Frisking AlGore
06/17/02: Offense, not defense, is the key to homeland security
06/14/02: Looking at the horror
06/07/02: The cost of a death-penalty moratorium
06/03/02: Executing 'children,' and other death-penalty myths
05/29/02: A real threat?
05/24/02: The message in Arafat's headdress
05/20/02: (Mis)playing the popularity card
05/10/02: Outspoken, Muslim -- and moderate
05/10/02: The heroes in Castro's jails
05/06/02: The disappearing history term paper
05/03/02: Musings, random and otherwise
04/29/02: The canary in Europe's mine
04/15/02: Powell's crazy mission
04/12/02: The slavery reparations hustle
04/08/02: Peace at any price = war
03/26/02: Decency matters most, Caleb
03/22/02: The U.S. embargo and Cuba's future
03/19/02: The keepers of Cuba's conscience
03/15/02: A walk in Havana
02/26/02: Buchanan's lament
02/12/02: What 'peace' means to Arafat
02/08/02: STEVEN EMERSON AND THE NPR BLACKLIST
02/05/02: Antismoking: Who pays?
02/01/02: Turn the Saudis
01/25/02: Making MLK cry
01/21/02: Ted to tax cut: Drop dead
01/18/02: Musings random and otherwise
01/14/02: An ultimatum to Saudi Arabia
01/11/02: Friendship, Saudi-style
01/07/02: Shakedown at Harvard
01/04/02: More guns, more safety
01/02/02: Smears and slanders from the Left
12/28/01: Congress gives to others -- and itself
12/24/01: The littlest peacemakers
12/20/01: How to condemn terror
12/18/01: Greenland once was
12/14/01: Parents who never said ''no''
12/11/01: Wit and (economic) wisdom
12/07/01: THE PALESTINIANS' MYTH
12/04/01: The war against Israel goes on
11/30/01: Tribunals, motorcycles -- and freedom
11/19/01: Friendship and the House of Saud
11/12/01: The Justice Department's unjust monopoly
11/09/01: Muslim, but not extremist
11/02/01: Too good for Oprah
10/29/01: Journalism and the 'neutrality fetish'
10/26/01: Derail these subsidies
10/22/01: Good and evil in the New York Times
10/15/01: Rush Limbaugh's ear
10/08/01: With allies like these
10/01/01: An unpardonable act
09/28/01: THE CENSORS ARE COMING! THE CENSORS ARE COMING!
09/25/01: Speaking out against terror
09/21/01: What the terrorists saw
09/17/01: Calling evil by its name
09/13/01: Our enemies mean what they say
09/04/01: The real bigots
08/31/01: Shrugging at genocide
08/28/01: Big Brother's privacy -- or ours?
08/24/01: The mufti's message of hate
08/21/01: Remembering the 'Wall of Shame'
08/16/01: If I were the editor ...
08/14/01: If I were the Transportation Czar ...
08/10/01: Import quotas 'steel' from us all
08/07/01: Is gay "marriage" a threat?
08/03/01: A colorblind nominee
07/27/01: Eminent-domain tortures
07/24/01: On protecting the flag ... and drivers ... and immigrants
07/20/01: Dying for better mileage
07/17/01: Why Americans would rather drive
07/13/01: Do these cabbies look like bigots?
07/10/01: 'Defeated in the bedroom'
07/06/01: Who's white? Who's Hispanic? Who cares?
07/02/01: Big(oted) man on campus
06/29/01: Still appeasing China's dictators
06/21/01: Cuban liberty: A test for Bush
06/19/01: The feeble 'arguments' against capital punishment
06/12/01: What energy crisis?
06/08/01: A jewel in the crown of self-government
05/31/01: The settlement myth
05/25/01: An award JFK would have liked
05/22/01: No Internet taxes? No problem
05/18/01: Heather has five mommies (and a daddy)
05/15/01: An execution, not a lynching
05/11/01: Losing the common tongue
05/08/01: Olympics 2008: Say no to Beijing
05/04/01: Do welfare mothers a kindness: Make them work
05/01/01: Another man's child
04/24/01: Sharon should have said no
04/02/01: The Inhumane Society
03/30/01: To have a friend, Caleb, be a friend
03/27/01: Is Chief Wahoo racist?
03/22/01: Ending the Clinton appeasement
03/20/01: They're coming for you
03/16/01: Kennedy v. Kennedy
03/13/01: We should see McVeigh die
03/09/01: The Taliban's wrecking job
03/07/01: The No. 1 reason to cut taxes
03/02/01: A Harvard candidate's silence on free speech
02/27/01: A lesson from Birmingham jail
02/20/01: How Jimmy Carter got his good name back
02/15/01: Cashing in on the presidency
02/09/01: The debt for slavery -- and for freedom
02/06/01: The reparations calculation
02/01/01: The freedom not to say 'amen'
01/29/01: Chavez's 'hypocrisy': Take a closer look
01/26/01: Good-bye, good riddance
01/23/01: When everything changed (mostly for the better)
01/19/01: The real zealots
01/16/01: Pardon Clinton?
01/11/01: The fanaticism of Linda Chavez
01/09/01: When Jerusalem was divided
01/05/01 THEY NEVER FORGOT THEE, O JERUSALEM
12/29/00 Liberal hate speech, 2000
12/15/00Does the Constitution expect poor children be condemned to lousy government schools?
12/08/00 Powell is wrong man to run State Department
12/05/00 The 'MCAS' teens give each other
12/01/00 Turning his back on the Vietnamese -- again
11/23/00 Why were the Pilgrims thankful?
11/21/00 The fruit of this 'peace process' is war
11/13/00 Unleashing the lawyers
11/17/00 Gore's mark on history
40 reasons to say NO to Gore
© 2002, Boston Globe