Jewish World Review Feb. 4, 2004 / 12 Shevat, 5764

Ian Shoales
PT, I hardly knew ye

http://www.NewsAndOpinion.com | I recently learned from the New York Times, that two of the bright spots of American culture in the Millennium, the PT Cruiser and the new improved VW Beetle, do not have legs, as it were.

Both vehicles had buzz up the wazoo back in the late nineties and early 2000, and whenever I saw one on the street, it didn't bring me joy exactly- hey, what does? But the sight did give me a feeling of relief: "Look, there's a car that doesn't look like every other damn car." It wasn't much, but it was something.

But sales of the PT Cruiser dropped 25 per cent in 2003, even though — just three years ago! — according to the New York Times, "buyers were willing to pay as much as $10,000 over the PT's sticker price." Some customers had to wait a year before they could get their hands on one. Today, the poor PT can't be given away.

The fate of the Bug and the PT Cruiser is another illustration of the peculiarities of marketing. When something is scarce, everybody wants it. When something is plentiful, you can't give it away.

Remember Coors beer, boomers? When I was in college, you could only buy it in Colorado. Every once in a while, somebody would make a foray to the mountains and return with a couple cases of the then-precious beverage. We would consume it reverently, as though it were the gods' nectar itself. And what happened when Coors became distributed nationally? Well, we realized that it tasted like Bud Lite. Striking ourselves on the forehead, we turned to Corona, until we realized that it, too, was only another lager.

And then there was Paul Proudhomme. Remember him? Used to be a famous chef, until he got too famous. Back in the eighties, he had a recipe for blackened redfish, that was so popular the redfish was put on the endangered species list. Of course, our restless taste buds eventually moved on, and I assume the redfish swarm once again, filled with relief that Americans have the attention span of a hyperactive puppy.

Whatever happened to cosmopolitans? And wasn't there a brief period in time when dotcommers were actually mixing vodka with Red Bull, and declaring it tasty? Come to think of it, the whole New Economy of the nineties was a lot like Coors Beer. When nobody could get on a web site, everybody thought it was the wave of the future. But once we all logged on, we realized there was nothing there but empty six packs. Oh, the beer will come some day! All we need is more venture capital!

Me, I'm actually hoping that PT Cruiser prices will sink even more. I still find the car as appealing now as I did three years ago. If I can snag a used one for, say, five bucks, well, I for one will be eternally grateful for the fickle taste of the American consumer. If I remember.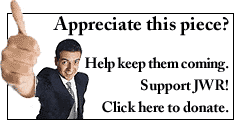 Enjoy this writer's work? Why not sign-up for the daily JWR update. It's free. Just click here.

JWR contributor Ian Shoales is the author of, among others, Not Wet Yet: An Anthology of Commentary. Comment by clicking here.

01/29/04: Soylent green is cattle!
01/22/04: Shoales to PETA: Please SHUT UP!
12/23/03: McLattes
12/16/03: Pledge rock
12/10/03: Bad Cat
10/15/03: Subpoena as business model
10/09/03: Milk?
09/29/03: Rejected by a dating site
09/09/03: Dead, Live!
08/27/03: That Wacky Deutschland
08/12/03: Puffery
08/08/03: Love that (other) Bob!
08/04/03: Is the free market doomed?
07/08/03: Hill Williams at Bay
06/30/03: The Amazing Red Faced J-Lo
06/25/03: TCB, KFC
06/16/03: Because it's there
06/11/03: The Matrix regurgitated
06/05/03: Here, Spike
05/07/03: When Hippies Retire
04/09/03: Your mommy could have told you that silence is the stoic's path to personal salvation --- hey, but who would have listened?
04/01/03: Hedging the war
03/28/03: Space: The Penultimate Frontier
03/18/03: Hour of the Narc
03/07/03: Home entertainment tips for pinkos --- no joke!
02/28/03: When Anorexia is a good thing
02/21/03: Aussie invasion!
02/11/03: This museum of my dreams would be no accident
02/03/03: Hasn't 'reality TV' always been with us?
01/30/03: Get tougher?
01/21/03: Spinning through the 'newscycle'
01/16/03: "G" for verbal violence?
01/03/03: Farewell to novelty
12/23/02: Neo-frontiers
12/18/02: A nation of hypochondriacs?
12/11/02: Cursed
11/08/02: Good news for skateboarders looking to keep up with world events
11/01/02: "Extreme" annoyance
10/24/02: Snipers are people, too!
10/16/02: Hockey Therapy
10/08/02: Cupid, the parasite
10/03/02: How to have fun in Africa
09/30/02: If you are employed, you're part of the problem
09/25/02: "Up and comers," go away!
09/18/02: Collectibilitized
09/10/02: Monotone felons
08/20/02: Will we soon need a passport to get caviar, duc a la orange, or Polish sausage?
08/14/02: Law and Disorder --- and Starbucks
08/12/02: Rummy's monkey
08/05/02: Time for some real cultural heroes
07/31/02: Yearning for a nostalgic American product that was neither
07/24/02: Voicemail heaven?
07/18/02: At the movies with your friendly neighborhood curmudgeon
07/12/02: King of Kitsch
07/09/02: Musicians' brains
07/01/02: Where's my cow?
06/24/02: Modern record stores can be a scary proposition
06/21/02: Life IS a movie?
06/19/02: Spreading fertilizer on a dictionary to try to raise a novel
06/17/02: Happy cows are really miserable?
06/12/02: Very similar to a rock
06/05/02: Of Humice and Men
05/30/02: Pooches in sharkskin suits and the end of dog tags
05/22/02: We baby boomers used to rule the roost
05/20/02: The Files now Ex
05/14/02: Entangled in Spider-Man's web!?
05/02/02: April Showers May Come Our Yadda Yadda
04/24/02: From child murderer to milk hawker
04/10/02: New realities
03/21/02: You did it your way? I have to kill you now!
03/14/02: IN THIS CORNER … SUSAN LUCCI AND STEPHANIE ZYMALIST!
03/12/02: Life in the warehouse
01/28/02: Shoes and food
01/24/02: Suspension of disbelief has nothing to do with whether we accept something as real or not
01/22/02: Save the Grand Ole Opry?
12/15/01: If you truly want to appeal to the lowest common denominator …
12/11/01: KNITTING!
12/07/01: Conspiracy by the 'fat suit' lobby?
12/04/01: The future of comic books
11/15/01: Literary tips in a jar
11/12/01: The ectoplasm of a ghost economy
11/05/01: Sumner Redstone's passions
10/31/01: My irony
10/29/01: Even in wartime, America can still bring it home
10/25/01: Ad memories
10/17/01: Pathetic me
10/08/01: War time lite
10/01/01: Confessions of a sarcastic scribe
09/11/01: The end of Mom
09/07/01: Boy Loses Girl, Boy Bites Girl, Boy Gets Girl
09/05/01: Virtual elegance?
08/31/01: I COPY, THEREFORE I AM
08/28/01: Buzz!
08/23/01: Radio workout
08/20/01: I robot, you Jane
08/15/01: A wild and crazy world!
08/10/01: When the future was "as real as a dime"
08/08/01: Garage Dearth!
08/06/01: That Big Clock
08/02/01: Stop the pop!
07/31/01: Catchphrase history of the world
07/26/01: The Bride of Science
07/23/01: That java jive
07/17/01: Homogenized hegemony
07/13/01: Applying Newton's First Law of Physics to textbooks
07/10/01: The dumb and the dead

© 2003, Ian Shoales