Jewish World Review June 30, 2003 / 30 Sivan, 5763

Ian Shoales
The Amazing Red Faced J-Lo

http://www.NewsAndOpinion.com | This spring, Mme Toussaud's museum added Julia Roberts, Penelope Cruz, Brad Pitt, and Jennifer Lopez to its collection of waxy replicants. But the museum also decided to enter the 21st Century in a big way, by adding interactive components. Cushions have been discreetly installed in Mr. Pitt's rear, and visitors so inclined are allowed to pinch it. Well, whatever floats your boat, I guess. It smacks vaguely of necrophilia to me, but then when it comes to wax museums I'm not usually looking for a hands-on experience.
More mysteriously, the figure of Jennifer Lopez has been designed so that she blushes when you whisper in her ear. If the purpose of a wax figure is to resemble as closely as possible the person it represents, this seems to defeat the intention, in my opinion. Face it, Jennifer Lopez is not the blushing type.
If you whispered something untoward in Jennifer Lopez's ear, she strikes me as the kind of woman who would smack you, not blush at you. More likely, she'd have somebody from her posse smack you.
Still, this is the kind of strange detail that makes wax museums so bizarre and entertaining. I remember attending a wax museum here in San Francisco, where one exhibit contained the likenesses of Adolf Hitler, Gandhi, and Michael Jackson. I stood in front of it for a good twenty minutes, trying to fathom what the organizing principle behind this display could possibly be. The best I could come up with was: They're all famous.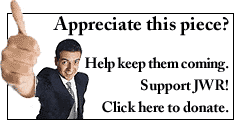 The blushing J.- Lo may be random and somewhat bizarre, but it could open the door to all sorts of new wrinkles for old wax. Blushing J.- Lo could be joined by Winking Harry Truman, Toe-tapping Churchill, and Weeping Schwarzenegger.
Once the audioanimatronics have been worked out, the wax museum could add the Nervous Leg Lincoln, Nose Picking Bonaparte, Sneezing Bogart, and Vlad the Impaler the Juggler. How about the Inappropriate Facial Tics Gallery, with the likenesses of Gary Cooper, Buster Keaton, and Calvin Coolidge smirking, sneering, and yawning at timed intervals?
And when the time comes, as I pray it will, that I am immortalized in wax, I only hope that I am allowed to utter the following words whenever visitors enter my gallery: "What are YOU looking at?" If not, as long as they refrain from hissing sweet nothings in my ear, and keep their hands off my paraffin tush, I will be one contented figurine.
Enjoy this writer's work? Why not sign-up for the daily JWR update. It's free. Just click here.

JWR contributor Ian Shoales is the author of, among others, Not Wet Yet: An Anthology of Commentary. Comment by clicking here.

06/25/03: TCB, KFC
06/16/03: Because it's there
06/11/03: The Matrix regurgitated
06/05/03: Here, Spike
05/07/03: When Hippies Retire
04/09/03: Your mommy could have told you that silence is the stoic's path to personal salvation --- hey, but who would have listened?
04/01/03: Hedging the war
03/28/03: Space: The Penultimate Frontier
03/18/03: Hour of the Narc
03/07/03: Home entertainment tips for pinkos --- no joke!
02/28/03: When Anorexia is a good thing
02/21/03: Aussie invasion!
02/11/03: This museum of my dreams would be no accident
02/03/03: Hasn't 'reality TV' always been with us?
01/30/03: Get tougher?
01/21/03: Spinning through the 'newscycle'
01/16/03: "G" for verbal violence?
01/03/03: Farewell to novelty
12/23/02: Neo-frontiers
12/18/02: A nation of hypochondriacs?
12/11/02: Cursed
11/08/02: Good news for skateboarders looking to keep up with world events
11/01/02: "Extreme" annoyance
10/24/02: Snipers are people, too!
10/16/02: Hockey Therapy
10/08/02: Cupid, the parasite
10/03/02: How to have fun in Africa
09/30/02: If you are employed, you're part of the problem
09/25/02: "Up and comers," go away!
09/18/02: Collectibilitized
09/10/02: Monotone felons
08/20/02: Will we soon need a passport to get caviar, duc a la orange, or Polish sausage?
08/14/02: Law and Disorder --- and Starbucks
08/12/02: Rummy's monkey
08/05/02: Time for some real cultural heroes
07/31/02: Yearning for a nostalgic American product that was neither
07/24/02: Voicemail heaven?
07/18/02: At the movies with your friendly neighborhood curmudgeon
07/12/02: King of Kitsch
07/09/02: Musicians' brains
07/01/02: Where's my cow?
06/24/02: Modern record stores can be a scary proposition
06/21/02: Life IS a movie?
06/19/02: Spreading fertilizer on a dictionary to try to raise a novel
06/17/02: Happy cows are really miserable?
06/12/02: Very similar to a rock
06/05/02: Of Humice and Men
05/30/02: Pooches in sharkskin suits and the end of dog tags
05/22/02: We baby boomers used to rule the roost
05/20/02: The Files now Ex
05/14/02: Entangled in Spider-Man's web!?
05/02/02: April Showers May Come Our Yadda Yadda
04/24/02: From child murderer to milk hawker
04/10/02: New realities
03/21/02: You did it your way? I have to kill you now!
03/14/02: IN THIS CORNER … SUSAN LUCCI AND STEPHANIE ZYMALIST!
03/12/02: Life in the warehouse
01/28/02: Shoes and food
01/24/02: Suspension of disbelief has nothing to do with whether we accept something as real or not
01/22/02: Save the Grand Ole Opry?
12/15/01: If you truly want to appeal to the lowest common denominator …
12/11/01: KNITTING!
12/07/01: Conspiracy by the 'fat suit' lobby?
12/04/01: The future of comic books
11/15/01: Literary tips in a jar
11/12/01: The ectoplasm of a ghost economy
11/05/01: Sumner Redstone's passions
10/31/01: My irony
10/29/01: Even in wartime, America can still bring it home
10/25/01: Ad memories
10/17/01: Pathetic me
10/08/01: War time lite
10/01/01: Confessions of a sarcastic scribe
09/11/01: The end of Mom
09/07/01: Boy Loses Girl, Boy Bites Girl, Boy Gets Girl
09/05/01: Virtual elegance?
08/31/01: I COPY, THEREFORE I AM
08/28/01: Buzz!
08/23/01: Radio workout
08/20/01: I robot, you Jane
08/15/01: A wild and crazy world!
08/10/01: When the future was "as real as a dime"
08/08/01: Garage Dearth!
08/06/01: That Big Clock
08/02/01: Stop the pop!
07/31/01: Catchphrase history of the world
07/26/01: The Bride of Science
07/23/01: That java jive
07/17/01: Homogenized hegemony
07/13/01: Applying Newton's First Law of Physics to textbooks
07/10/01: The dumb and the dead

© 2003, Ian Shoales