Jewish World Review July 8, 2003 / 8 Tamuz, 5763

Ian Shoales
Hill Williams at Bay

http://www.NewsAndOpinion.com | Public Television is where reality programming originated. Remember the Louds? All the cooking shows? Even Antique Road Show could be considered reality programming. Ordinary people with a dream — that the chifferobe up in your attic could have belonged to John Paul Jones — only to have that dream dashed — the chifferobe really DID belong to John Paul Jones, but you ruined its market value when you stripped it and painted it over in a sunflower and daisy motif. Sorry.
The Louds begat the Osbornes, and the cooking shows begat entire cable networks, not to mention Martha Stewart, but public television, undaunted, continues to step boldly into the reality arena. PBS has offered 1900 House, Frontier House, and Manor House, in which participants step back in time and live as our forebears did, sharing the pain and joys with us, the ardent television viewer.
And in April, PBS debuted Warrior Challenge. Participants become Vikings, gladiators, knights, and Roman warriors, flail at each other with weapons of choice, and collect valuable prizes. Well, no, no valuable prizes: this is public television. They're in it for the glory, and for the sure knowledge that ardent public television viewers are learning something about what kind of person would want to pretend to be a Viking on television. And that's important.
Also looking to contribute to the grandeur of the American airwaves, CBS has laid plans to launch The New Beverly Hillbillies, in which a real rural American family will be moved to a Beverly Hills mansion, and we observe how they cope.
On the face of it, I don't see why they wouldn't cope just fine. A poor family is given a mansion, all expenses paid, and all they have to do in return is expose themselves to possible public ridicule. Where's the downside?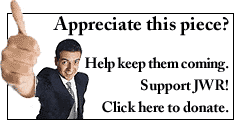 Well, there's been a firestorm of protest against this show, hurled by everybody from the United Mine Workers of America to the state legislatures of Tennessee and Louisiana, who want CBS to cease and desist this yokel-bashing.
If the series is to be saved, CBS needs to take a page from PBS and turn it around. People from Beverly Hills should be plunked down in the Appalachians, if they're television executives so much the better.
Teevee executives will be plunked down in Kentucky, given only a $20 line of credit at the Goodwill Store, food stamps, and a 65 Impala. Sinister locals get to pelt the Chevy with broken black and white Motorola televisions and rusted auto arts until the executives either surrender or make it across the border to Ohio. Think of it as Deliverance Meets Fear Factor.
With this scenario, stereotypes of studio executives and country folk alike will be preserved. Isn't that what pop culture is all about? And valuable prizes of course.
Enjoy this writer's work? Why not sign-up for the daily JWR update. It's free. Just click here.

JWR contributor Ian Shoales is the author of, among others, Not Wet Yet: An Anthology of Commentary. Comment by clicking here.

06/30/03: The Amazing Red Faced J-Lo
06/25/03: TCB, KFC
06/16/03: Because it's there
06/11/03: The Matrix regurgitated
06/05/03: Here, Spike
05/07/03: When Hippies Retire
04/09/03: Your mommy could have told you that silence is the stoic's path to personal salvation --- hey, but who would have listened?
04/01/03: Hedging the war
03/28/03: Space: The Penultimate Frontier
03/18/03: Hour of the Narc
03/07/03: Home entertainment tips for pinkos --- no joke!
02/28/03: When Anorexia is a good thing
02/21/03: Aussie invasion!
02/11/03: This museum of my dreams would be no accident
02/03/03: Hasn't 'reality TV' always been with us?
01/30/03: Get tougher?
01/21/03: Spinning through the 'newscycle'
01/16/03: "G" for verbal violence?
01/03/03: Farewell to novelty
12/23/02: Neo-frontiers
12/18/02: A nation of hypochondriacs?
12/11/02: Cursed
11/08/02: Good news for skateboarders looking to keep up with world events
11/01/02: "Extreme" annoyance
10/24/02: Snipers are people, too!
10/16/02: Hockey Therapy
10/08/02: Cupid, the parasite
10/03/02: How to have fun in Africa
09/30/02: If you are employed, you're part of the problem
09/25/02: "Up and comers," go away!
09/18/02: Collectibilitized
09/10/02: Monotone felons
08/20/02: Will we soon need a passport to get caviar, duc a la orange, or Polish sausage?
08/14/02: Law and Disorder --- and Starbucks
08/12/02: Rummy's monkey
08/05/02: Time for some real cultural heroes
07/31/02: Yearning for a nostalgic American product that was neither
07/24/02: Voicemail heaven?
07/18/02: At the movies with your friendly neighborhood curmudgeon
07/12/02: King of Kitsch
07/09/02: Musicians' brains
07/01/02: Where's my cow?
06/24/02: Modern record stores can be a scary proposition
06/21/02: Life IS a movie?
06/19/02: Spreading fertilizer on a dictionary to try to raise a novel
06/17/02: Happy cows are really miserable?
06/12/02: Very similar to a rock
06/05/02: Of Humice and Men
05/30/02: Pooches in sharkskin suits and the end of dog tags
05/22/02: We baby boomers used to rule the roost
05/20/02: The Files now Ex
05/14/02: Entangled in Spider-Man's web!?
05/02/02: April Showers May Come Our Yadda Yadda
04/24/02: From child murderer to milk hawker
04/10/02: New realities
03/21/02: You did it your way? I have to kill you now!
03/14/02: IN THIS CORNER … SUSAN LUCCI AND STEPHANIE ZYMALIST!
03/12/02: Life in the warehouse
01/28/02: Shoes and food
01/24/02: Suspension of disbelief has nothing to do with whether we accept something as real or not
01/22/02: Save the Grand Ole Opry?
12/15/01: If you truly want to appeal to the lowest common denominator …
12/11/01: KNITTING!
12/07/01: Conspiracy by the 'fat suit' lobby?
12/04/01: The future of comic books
11/15/01: Literary tips in a jar
11/12/01: The ectoplasm of a ghost economy
11/05/01: Sumner Redstone's passions
10/31/01: My irony
10/29/01: Even in wartime, America can still bring it home
10/25/01: Ad memories
10/17/01: Pathetic me
10/08/01: War time lite
10/01/01: Confessions of a sarcastic scribe
09/11/01: The end of Mom
09/07/01: Boy Loses Girl, Boy Bites Girl, Boy Gets Girl
09/05/01: Virtual elegance?
08/31/01: I COPY, THEREFORE I AM
08/28/01: Buzz!
08/23/01: Radio workout
08/20/01: I robot, you Jane
08/15/01: A wild and crazy world!
08/10/01: When the future was "as real as a dime"
08/08/01: Garage Dearth!
08/06/01: That Big Clock
08/02/01: Stop the pop!
07/31/01: Catchphrase history of the world
07/26/01: The Bride of Science
07/23/01: That java jive
07/17/01: Homogenized hegemony
07/13/01: Applying Newton's First Law of Physics to textbooks
07/10/01: The dumb and the dead

© 2003, Ian Shoales