Jewish World Review Feb. 3, 2004 / 11 Shevat, 5764

Jonathan Turley
Senate powder is the least of Congress' security concerns
http://www.NewsAndOpinion.com | It could be called that little terrorist engine that could. The slow-moving train appears regularly in Washington, pulling 90-ton tank cars of poisonous gas into the heart of the Capitol.

The tracks are easily accessible above ground and run within four blocks of the U.S. Capitol and just behind various congressional office buildings and vital federal agencies. Run by railroad giant CSX, the train is a rolling, ready-made weapon of mass destruction. Yet, despite numerous warnings from the FBI and outside experts, the Bush administration has kept the little train running on a hope and a prayer that no terrorist takes notice.

For many, the very idea of a train carrying poisonous gases through the Capitol complex is simply unbelievable. After all, the train is visible from Reagan Washington National Airport, where passengers have been shaken down for nail cutters as too risky to put on airplanes.

The obvious danger to the government has in fact been raised by experts. After Sept. 11, the trains were stopped for 72 hours and periodically during special events, such as the State of the Union, the trains are halted. However, as soon as the party ends, the trains roll again.

FBI Special Agent Troy Morgan, an expert in weapons of mass destruction, has described these trains as easily available weapons of mass destruction. "You've heard about sarin and other chemical weapons in the news," he said, the Pittsburgh Tribune-Review reported. "But it's far easier to attack a rail car full of toxic industrial chemicals than it is to compromise the security of a military base and obtain these materials."

Morgan's concerns are shared by many other outside experts who are in disbelief that these trains have not been re-routed around major cities, particularly the Capitol. Even the Chlorine Institute, a Washington-based industry group, admits that a single 90-ton tank exploding would produce a cloud covering over 41 miles.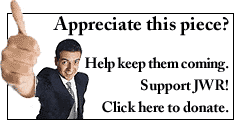 Jay Boris, a senior scientist for the U.S. Naval Research Laboratory, recently revealed the expected casualties from just one of the 90-ton tanks exploding in a terrorist attack or accident.

Such an explosion would produce a potentially lethal cloud that would cover a 14-mile radius — an area covering the vast majority of federal agencies (including the FBI headquarters, Secret Service headquarters and Justice Department), Congress, the Supreme Court and the White House. Projected deaths would occur "at the rate of 100 per second," and both the legislative and executive branches would be crippled. An estimated 2.4 million people would be at serious risk, and tens of millions would likely panic at the loss of life.

Ironically, groups like Greenpeace have been trying to force the administration to address these national security risks — to no avail. Greenpeace and the Sierra Club have produced pictures showing the trains with the Capitol looming in the background or just behind buildings like the Rayburn House Office Building. These pictures notably show graffiti on the sides of the tanks to illustrate the easy contact with the tank cars. Yet the government appears to believe that terrorists could never accomplish what teenagers routinely do in climbing on these cars and planting their own mementos for public view.

Of course, for the less energetic terrorist, the tanks could be blown with high-powered rifles or a grenade. Multiple tanks could be exploded producing the type of lethal cloud that killed thousands in Bhopal, India, in 1984.

For the discriminating terrorist, the administration has allowed such shipments to pass through virtually every major city including Chicago, Los Angeles and other "high-value target cities." Across the country, 800,000 such shipments of hazardous materials pass through towns and cities each day. There are 100,000 shipments of chlorine each year.

Despite the obvious dangers, lobbyists have successfully opposed efforts to re-route the shipments due to their cost to companies like CSX. The Chlorine Institute insisted, "it is clear beyond doubt that no plan, no matter how well-conceived and well-implemented, can 'assure' that terrorists will be prevented from carrying out their acts of terror."

This may be true, but wouldn't it be comforting to try? One obvious approach is to bar the transport of large quantities of chemicals listed as "toxic by inhalation" within the Capitol area and through other major cities.

These tank cars magnify concerns that the government is quick to demand sacrifices of individual citizens but slow to do so with corporate citizens. Whole roads have been closed off to citizens in D.C. in fear of car bombs while trains carrying tons of poisonous chemicals are allowed to move in the shadow of the Capitol Dome at low speeds and without meaningful protection.

Congress needs to address this issue and force immediate action to reduce the threat identified by the FBI and outside experts. Otherwise, the little terrorist engine that could may soon be a bedtime story for every terrorist family. Of course, few would believe that any such thing could really happen outside of a fanatic's fable.
Every weekday JewishWorldReview.com publishes what many in Washington and the media consider "must reading." Sign up for the daily JWR update. It's free. Just click here.


JWR contributor Jonathan Turleyis a professor at George Washington Law School who has consulted on homeland security issues with federal and state legislators. Click here to visit his website. Comment by clicking here.
01/29/04: Case of the Missing Evidence: Facts are often withheld from juries, which can lead to ill-informed verdicts
12/31/03: Celebrity is often its own best defense
12/27/03: U.S. soldiers lack best protective gear
12/17/03: Going for the gold in a competition of the corrupt
11/25/03: Will Malvo jurors spare life of young suspect?
11/11/03: The Black Tax: Of charlatans, crooks and victims and the reparations scam
11/04/03: Sniper case lacks appeal, public lessons of other cases
10/02/03: Is a soldier's life worth more than $650?
08/26/03: One justice wields too much power on today's Supreme Court. It's time to make the top bench much bigger
08/11/03: Don't let jobs grow on family trees
06/26/03: A Ruling That Only Goldilocks Could Love; We still don't know how much weight to give race in college admissions
06/24/03: 'Educating' Congress at the hands of lobbyists
06/12/03: Crooked arm of the law
06/10/03: Defense on lay-away
05/23/03: Innocence doesn't pay, either
05/15/03: A see-no-evil parole system
05/08/03: An American Gulag?
05/01/03: CUNY Law gives grads a cynical parting gift
04/22/03: Congress Must Send Spammers a Message
04/16/03: End Apartheid in the State Prisons
04/07/03: NBC's sacking of Peter Arnett over a critical analysis plays well in Baghdad
03/07/03: Rights on the Rack: Alleged torture in terror war imperils U.S. standards of humanity
02/25/03: How democracy could clear our snowy streets
02/11/03: Sanity and Justice Slipping Away
01/28/03: Quit horsing around, senator
01/14/03: Public Payroll: a Family Affair; Nepotism in Washington poses a threat to institutional integrity
01/09/03: DARPA and democracy
12/24/02: The 13th juror
12/19/02: Back to the admissions morass
12/10/02: Pro-Choice at Expense of Free Speech; NOW case against abortion protester may backfire
12/02/02: A cruel bait and switch for vets
11/15/02: Junk justice
11/07/02: OUR second-class soldiers
10/30/02: 'Quirin' revisited: The dark history of a military tribunal
10/22/02: Un-American Arrests: Mass detainments of the innocent may be the ultimate form of crowd control, but the tactic is unconstitutional
10/16/02: Reverse pawn shops? Broke state officials across the country have been looking for businesses to buy their assets at a fraction of their worth to pay for budget shortfalls
10/08/02: A legal tattoo hullabaloo
10/02/02: Gagged justice sets dangerous precedent
09/25/02: The Great Salmon Rose Caper
09/17/02: Reparations: A Scam Cloaked in Racial Pain
09/12/02: This country's hidden strength
09/04/02: 1st Amendment protects even the ugliest among us
08/28/02: A secret court goes public
08/20/02: I defended Ashcroft during his nomination; he's become a constitutional menace
08/07/02: San Francisco embracing states-rights
07/31/02: Who needs Jenny Craig when you can have Johnnie Cochran?
07/22/02: The meaning of justice and the madness of Zacarias Moussauoi
07/16/02: The President vs. the Presidency
07/08/02: How one woman's whims dictates the rights of millions
07/02/02: Just say 'no' to extracurricular activities
06/24/02: Missing Ted Bundy
06/14/02: DESTROYING A FAMILY TO SAVE IT
06/10/02: A comedy of eros06/14/02: 05/31/02: Beyond the 'reformed FBI' hype
05/23/02: Do we really need a Federal Marriage Amendment?
05/19/02: No "battlefield detainee" should leave home without a U.S. birth certificate
05/10/02: The perfect constitutional storm
04/26/02: 'Slave of Allah' wounds justice
04/12/02: The importance of being nameless
04/05/02: The adjusted value of justice
03/18/02: How Clinton got off: A law professor's take
03/11/02: Profiling and the terrorist lottery
03/05/02: Yes, Sharpton, there was a failure of justice
02/28/02: The Lay of the land
02/14/02: Living in constitutional denial
02/05/02: Legal Lesson for Afghanistan: War's Not a Slip-and-Fall Case
01/25/02: Sever "Jihad Johnny"'s ties to his homeland
01/21/02: "Out of sight, out of mind," but they're still prisoners
01/14/02: Your papers, please!
01/07/02: Prescription for disaster
12/18/01: Madison and the Mujahedeen
12/07/01: In the U.S., espionage crime is easy to understand but difficult to prove
11/19/01: What type of 'creature' would defend bin Laden?
11/19/01: Could bin Laden be acquitted in a trial?
10/28/01: The ultimate sign of the different times in which we are living
10/25/01: Al-Qaida produces killers, not thinkers
09/28/01: The Boxer rebellion and the war against terrorism
08/31/01: Bring back the silent Condit
08/27/01: Working out the body politic

© 2003, Jonathan Turley