Jewish World Review August 18, 2003 / 20 Menachem-Av, 5763

Drs. Michael A. Glueck & Robert J. Cihak
The outlaw prosecutors: A Justice and Civil Liberties Issue
http://www.NewsAndOpinion.com | There is another group of trial lawyers that has been left alone to go about their dirty work with few restrictions and all at taxpayers' expense.
This abuse is a justice issue, a taxpayer issue, a privacy issue and a civil liberties issue.
The Issue
There are government prosecutors who abuse their positions to further their careers and power while spending your money. They use high-publicity cases, such as those involving the hot "drug du jour" such as OxyContin, as career stepping-stones on the backs of the defendants rather than to serve the public or justice.
A recent study by the Center for Public Integrity found that prosecutors stretched, bent or broke rules so badly that appeals court judges have dismissed criminal charges, reversed convictions or reduced sentences in more than 2,000 cases since 1970.
And these are only the cases that went to trial about 20 times as many defendants plead guilty than ever go to trial. And it's in the pre-trial period that the misconduct is the most hidden and the most abusive, including legal extortion.
Other Concerns
Aside from concerns about individual civil liberties, the impact is felt throughout the country and various industries. Take, for example, privacy issues. Medical records and other personal files are fair game in these fishing expeditions.
The targets are often white-collar professionals or foreign-born blue-collar workers, who make easy targets because they don't fight back the way real criminals do.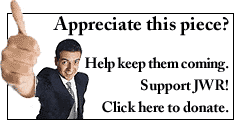 The situation became so blatant that at one point the Department Of JusticeA issued a memo to U.S. attorneys to back off on prosecutions. But it didn't help and the legacy of abuse continues. How many times have you heard of a judge sending a prosecutor to jail? We haven't heard of any! This is one arena where we would agree with the ancient justice dictum "an eye for an eye, a tooth for a tooth."
Prosecutors' Dirty Tricks
Defendants are held without trial sometimes for years through various stalling tactics, a favorite trick to bring defendants to their knees. Prosecutors know that the more time passes, the more the defendant is unable to earn a living at the same time the legal fees mount, the better the chances are that the victim will make a bad deal just to bring the nightmare to an end. As the Center for Public Integrity puts it, "the prosecutor becomes the judge and the jury."
Sometimes they seem to be in a hurry, as in the current case of Dr. Jeri Hassman, a Tucson, Ariz., pain-treatment specialist whom we've written about before but then turn around and say they want more time to add another specialist to testify for their side. In this case, they also withheld a large number of important documents (10,000 pages) until two weeks before the trial was scheduled to start.
St. Louis dentist Dr. Charles Sell continues to languish in prison after more than five years awaiting trial on fraud charges that carry only about a four-year sentence and after the U.S. supreme court told the prosecutors they couldn't force mind-altering medications into him without his consent.
Sometimes dozens of unrelated charged are piled on in the hope that the frightened defendant will plead guilty to something to make most of the charges "go away." This pile of charges is also used to confuse jury members who may want to please both sides and mistakenly think that coming in with a "Not Guilty" decision on 37 out of 38 charges will be kind to the accused. Yet being found guilty on one count in these criminal cases can cause the judge to jail and fine the accused person.
Drug-dependent patients are arrested, then promised drugs if they will testify against a doctor. Psychiatric patients are threatened with involuntary confinement; senile geriatric patients are coached to change stories.
The Center for Public Integrity describes the case of St. Louis prosecutor Nels C. Moss Jr. Missouri judges cited him for misconduct in at least 25 cases. Yet this prosecutor has never faced a disciplinary action, much less jail time or fines, for doing injustice to others. The Center Web site includes a tabulation and examples of prosecutorial abuse from all 50 states [http://www.publicintegrity.org/pm/].
A New Coalition
Kathryn Serkes, a Washington, D.C.-based health and Public Relations consultant, is establishing the Coalition Against Prosecutorial Abuse (CAPA).
Serkes is planning a congressional briefing, and those who want to sign up for alerts and information should e-mail her at: kaserkes@att.net.
There are some courageous former prosecutors and defendants willing to tell their stories. You need to share your own account. We must end this legal abuse through public education, judicial reforms and the prosecution of law-breaking prosecutors.


Michael Arnold Glueck, M.D., is a multiple award winning writer who comments on medical- legal issues. Robert J. Cihak, M.D., is past president of the Association of American Physicians and Surgeons. Both JWR contributors are Harvard trained diagnostic radiologists. Comment by clicking here.

08/08/03: "Toxic Teeth?"
07/25/03: Resuscitating the Constitution; CPR American Style
07/25/03: Drug reimportation: Bill translates to goodnight, patients
07/11/03: Costly Medicare Changes, Without Real Reform
07/04/03: The Painful DEA II: War on legal drugs ensnares too many doctors and not enough dealers
06/20/03: The Medicare Mess: Will President Bush call Congress' Bluff?
06/13/03: Diagnosis: School Insanity: A suit for sanity and school discipline
06/05/03: Soaring Medical Costs: Rational ignorance or rational enlightenment?
05/30/03: A Tale of Two Admirable Women: Jessica and Annika
05/23/03: Latest medical innovation: Cash
05/09/03: We feel your pain; Physicians have it too no thanks to the DEA
05/02/03: Medical Quarterbacking
04/25/03: CNN the "Conscience-Not Network"
04/21/03: Medical Miranda?
04/11/03: Are childhood vaccines shots in the dark?
04/09/03: The PETA Principle -- The lambshank Redemption
03/28/03: American conscience?
03/21/03: West Wimps or Wings: Treatment for Hollywood Hypocrisy
03/13/03: Worldwide schmaltz shortage looms --- all because of a featherless chicken
03/06/03: Legal metastases are killing us
02/28/03: Outside the Jury Box: Seeking Justice rather than a Lottery in Medical Liability
02/21/03: Workforce temperature rising; employer TLC in demand
02/14/03: Malpractice Insurance: They Reap What They Sue
02/12/03: Hawk, Dove or Groundhog: Diagnosis Critical List; Prognosis Uncertain
02/07/03: How about tax cuts for the "rich" and "poor"?
01/31/03: AIDS Bug Chasers
01/24/03: Libertarian moment or movement?
01/17/03: It's not just 'sue the docs' anymore
01/03/03: A pox on the critics; diagnosis sour grapes
01/03/03: If protesting is good for your health; then at least let's root for the home team
12/20/02: Obesidemic (obesity epidemic) or not?
12/20/02: Time for voluntary informed smallpox vaccinations
12/13/02: The real reason the state opposes homeschooling?
12/06/02: Conscience of a former conservative: Portrait of a political metamorphosis
11/27/02: Thanksgiving dinner hazard?
11/22/02: Time to think outside the box and inside the nucleus
11/15/02: The military should be protected from abusive environmental laws in times of war
11/11/02: Does Kyoto Treaty pose more harm than global warming?
10/31/02: Deep thoughts on Baseball, the World Series and Life: How about them Anaheim Angels?
10/23/02: "Pediatric rule" guinea pigs
10/23/02: Once the World Series ends, we need to create a Donnie Moore Day of Remembrance: Sports and mental health
10/18/02: Congress to senior patients: Do as we say not as we do for ourselves
10/11/02: Using pollution "scare labeling" to political advantage
10/04/02: The Great Asbestos Heist: Did Litigation and Junk Medical Science Helped Bring Down the World Trade Center?
09/27/02: The imminent rise of civic feminism: A far healthier national alternative in war and peace
09/20/02: A Ray A Day" to replace the daily apple?
09/13/02: Beware of celebrities hawking drugs
09/06/02: Avoid 9/11 overdose: Give blood to begin "September of Service," SOS
08/28/02: From Doubleday to strikeday: Baseball's collective anxiety attack
08/23/02: Should she or shouldn't she?: An alternative view on treating menopause with HRT
08/16/02: Cooking up defenses against germ warfare
08/02/02: Medicine, crime and canines
07/26/02: Lies, pathologic lies and the Palestinians
07/19/02: Medicare Drug Follies … as in "now you see it, now you don't"
07/12/02: Anti-Profiling: A New Medically False Belief System
07/08/02: Don't procrastinate, vaccinate!
06/28/02: The scientific advances on the safe and effective deployment of DDT are being ignored, or denied. Why?
06/21/02: Sex and the system: In seeking healthcare men are different from women
06/14/02: The FDA, drug companies and life-saving drugs: Who's the fox and who's the hen now?
06/07/02: Medical Privacy Lost: A hippo on the healthcare back!
05/24/02: To clean up America's game: A (soggy) ground rule
05/10/02: Free speech is good medicine
05/03/02: Medicine's Vietnam
04/26/02: Attack on alternative medicine could lead to alternative lawsuits
04/12/02: Insure the 'crazies'?
04/09/02: No Time for Litmus Tests: In War We Need a Surgeon General and NIH, CDC, and FDA Directors
04/02/02: The scoop on soot: A dirty rotten shame?
03/22/02: Too many beautiful minds to waste: The first annual Caduceus Movie
03/15/02: Terror and transformation: Defense essential for health & state of mind
03/08/02: Diagnosis: Delusional
03/06/02: The great matzah famine
03/01/02: Is new Hippocratic Oath hypocritical?
02/15/02: Why the recent moaning about cloning?
02/08/02: Searching for Dr. Strangelove
01/15/02: Score one for the value of human life
01/04/02: Medical-legal-financial wake-up call
12/28/01: Who's afraid of a 'dirty bomb'?
12/21/01: End of medicine?
12/14/01: More heroes: Docs deserve a little credit after 9/11
11/16/01: Do we need 'Super Smallpox Saturdays'?
11/09/01: Why the post-9-11 health care debate will never be the same
11/01/01: Common sense good for our mental health
10/26/01: Your right to medical privacy --- even in terror time
10/12/01: Failed immigration policy ultimately bad for nation's mental health: Enemy within leads to epidemic of jumpy nerves
09/28/01: Can legal leopards change their spots: A treat instead of a trick
09/21/01: Civil defense again a civic duty
08/30/01: Shut down this government CAFE
08/23/01: School Bells or Jail Cells?
08/15/01: Time to take coaches to the woodshed
08/10/01: Blood, Guts & Glory: The Stem of the Stem Cell controversy

© 2002