Jewish World Review Jan. 22, 2004 / 28 Teves, 5764

Laura Ingraham
The Dean bubble

http://www.NewsAndOpinion.com | The Dean Machine, with its fluorescent orange ski caps and cyber-whizzes all hooked up coast-to coast was supposed to be an unstoppable force. Like so many others who should have known better, I bought into the Dean hype. Big time.

Sound familiar?

Can you say "internet bubble"? Through much of the late '90s, millions of Americans tossed their money into gems like Buy.com, flowers.com, and com.com without really knowing how these companies were ever going to turn a profit. We didn't bother to look at the business models. We didn't care. It was all so exciting-it was a movement. We were told that the "old rules" of the marketplace didn't apply. Profit-to-earnings ratios of 50 to 1 were not uncommon, 20-something internet execs were becoming gazillionaires, and the stock prices just kept skyrocketing.

But then reality set in.

It turns out that the old rules did matter. The slick dot-com television ads couldn't conceal the fact that there was no there there. The bubble burst. In retrospect, it all seems so obvious. How could so many people have been fooled for so long?

And so it goes with Howard Dean. In the months leading up to Iowa, many thought Dean was leading more than a campaign. He was leading a revolution-a revolution against doing things "the old way." "See Howie use the internet!" "See Howie mobilize the youth vote!" "Hey, the fact that his wife isn't on the stump with him is cool!"

Yet cool turned to cold and even to Democrat stalwarts, Dean's "shoot from the hip" style didn't wear well. (Do we want to trust our future to the Deaniacs?)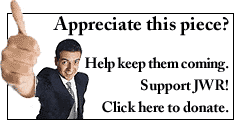 In retrospect, the Dean frenzy should have been seen for what it was-a frenzy. Suddenly, someone like John Kerry seems like the safe, "brick and mortars" candidate for Democrats. Maybe he's not as exciting as Dean, but so what? He's a known quantity. And with so much at stake, bricks and mortars look pretty good.

Counting Dean out-even with his hysterical braying on Monday night-would be a mistake. Many of the same internet companies that we were dumping a few years ago have made comebacks. But Dean doesn't have years, or months. He has a few weeks at most. He will have to learn, like so many high-tech companies have done, that there is no magic bullets that guarantee success. Just as high-tech companies have had to concentrate on actually making a profit, the Dean campaign must concentrate on translating the enthusiasm from its hardcore activists into real votes by lots of real Americans.
Every weekday JewishWorldReview.com publishes what many in Washington and in the media consider "must reading." Sign up for the daily JWR update. It's free. Just click here.

JWR contributor Laura Ingraham is the host of a nationally syndicated radio show and the author of the just released "Shut Up and Sing: How Elites from Hollywood, Politics, and the UN are Subverting America". Comment by clicking here.
01/09/05: Jumping conservatives at the border
11/20/03: The Media Misses the Point — Again
10/29/03: The attack of the open border elites
09/11/03: Blame America redux
09/04/03: Back To School, or Back to...Sex?
08/27/03: The elites' anti-religion obsession
08/14/03: Dems whine, democracy shines
08/12/03: What would Reagan do?
08/06/03: Hillary, courtside
07/30/03: Gray skies just got darker
07/23/03: Sticking it to the Children
07/08/03: He's not invincible
07/01/03: It's time to take back the Constitution
04/01/03: Peter Arnett's MOAB
03/25/03: The Dems' Michael Moore Problem
03/18/03: Dixie Chicken out
03/11/03: The real predator drones
03/04/03: The French PR machine crashes
02/25/03: Keep us safe --- let's be more like Europe!
02/11/03: Hollywood loves dictators
02/05/03: First Amendment frauds in Cincinnati
01/28/03: The elites versus the voters
01/22/03: Playing (and losing) Homeland Security politics
01/14/03: What have you done for the free world lately?
12/17/02: Who is the better leader: Gore or Lott?
12/10/02: Who, more than anyone else, is actively advancing the cause of civil liberties around the world?
12/04/02: 'Tis the season to hope for the worst
11/27/02: The Federal P.C. Police Versus Small Business Owners (Cont'd)
11/19/02: Bipartisan moves to reward illegals
11/13/02: Eminem, a rebel? You gotta be kidding!
11/05/02: In defense of low turnout
10/30/02: Hell, no they won't go!
10/22/02: Where are the moderate Muslims?
10/15/02: California dreaming, cont'd
10/08/02: Slick Willie's running
10/01/02: Euro-worries about wall flower status
09/26/02: How lucky we are that the Straight Talk Express drove off the cliff!
09/18/02: What Jackson and Sharpton know about conservatives
09/12/02: The Today Show v. guns
08/27/02: Bush not attending the UN-sponsored "bash Amerika" conference!?
08/20/02: The NEA: Let the anti-American indoctrination begin!
08/13/02: Bubba's revenge
08/07/02: Bilingual bust continues its drag on our schools
07/30/02: Dems love for big lawyers=big opportunity
07/23/02: No time for vacation
07/16/02: Is Homeland Security all wet?
06/25/02: The firing season has arrived
06/18/02: Picking the next chief
06/11/02: Intelligence coup, with much more to do
06/07/02: The Bush administration's foul ball
05/30/02: Post-feminism in the aftermath of 9-11
05/23/02: The press gunning for Ashcroft
05/19/02: El Jefe basks in Carter's Light
05/15/02: Former presidents who don't understand the word "former"
05/07/02: Ozzy deified, many mortified, drugs glorified?
05/01/02: Bush: "California here I come ... sort of"
04/27/02: The good news about conservatives versus Bush
04/17/02: While the cat's away....
04/09/02: Preview of 2004: See how Dick runs!
01/29/02: A kinder, gentler human-rights violator?
11/27/01: Military tribunals provide streamlined justice
09/07/01: Scariest animal wears pants
08/17/01: Depressed after seeing uncut version of Apocalypse Now --- and for good reason
07/20/01: The other, maybe more important, news
06/22/01: Washington's pro-Bono worship is unnerving
06/01/01: Burying conservatism
05/17/01: Ashcroft's abuse of power

© 2002, Laura Ingraham