Jewish World Review Nov. 15, 2000 / 17 Mar-Cheshvan, 5761

Michelle Malkin

Fog horns of the Fourth Estate

http://www.jewishworldreview.com -- TV JOURNALISM means never having to be truly sorry.

You would think that after last Tuesday's election coverage fiasco, the broadcast networks might show a smidgen of humility. Instead, NBC and MSNBC – which led the blow-dried lemmings in erroneously awarding Florida to Vice President Al Gore – ran self-congratulatory promotional ads this week. NBC bragged that more people watched (and were misled by) its political coverage than that of any other network.

MSNBC proclaimed itself the station that gives you the "whole picture" (as clear and accurate as a funhouse mirror reflection).

Here is how CBS's veteran newsman Dan Rather "apologized" this weekend for making the disastrous mistake of declaring Gore the winner in Florida before polls had closed in that state and across the West, then retracting that call, then awarding Florida to George W. Bush, then declaring Bush the next president, then retracting that call as well: "It was a mistake. How many times do we have to say it?" Rather groused on CNN's Reliable Sources. Rather puffed that "CBS News has by far the best record in the business on election nights."

Appearing on the same show, ABC's Sam Donaldson cackled his way through an explanation for the media debacle. "Well, no one is happy about it. We have egg on our face, no question about it," Donaldson told host Howard Kurtz. Donaldson blamed bad data. "Garbage in-garbage out," Donaldson shrugged before promoting his program. "Tomorrow morning on 'This Week' on ABC, I'm going to make certain that Cokie [Roberts] and I explain chads in a way with graphics that everybody can get it. How's that for a plug?" The panel of journalism's best and brightest tittered in unison at Donaldson's shamelessness.

These are the same bow-tied media mavens who pontificate endlessly about the gravity of their constitutionally-protected roles, and who take every opportunity to lambaste cyberjournalists --- namely, Matt Drudge. It is no small irony that Drudge, who hosted a burgeoning national radio show, was fired by ABC this week under apparent pressure from news executives who deemed him a reckless rumor-monger with zero news credibility.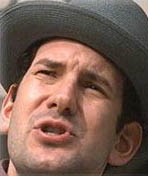 Truth teller: Matt Drudge
Nothing Drudge has ever put on his eponymous website can match the journalistic sins committed by the unrepentant news divisions of the major TV networks last week. Indeed, what happened last Tuesday was just the latest in a long and embarrassing string of Old Media iniquities. Take just one network:
It was ABC News that put Cokie Roberts in a coat, stood her in front of an image of Capitol Hill that was erected inside the network's Washington, D.C., studio, and misled viewers into thinking that she was actually reporting outside on the scene. Neither Roberts nor her producer were fired for deceiving the public.
It was ABC News that hired baby-faced actor Leonardo DiCaprio to "interview" President Clinton for an Earth Day special (a story publicized the Drudge Report).
It was ABC News that hired baby-faced Clinton flack George Stephanopoulos not merely to act as a Sunday morning pundit – but to actually play the role of journalist on the nightly news.
It was ABC News that appointed John Cochran lead reporter on Gore's presidential campaign, knowing full well that Cochran and his wife were long-time friends of the Gores.
And it was ABC News that put Carole Simpson in its weekend anchor chair, from which she "grilled" President Clinton with the following hardball question: ''I have to bask in this moment, for a moment, because I am here talking to the most powerful man on the planet, who was a poor boy from Arkansas...I am an African-American woman, grew up working class on the south side of Chicago, and this is a pretty special moment for me to be here talking to you. How does it feel talking to me?"
Next year, the fog horns of the Fourth Estate will gather at Beltway journalism award banquets to toast each other for cutting-edge coverage of Election 2000. "Pride goeth before destruction," the old Biblical proverb warns. In the broadcast news media's case, irrepressible hubris keeps growing long after the fall.

JWR contributor Michelle Malkin can be reached by clicking here.

11/10/00: Who cares about election fraud now?
11/08/00: Ms. Houston, you have a problem
11/03/00: The Million Mom Murmur
11/01/00: GOP revolutionaries head for the hills
10/27/00: My impeachment referendum
10/25/00: Gore's Good Daddy Gambit
10/23/00: Tribulations of a dubious 'tribe'
10/20/00: Pharmaceutical butchers of Beijing
10/16/00: How the West was seized
10/12/00: Fight the anti-pesticide pests
10/10/00: Moochers at the multiplex
10/05/00: Pay for your own day care
10/02/00: Not every senior demands a handout
09/27/00: Racial hype at the Olympics
09/25/00: Watch the other Washington
09/20/00: Textbook case of media arrogance
09/18/00: New York: Land of medical pork
09/13/00: Voices from the womb
09/11/00: No cure for generational pain
09/08/00: Notes on a West Coast wilding
09/06/00: Race matters at Washington Post
09/01/00: For those who labor 24/7
08/28/00: There's something about Rudy
08/25/00: A conservative case against Napster
08/22/00: Death Row Marv mocks justice
08/18/00: The party of Maxine Waters
08/14/00: "Make-A-Wish" shoots down dreams
08/10/00: Who will stop Bill Lann Lee?
08/07/00: Emily Dickinson's lesson for rude drivers
08/03/00: Leave the slogans behind
07/31/00: Hey, GM: Build cars, not quotas
07/28/00: Stop milking The Juice
07/24/00: Silencing Jeff Jacoby
07/21/00: Score another one for TV execs who want to keep us brain-dead
07/17/00: Can somebody say McStupid?
07/12/00: Beware of Ugly Building Syndrome
07/10/00: The miracle of a lead pencil
07/07/00: Partying on the people's dime
06/29/00: When "Indians" exploit their own
06/23/00: Kids in a public school daze
06/21/00: Fed up with Fannie and Freddie
06/19/00: D.C.'s gag order for Christians
06/16/00: Dads, daughters, and PETA's spoilsports
06/13/00: Tune out Eminem's pitiful "poetry"
06/07/00: "Pained" Dem leader Torricelli deserves to feel some; Why hasn't he?
06/05/00: Tom Green's hidden health-care lesson
06/01/00: Farming out the pork
05/30/00: The perils of medical quackery
05/26/00: Awarding medals by race is a disgrace
05/22/00: Have Simon & Schuster execs lost their minds!?
05/17/00: Sports plebes vs. plutocrats
05/15/00: Whitewashing Red China's record
05/12/00: Our mothers' hands
05/08/00: Focus on the real Waco
05/05/00: An Internet victim's sad story
05/03/00: Phony pooh-bahs of journalism
05/01/00: Zoo tragedy triggers dumb reaction
04/24/00: Ecoterrorists on the loose
04/19/00: Beware of Elian's psychobabblers
04/17/00: The truth about Erin Brockovich
04/13/00: In defense of an armed citizenry
04/10/00: Playing hardball with taxpayers
04/06/00: Read W.'s lips: More new spending
04/04/00: The liberal media-in-training
03/31/00: Sticking it to the children
03/28/00: Declaring war on HOV lanes
03/22/00: Clinton and the Echo Boomers
03/17/00: Is Bush a Liddy Dole Republican?
03/13/00: Katie and the politics of disease
03/10/00: Maria H, Granny D, and the media Z's
03/07/00: Bubba Van Winkle wakes up
03/03/00: Double standard for day traders?
02/28/00: Sluts and nuts --- and our daughters
02/24/00: Zoning out religious freedom
02/15/00: The Baby Brain Boondoggle
02/10/00: Buddhist temple untouchables
02/08/00: CDC: Caught Devouring Cash
02/04/00: Hillary's poisoned poster child
02/01/00: Corporate welfare on ice
01/28/00: The silly sound of silence
01/26/00: The Old Media meltdown
01/20/00: The pied pipers of KidCare
01/18/00: Our imperious judiciary
01/14/00: Tune out Columbine chorus
01/12/00: Dying to be an American
01/10/00: Time for smokers' revolt?
12/30/99: Reading, writing, PlayStation?
12/27/99: Fight money-grubbing mallrats
12/23/99: Christmas for Cornilous Pixley
12/20/99: Who will help the Hmong?
12/16/99: Shame on corn-fed politicians
12/13/99: EPA vs. the American Dream
12/09/99: Look behind the Pokemon curtain
12/06/99: Amateur hour in Seattle
11/30/99: Stop the Ritalin racketeers
11/23/99: Welfare for a sports fatcat
11/19/99: Jeb Bush's political ploy of the week
11/16/99: Ben & Jerry serve up junk science
11/12/99: A monumental waste of our veterans' resources
11/10/99: Tax-and-spend schizophrenia
11/05/99: Spooky Guy Haunts the Capital
11/02/99: Mourning the loss of the last Liberty Tree
10/27/99: AOL goes AWOL on parents
10/22/99: The persecution of Harry Potter
10/20/99: Don't doctor the law
10/14/99: The trouble with kids today
10/12/99: Pro-animal, pro-abortion, anti-speech?
10/07/99: Beltway press corps needs more skunks
09/30/99: ESPN overlooks athlete of faith, grace, and guts
09/27/99: Personal freedom going up in smoke
09/15/99: Farewell, "Miss" America
09/10/99: Will George W. work for a color-blind America?
09/03/99: Feminization of gun debate drowns out sober analysis
08/27/99: America is abundant land of equal-opportunity insult
08/10/99: Protect the next generation from diversity do-goodism
08/04/99: Sweepstakes vs. state lottery: double standards on gambling
07/21/99: "True-life tales from the Thin Red Line" (or "Honor those who sacrificed their lives for peace")
07/21/99: Reading, 'Riting, and Raunchiness?
07/14/99: Journalists' group-think is not unity
06/30/99: July Fourth programming for the Springer generation
06/25/99: Speechless in Seattle
06/15/99: Making a biblical argument against federal death taxes

© 2000, Creators Syndicate