Jewish World Review August 18, 2000 / 17 Menachem-Av, 5760

Michelle Malkin

The party of Maxine Waters

http://www.jewishworldreview.com -- SHE IS ONE of the most self-serving, hate-filled, race-obsessed politicians in America. The Democratic Party doesn't just embrace her. It kneels at her feet.

Los Angeles Congresswoman Maxine Waters reigned supreme this week when Democratic vice presidential candidate Joe Lieberman appeared before a black audience to "explain" himself. The Connecticut senator's sins? Opposing affirmative action and supporting educational vouchers that benefit minority children. Lieberman, once a courageous voice for equal opportunity, has now been schooled: Pander hard and keep your dissenting thoughts to yourself.

After throwing a hissy-fit in the press because she had not been personally consulted about Al Gore's veep picks ("I never had the opportunity to talk to anybody about it before he was decided on as the vice presidential choice," she whined), Waters gave her benediction.

The skilled publicity hound dissed and then kissed Lieberman for the cameras; a cheek-to-cheek photo of the couple appeared in newspapers across the country.

Waters is not a marginal figure in Democratic politics. She has been at the center of the action for two decades. She has served on the Democratic National Committee since 1980. She led the Congressional Black Caucus. She was a key leader in five presidential campaigns and seconded the nominations of Sen. Edward Kennedy (1980), Rev. Jesse Jackson (1984 and 1988), and President Bill Clinton (1992).

Yet, in contrast to the media's wide coverage of GOP presidential nominee George W. Bush's primary-season visit to Bob Jones University, hardly a word was seen or heard reminding Americans of Waters' ugly history of race-baiting rationalizations and rhetoric.

This is a woman who excused the 1992 Los Angeles riots as a "rebellion."

This is a woman who called the violence in L.A. "a spontaneous reaction to a lot of injustice and a lot of alienation and frustration."

This is a woman who, instead of coming to the aid of Korean grocers and other minority business owners in her district whose lives were destroyed by looters, made sympathetic statements such as this: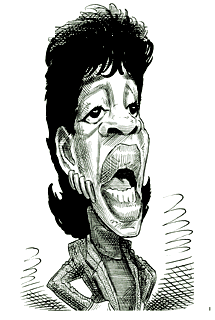 Waters
"There were mothers who took this as an opportunity to take some milk, to take some bread, to take some shoes. Maybe they shouldn't have done it, but the atmosphere was such that they did it. They are not crooks."
And this: "One lady said her children didn't have any shoes. She just saw those shoes there, a chance for all of her children to have new shoes. go--amn it! It was such a tear-jerker. I might have gone in and taken them for her myself."
This is a woman who danced the electric slide with Crips and Bloods gang members, and then noted in her official biography that "Many young people, including those in the hip-hop music community, praise her for her fearless support and understanding of young people and their efforts at self-expression."
This is a woman who visited the home of Damian Williams, the infamous thug who "expressed himself" by hurling a chunk of concrete at white truck driver Reginald Denny and performing a victory dance over the innocent bystander.
This is a woman who rose to power by badmouthing the white "Establishment," and then shamelessly abused it to secure an ambassadorship to the Bahamas for her husband – a former pro football player and car salesman whose main qualification was having traveled to the island for a vacation.
This is a woman who repeatedly excoriates "the white press" whenever negative stories about black politicians appear.
This is a woman whose main accomplishment in Congress after five terms has been to bully the House Veterans Committee into hiring two black members to its staff.
Democrats spent much of their national convention in L.A. deriding Republicans for fostering an "illusion of inclusion." But at least the GOP doesn't include in its leadership a snarling bomb-thrower who exploits every opportunity to play the race card and cash in on collective guilt and fear. Some liberals may try to distance themselves from Maxine Waters' extremism, but Sen. Lieberman and the Democratic Party don't have the guts to wipe the lipstick stains of racial demagoguery off their trembling cheeks.

JWR contributor Michelle Malkin can be reached by clicking here.

08/14/00: "Make-A-Wish" shoots down dreams
08/10/00: Who will stop Bill Lann Lee?
08/07/00: Emily Dickinson's lesson for rude drivers
08/03/00: Leave the slogans behind
07/31/00: Hey, GM: Build cars, not quotas
07/28/00: Stop milking The Juice
07/24/00: Silencing Jeff Jacoby
07/21/00: Score another one for TV execs who want to keep us brain-dead
07/17/00: Can somebody say McStupid?
07/12/00: Beware of Ugly Building Syndrome
07/10/00: The miracle of a lead pencil
07/07/00: Partying on the people's dime
06/29/00: When "Indians" exploit their own
06/23/00: Kids in a public school daze
06/21/00: Fed up with Fannie and Freddie
06/19/00: D.C.'s gag order for Christians
06/16/00: Dads, daughters, and PETA's spoilsports
06/13/00: Tune out Eminem's pitiful "poetry"
06/07/00: "Pained" Dem leader Torricelli deserves to feel some; Why hasn't he?
06/05/00: Tom Green's hidden health-care lesson
06/01/00: Farming out the pork
05/30/00: The perils of medical quackery
05/26/00: Awarding medals by race is a disgrace
05/22/00: Have Simon & Schuster execs lost their minds!?
05/17/00: Sports plebes vs. plutocrats
05/15/00: Whitewashing Red China's record
05/12/00: Our mothers' hands
05/08/00: Focus on the real Waco
05/05/00: An Internet victim's sad story
05/03/00: Phony pooh-bahs of journalism
05/01/00: Zoo tragedy triggers dumb reaction
04/24/00: Ecoterrorists on the loose
04/19/00: Beware of Elian's psychobabblers
04/17/00: The truth about Erin Brockovich
04/13/00: In defense of an armed citizenry
04/10/00: Playing hardball with taxpayers
04/06/00: Read W.'s lips: More new spending
04/04/00: The liberal media-in-training
03/31/00: Sticking it to the children
03/28/00: Declaring war on HOV lanes
03/22/00: Clinton and the Echo Boomers
03/17/00: Is Bush a Liddy Dole Republican?
03/13/00: Katie and the politics of disease
03/10/00: Maria H, Granny D, and the media Z's
03/07/00: Bubba Van Winkle wakes up
03/03/00: Double standard for day traders?
02/28/00: Sluts and nuts --- and our daughters
02/24/00: Zoning out religious freedom
02/15/00: The Baby Brain Boondoggle
02/10/00: Buddhist temple untouchables
02/08/00: CDC: Caught Devouring Cash
02/04/00: Hillary's poisoned poster child
02/01/00: Corporate welfare on ice
01/28/00: The silly sound of silence
01/26/00: The Old Media meltdown
01/20/00: The pied pipers of KidCare
01/18/00: Our imperious judiciary
01/14/00: Tune out Columbine chorus
01/12/00: Dying to be an American
01/10/00: Time for smokers' revolt?
12/30/99: Reading, writing, PlayStation?
12/27/99: Fight money-grubbing mallrats
12/23/99: Christmas for Cornilous Pixley
12/20/99: Who will help the Hmong?
12/16/99: Shame on corn-fed politicians
12/13/99: EPA vs. the American Dream
12/09/99: Look behind the Pokemon curtain
12/06/99: Amateur hour in Seattle
11/30/99: Stop the Ritalin racketeers
11/23/99: Welfare for a sports fatcat
11/19/99: Jeb Bush's political ploy of the week
11/16/99: Ben & Jerry serve up junk science
11/12/99: A monumental waste of our veterans' resources
11/10/99: Tax-and-spend schizophrenia
11/05/99: Spooky Guy Haunts the Capital
11/02/99: Mourning the loss of the last Liberty Tree
10/27/99: AOL goes AWOL on parents
10/22/99: The persecution of Harry Potter
10/20/99: Don't doctor the law
10/14/99: The trouble with kids today
10/12/99: Pro-animal, pro-abortion, anti-speech?
10/07/99: Beltway press corps needs more skunks
09/30/99: ESPN overlooks athlete of faith, grace, and guts
09/27/99: Personal freedom going up in smoke
09/15/99: Farewell, "Miss" America
09/10/99: Will George W. work for a color-blind America?
09/03/99: Feminization of gun debate drowns out sober analysis
08/27/99: America is abundant land of equal-opportunity insult
08/10/99: Protect the next generation from diversity do-goodism
08/04/99: Sweepstakes vs. state lottery: double standards on gambling
07/21/99: "True-life tales from the Thin Red Line" (or "Honor those who sacrificed their lives for peace")
07/21/99: Reading, 'Riting, and Raunchiness?
07/14/99: Journalists' group-think is not unity
06/30/99: July Fourth programming for the Springer generation
06/25/99: Speechless in Seattle
06/15/99: Making a biblical argument against federal death taxes

© 2000, Creators Syndicate