Jewish World Review August 14, 2000 / 13 Menachem-Av, 5760

David Limbaugh

When hate speech is OK




http://www.jewishworldreview.com -- CAN ANYONE fairly deny that when it comes to name calling, insults and innuendo, conservatives are fair game? They are called racists and anti-Semites, and are said to be worthy of death, but no one seems to consider such words hate speech or even inappropriate.

Last Friday on CBS's "The Late Show with Craig Kilborn," a violent graphic flashed briefly on the screen. The words "Snipers Wanted" was superimposed over footage of George W. Bush accepting the Republican nomination at his party's convention in Philadelphia.

In response to complaints, CBS admitted that the display was "an inappropriate and regrettable graphic" and that CBS and its program producer Worldwide Pants, Inc. "deeply regret this incident" and would investigate it. Bush, in his usually gracious way, accepted the apology, and said he looks forward to seeing the results of CBS's investigation.

To me, this is not a laughing matter. You can bet that no one would have been laughing had Al Gore been the "target" of the "clip." Heads ought to roll at CBS.

Is this not reminiscent of militantly liberal film star (excuse the redundancy) Alec Baldwin's call to violence against Henry Hyde and his family on "Late Night With Conan O'Brien"? "I'm thinking to myself if we were in other countries, we would all, right now, all of us together ... would go down to Washington and we would stone Henry Hyde to death! We would stone him to death! Wait! ... Shut up! No shut up! I'm not finished. We would stone Henry Hyde to death, and we would go to their homes and we'd kill their wives and their children. We would kill their families." You cannot credibly contend that with that language Baldwin was kidding. Did anyone in the media or anyone else on the left condemn Baldwin for hate speech? By the way, the enlightened, love-filled audience was cheering.

An arguably more subtle statement was made by CBS's Dan Rather in his recent commentary about Al Gore's selection of Sen. Joseph Lieberman as his running mate. "The prevailing logic in the Democratic camp has been, anyone who won't vote for a Gore-Lieberman ticket because Lieberman is Jewish wouldn't have voted for it in the first place." I don't know if Rather was speaking for himself there or other proud owners of "the prevailing logic," but his statement bears scrutiny. Please read it again, carefully.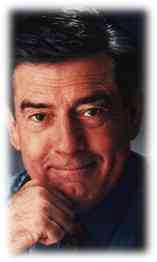 Rather
I ask you: How does it logically follow that those who won't vote for Gore-Lieberman because Lieberman is Jewish wouldn't have voted for them in the first place? Let's break it down. Anyone who won't vote for Gore-Lieberman because Lieberman is Jewish is (obviously) anti-Semitic. They (the anti-Semites) wouldn't have voted for Gore-Lieberman in the first place. The only people who wouldn't have voted for them in the first place are Republicans. Therefore, Republicans are anti-Semitic. I see no other plausible explanation.
Am I reading too much into this, or is Dan Rather or those he cites in the Democratic Party accusing conservative Republicans of being anti-Semitic?
On "The Early Show" Tuesday, Bryant Gumbel, referring to Lieberman's Judaism, asked his guest, former New York Gov. Mario Cuomo, "Do you fully expect Republicans, however quietly, however strategically, to try to make it an issue?"
Anti-Semitism isn't the only charge, as we all know. Democratic National Committee General Chairman Ed Rendell, referring to the Republican convention, said, "No four-day convention can overcome decades of Republican neglect of African-Americans."
This isn't just a "sticks and stones may break my bones" thing. False charges of bigotry and racism are very damaging. So are calls to violence, even if made by those self-exalting leftist brats in Hollywood who seem to escape all scrutiny because of their allegiance to the politically correct ideology.
When you think about it, aren't these false charges of racism almost as odious as racism itself? Isn't the chief complaint about so-called hate speech that it incites people to violence? Well, doesn't it appear that these false charges are doing the same thing, i.e., inciting people to violence? Or is it OK if the objects of their calls to violence are conservatives?
I truly wish that someone on the left would either explain why it is acceptable to label conservatives as bigots or publicly denounce those of their brethren who engage in this despicable practice.


JWR contributor David Limbaugh is an attorney practicing in Cape Girardeau, Missouri, and a political analyst and commentator. Send your comments to him by clicking here.

08/09/00: Bush: The pundits' enigma
08/07/00: GOP convention: Live or Memorex?
08/02/00: The first attack dog
07/31/00: The Cheney taint?
07/26/00: The anti-gun bogeyman
07/24/00: The raging culture war
07/19/00: Is Hillary 'Good for the Jews'?
07/17/00: How dare you, George?
07/12/00: Jacoby's raw deal
07/10/00: The perplexities of liberalism
07/05/00: Big Al and big oil
07/03/00: Partial-birth and total death
06/28/00: Some questions for you, Mr. Gore
06/26/00: Supreme Court assaults religious freedom
06/21/00: Waco: We are the jury
06/19/00: "Outrage" just doesn't quite cut it anymore!
06/14/00: Al Gore: Government's best friend
06/12/00: Say goodbye to medical privacy
06/07/00: Elian: Whose hands were tied?
06/05/00: Who, which, what is the real Al Gore?
06/01/00: Legacy-building idea for Clinton
05/30/00: Clinton: Above the law or not?
05/24/00: Not so fast, Hillary
05/22/00: Gore's risky, fear-mongering schemes
05/17/00: Can Bush risk pro-choice running mate?
05/15/00: Right to privacy, Clinton-style
05/10/00: Patrick Kennedy and his suit-happy fiddlers
05/08/00: Don't shoot Eddie Eagle
05/03/00: Congress caves to Clinton, again?
05/01/00: The resurrection of outrage
04/28/00: A picture of Bill Clinton's America
04/19/00: President Clinton: Teaching children responsibility
04/17/00: Elian, Marx and parental rights
04/12/00: Elian, freedom deserve a hearing
04/10/00:The fraying of America
04/05/00: Noonan: End Clintonism now
04/03/00: Bush: On going for the gold
03/29/00: Phantasma-Gore-ia
03/27/00: Treaties, triggers, tobacco and tyrants
03/22/00: Media to Bush: Go left, young man
03/20/00: Stop the insanity
03/15/00: OK Al Gore: Let's go negative
03/13/00: Deifying of the center
03/08/00: The media, the establishment and the people
03/01/00: McCain's coalition-busting daggers in GOP's heart
02/28/00: Bush's silver lining in McMichigan
02/24/00: A conservative firewall, after all
02/22/00: Bush or four more of Clinton-Gore?
02/16/00: Substance trumps process
02/14/00: The campaign finance reform mirage
02/09/00: President McCain: End of the GOP as we know it?
02/07/00: From New Hampshire to South Carolina
02/02/00: SDI must fly
01/31/00: Veep gores Bradley
01/26/00: The issues gap
01/24/00: GOP: Exit, stage left
01/20/00: Nationalizing congressional elections
01/18/00: Do voters really prefer straight talk?
01/12/00: Media's McCain efforts may backfire
01/10/00: Conservative racism myth
01/05/00: Just one more year of Clintonian politics
01/03/00: McMedia?
12/27/99: Al Gore: Bullish on government
12/22/99: Bradley's full-court press
12/20/99: Bush: Rendering unto Caesar
12/15/99: Beltway media bias
12/13/99: White House ambulance chasing
12/08/99: Clinton's labor pains
12/06/99:The lust for power
12/01/99: In defense of liberty
11/29/99: Are Republicans obsolete?
11/24/99: Say you're sorry, Mr. President
11/22/99: Architects of victory
11/17/99: Trump's tax on freedom
11/15/99: GOP caves again
11/10/99: Triangulation and 'The Third Way'
11/08/99: Sticks and stones
11/03/99: Keyes vs. media lapdogs
11/01/99: Signs of the times
10/27/99: The false charge of isolationism
10/25/99: A matter of freedom
10/20/99: Clinton's mini-meltdown
10/18/99: Senate GOP shows statesmanship
10/13/99: Senate must reject nuclear treaty
10/11/99: Bush bites feeding hand
10/06/99: Jesse accidentally opens door for Pat
10/04/99: Clinton and his media enablers
09/29/99: Reagan: Big-tent conservatism
09/27/99: The Clinton/Gore taint?
09/22/99: Have gun (tragedy), will travel
09/20/99: Hillary's blunders and bloopers
09/15/99: GOP must remain conservative
09/13/99:Time for Bush to take charge, please
09/10/99: Bush's education plan: Dubya confounds again
09/07/99: Pat, savior or spoiler?
09/02/99: Character doesn't matter?
08/30/99: Should we judge?
08/25/99: Dubyah's drug question: Not a hill to die on
08/23/99: Should Dubyah start buying soap ... for all that mud?
08/16/99: 'W' stands for 'winner'
08/11/99: The truth about tax cuts
08/09/99: Hillary: Threading the needle
08/04/99: What would you do?
08/02/99: No appeasement for China
07/30/99: Hate Crimes Bill: Cynical Symbolism
07/26/99: Itís the 'moderates', stupid
07/21/99: JFK Jr. and Diana: the pain of privilege
07/19/99: Smith, Bush and the GOP
07/14/99: GOP must be a party of ideas
07/12/99: Gore's gender gap
07/08/99: Clintonís faustian bargain: our justice
07/06/99: The key to Bush's $36 million
06/30/99: Gore: a soda in every fountain
06/28/99: 'Sacred wall' or religious barrier?
06/23/99: GOP must lead in foreign policy
06/21/99: Crumbs of compassion
06/16/99: Compassionate conservatism: face-lift or body transplant?
06/10/99: Victory in Kosovo? Now What?

© 2000, CREATORS SYNDICATE, INC.