Jewish World Review July 25, 2002/ 16 Menachem-Av, 5762

Larry Elder

Inglewood: Arresting
While White

http://www.NewsAndOpinion.com | "We say, 'Do the right thing, or else.'"

The Nation of Islam's Tony Mohamed issued that threat to the city of Inglewood. "There is 100 percent dissent among the people," said Mohamed, "and this city of Inglewood is on the brink of insurrection." Insurrection? A videotape of several police officers subduing a 16-year-old black suspect in that Los Angeles suburb sparked the controversy. The video appears to show excessive force against the young man, with a white officer slamming the seemingly limp suspect against the hood of a car, and later striking the suspect with his fist. Soon 500 protestors gathered in Inglewood, chanting, "No Justice, No Peace."

Enter New York's Reverend Al Sharpton, who promptly deemed the incident racially motivated. (In a city like Inglewood, virtually 100 percent black and Hispanic, this means that any stop by a white police officer automatically becomes racially motivated.)

Pardon the question, but from where, exactly, does Al Sharpton derive his credibility and moral authority? Years ago in New York, black teenager Tawana Brawley claimed white racists abducted and sexually assaulted her. She was found wrapped in a garbage bag with feces smeared on her and racial slurs scrawled on her body.

A grand jury, however, found the entire affair a complete hoax. Sharpton, nevertheless, claimed the incident true, and publicly accused then-assistant district attorney Steven Pagones of committing the act! Pagones sued. A jury unanimously found Sharpton liable, and the Reverend promptly announced his intention not to pay. Sharpton's buddies passed the hat and paid off his portion of the judgment. But, to this day, Sharpton refuses to apologize. An accommodating media never bothers to bring it up. What "white leader" would retain credibility after this hideous farce?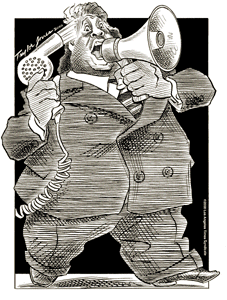 Sharpton
Martin Luther King III also came to town, and incredibly stated that he found "little" change in the country's race relations since his father's death 35 years ago. Really? Let's see. The Inglewood chief of police, Ronald C. Banks, is black. So is the city's mayor. Of the city's council members, half are black. Inglewood is a city of approximately 120,000 people, most of whom are black and Hispanic. While whites comprise 43 percent of Inglewood's police department, the majority are non-whites.
Nothing's changed? Many big city police departments, Los Angeles included, operate under federal consent decrees, which mandate diversity in hiring and promotion. In Los Angeles, as is the case with many police forces, nearly 50 percent of the street cops -- the kind suspects encounter -- are female and minority.
Nothing's changed? Police use of force, over the years, declined dramatically. In 1997, the FBI recorded 353 uses of deadly force by the police. In 1993, the figure stood at 455. Police shootings declined even though, from 1976 to 1998, the United States added 200,000 police officers. New York City now sees fewer fatal police shootings per officer than, say, San Diego, a city with a good law enforcement reputation.
The very reaction to the videotape demonstrates our nation's intolerance toward perceived acts of racism. The Inglewood videotape became not just a local, state or national story, but international news. Attorney General John Ashcroft promptly dispatched his top civil rights lawyer to Los Angeles, and the FBI announced an investigation. The Los Angeles County Board of Supervisors ordered a report. The Inglewood police department announced an investigation, as did the Los Angeles County Sheriff's Department. The L.A. County DA called for his own investigation, and the 16-year-old and his father filed a civil rights lawsuit.
Why is it important not to demonize all police officers, the overwhelming majority of whom serve competently and fairly, while risking their lives for us? Inglewood, as with many cities, faces a police manpower shortage. Denying cops due process, presumptively accusing them of racial animus, does not serve as ideal public service announcements for recruitment.
Widespread, knee-jerk distrust of the police testimony allows violent criminals to go free when their defense attorneys put the government on trial, a la O.J., for its alleged misconduct. Nationwide, the felony acquittal rate for criminal defendants stands at approximately 17 percent. But in predominantly minority areas like Washington, D.C., Detroit and the Bronx, primarily minority juries cut loose minority defendants at two to three times the national average. Many of these guys go out and commit violent assaults against the very civilians who freed them.
Expect the police to grow more passive. Ask Cincinnati, where following riots over alleged police brutality, crime -- especially in black areas -- soared. Why engage in proactive law enforcement when bad guys simply scream "harassment," expecting victicrat leaders to back them up?
Meanwhile, at nearby L.A. Unified School District's Fremont High School, one-third of incoming freshmen read at no better than a third-grade level. And 70 percent of the district's fourth-graders cannot read at grade level. Oh, well . . .
Enjoy this writer's work? Why not sign-up for the daily JWR update. It's free. Just click here.

JWR contributor Larry Elder is the author of the newly released, The Ten Things You Can't Say in America. (Proceeds from sales help fund JWR) Let him know what you think of his column by clicking here.

© 2002, Creators Syndicate