Jewish World Review Oct. 25, 2004 / 10 Mar-Cheshvan, 5765

<! — author — > Tucker Carlson <! — author — >

<! — *** begin right sidebar *** — >
<! — head shot here — >
<! —


<! — *** end right sidebar *** — > <! — title — >
Not voting is also a choice
<! — title — >

<! — attribution — > http://www.NewsAndOpinion.com | <! — attribution — > <! — BEGIN ARTICLE — > Last week I closed my TV show by pointing out that Americans shouldn't feel an obligation to vote in this year's presidential election. Voting is an honorable thing. But if you don't support any of the candidates in the race, there's no shame in staying home.


That's what I said. Many of you didn't agree. In fact, judging by the response we got, many of you were outraged. "Shame on you!" That was the essence of the average e-mail. Not one person wrote in to take my side.


So let me stand in my own defense. Deciding not to vote is not the same as not bothering to. It's a conscious choice, made for a reason. And the reason is this: A vote is an endorsement. When you punch the circle next to a candidate's name, you're backing that candidate's program. It's like signing a petition, or writing a letter of recommendation. You've just vouched for someone. You're now implicated in the decisions he's made, and in the ones he will make.


But what if you don't agree with those decisions? Then don't do it. Refuse to sign the petition. Decline to send the recommendation. Don't vote. Just because one of the candidates is going to win, doesn't mean you have to help.


Keep that in mind. Act on your conscience. And most of all, think for yourself. You'll honor our system best when you do.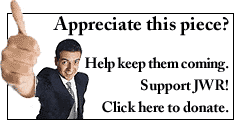 Every weekday JewishWorldReview.com publishes what many in Washington and the media consider must-reading. Sign up for our daily update. It's free. Just click here.

JWR contributor Tucker Carlson is a journalist, college instructor, public speaker and host and managing editor of the PBS show "Tucker Carlson: Unfiltered." His first book is "Politicians, Partisans, and Parasites: My Adventures in Cable News."(Click HERE to purchase. Sales help fund JWR.) Comment by clicking here.
<! — previous columns by author — >

10/12/04: The X Prize
09/27/04: Authenticity vs. hypocrisy
09/20/04: Appealing to the 'Alzheimer's vote' — no joke
09/13/04:Who are our soldiers in Iraq?
09/07/04: Racial diversity at the RNC
08/30/04: Here's a scary thought: Political expression has been criminalized and nobody seems to care
08/16/04: Heterosexuality as a political ploy
<! — copyright — >
© 2004, Tucker Carlson