Jewish World Review Sept. 7, 2004 / 21 Elul, 5764

<! — author — > Tucker Carlson <! — author — >

<! — *** begin right sidebar *** — >
<! — head shot here — >
<! —


<! — *** end right sidebar *** — > <! — title — >
Racial diversity at the RNC
<! — title — >

<! — attribution — > http://www.NewsAndOpinion.com | <! — attribution — > <! — BEGIN ARTICLE — > All week at the Republican National Convention in New York, I heard Republicans brag about the diversity of their convention. Fully 17% of the delegates are part of racial minority groups, they say, that's up from just 10% four years ago, and that's a good thing. I applaud it.


And race raises an interesting question, how do Republicans know that? How do they know the racial composition of their delegates?


The answer is obvious, someone asked.


Some member of the party asked each delegate, where did your ancestor comes from? What racial group do you belong to? When you think about it, those are odd questions for the Republicans to ask because the party, of course, opposes affirmative action and it does so, pretty much, on principle.


The promise of America is, we don't care who your ancestors were, we care about what you do. And, of course, the point of the civil rights movement was that it's wrong and immoral to elevate any one racial group over any other racial group.


Those are good principles and they're worth preserving, and you can do your part. The next time someone asks you, what is your racial identification, don't get mad. Simply smile and reply American Indian.


You may be, or you may not be, but that's not the point. It will confuse them and they deserve it.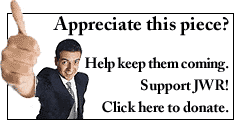 Every weekday JewishWorldReview.com publishes what many in Washington and the media consider must-reading. Sign up for our daily update. It's free. Just click here.

JWR contributor Tucker Carlson is a journalist, college instructor, public speaker and host and managing editor of the PBS show "Tucker Carlson: Unfiltered." His first book is "Politicians, Partisans, and Parasites: My Adventures in Cable News."(Click HERE to purchase. Sales help fund JWR.) Comment by clicking here.
<! — previous columns by author — >

08/30/04: Here's a scary thought: Political expression has been criminalized and nobody seems to care
08/16/04: Heterosexuality as a political ploy
<! — copyright — >
© 2004, Tucker Carlson