Jewish World Review June 2, 2004 / 13 Sivan, 5764

Mort Zuckerman
Get ready for that October surprise
http://www.NewsAndOpinion.com | It's the economy, stupid. for this presidential election, the Democrats revived the slogan that deposed the 41st president, George Herbert Walker Bush, in the expectation that the 43rd, George Walker Bush, would be equally vulnerable, given all the jobs lost on his watch. But if the economy and not Iraq becomes the big issue animating voters, George W. Bush may have the last laugh since the economic news is as good as the Iraq news is bad.

That's because the economy is, well, on a tear. New jobs are being generated in large numbers, income is growing at twice the rate of last year, and the acceleration is such that we will probably see 5 percent growth in the gross domestic product. The jobs reports of the past few months have changed market sentiment. Sixty-one percent of private industries surveyed have added workers. That's the highest in four years. Business confidence has surged to a 20-year high, and business spending is exploding, with even American manufacturing joining the party. Companies that once saved every nickel are laying out more and more money on capital equipment to meet orders growing at double-digit rates.

Capital spending now constitutes over 20 percent of the growth in GDP, including spending on inventories, which are being cranked up after being drawn down to their lowest levels in years in relation to sales. A significant signal of tightening conditions is that we have the slowest delivery times for goods in years. At this rate, capacity utilization should hit the critical 80 percent mark by summer.

Billions for millions. The capital-spending revival has blasted through the first stage--maintenance, repair, and information technology--and the second stage, replacing worn-out equipment. Now it's poised to enter the critical third phase, expansion. Record profits are pushing corporations to start new projects.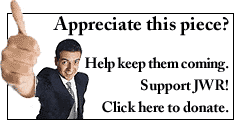 In fact, corporate profits have surged over 25 percent this year, on top of last year, when they exceeded $1 trillion for the first time ever. This is a function not just of cost restraint but of top-line revenue growth. Sales have improved in 58 of the 60 scoreboard industries, with the first back-to-back quarters of double-digit revenue growth in three years. And real national income is keeping pace. Household wealth has passed the $45 trillion mark, a new peak, surpassing the previous high of early 2000. Home prices continue to climb, after rising almost 20 percent in the past three years. This has provided an almost endless flow of spending money for Americans through mortgages and equity loans, which have increased by hundreds of billions of dollars a year, benefiting tens of millions of households through lower monthly mortgage payments, lower interest rates, and refinancing.

The productivity boom, meanwhile, has made it possible to keep inflation under 2 percent, saving consumers billions. This has been due not just to technology but to tighter management controls. Companies became much quicker to resort to layoffs; now they are rushing to hire.

A year ago, CEO s were despondent, shunning expansion, hunkering down, and concentrating on cutting costs and hoarding cash. No more. Today, CEO s are beating the drums about their prospects. They don't have to wait for new GDP numbers to know that there's something to celebrate, and so they are jumping in with both feet and stepping up capital spending and hiring. Over 50 percent of executives polled by the Conference Board in April anticipate hiring to rise in their industries, up from 15.8 percent a year earlier, and the highest level since 1991.

This is supported by help-wanted advertising in newspapers, which has been rising over the past three months.

The risk now, however, is an inflation breakout. Everyone knows what's happened at the gas pump. Commodity prices generally have shown a similar escalation. But so far, unit labor costs, the principal cost of doing business, have been declining, so it looks unlikely that overall inflation will accelerate. For unit labor costs to rise, labor demand will have to strengthen substantially over several quarters. The inflection point for inflation is not here for conditions to provoke a drastic change in Federal Reserve policy at least for several quarters.

We are on a trajectory toward extraordinary growth in the second half of 2004 that will beget stronger job and income growth, stronger retail spending, and accelerating demand at a time when businesses have cut costs, raising profit margins to their highest levels in years. Higher profits will beget more spending, which will beget more business expansion, which will beget more income for workers, which should trigger yet another increase in demand.

Don't look now, but the surging economy may be the real October surprise.
Every weekday JewishWorldReview.com publishes what many in Washington and in the media consider "must reading." Sign up for the daily JWR update. It's free. Just click here.

JWR contributor Mort Zuckerman is editor-in-chief and publisher of U.S. News and World Report. Send your comments to him by clicking here.

© 2004, Mortimer Zuckerman