Jewish World Review Oct. 20, 2003 / 24 Tishrei, 5764

George Will
Riding High in Colorado

http://www.NewsAndOpinion.com | DENVER On a credenza in the office of Colorado's governor sits a 1967 photograph of a teenager from Fort Worth. Bill Owens, a congressional page, stands on the U.S. Capitol steps, shaking hands with a congressman from Houston, George Herbert Walker Bush. In 1970, Rep. Bush ran for the U.S. Senate, and Owens, then a college student, ran Students for Bush in East Texas. The campaign aide with whom he worked was a whippersnapper named George W. Bush.
Today it is just 51 months until the Iowa caucuses and New Hampshire primary -- the 2008 caucuses and primary -- and some Republicans are looking to the eastern slope of the Rocky Mountains for a possible candidate to become the 44th president.
Owens, who in 1998 became the first Republican elected governor here since 1970, is in his second and final -- he is term-limited -- four-year term. In 1998 he barely won, 49 percent to 48 percent. In 2002 he won a 63-34 landslide. He is 52 and looks younger. He has no political plans. He has three children, hence an incentive to return to the private sector. But his record between 1998 and 2004 will, in 2005, lure many Republicans to his door, knowing that the National Review calls Owens the nation's best governor.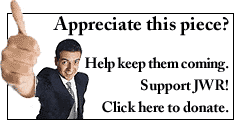 His is an economically vibrant and largely urbanized state. Half of all Coloradans live in Denver's metropolitan area; 80 percent live in the Front Range corridor from Boulder to Pueblo. Thanks partly to the flight of high-tech workers from misgoverned California, Colorado has the nation's highest per capita concentration of such workers. It ranks first among the states in percentage of college graduates, third in venture capital per capita and eighth in per capita income (up from 18th in 1990).
Today most state governments have budget crises. Colorado's difficulties are much milder than most. One year ago the Washington-based Cato Institute, a free-market think tank, graded all 50 governors. Owens was one of just two governors -- the other was Florida's Jeb Bush -- to receive an A.
Since 1992 a voter referendum has been required to raise Colorado's taxes. That has concentrated political minds on maintaining a business-friendly environment to generate revenue. The state's tax climate has facilitated what has been decorously called "entrepreneurial federalism," poaching businesses from states less hospitable to enterprise.
This has enabled Owens's Colorado, facing education and infrastructure spending needs associated with growth, to avoid the equation of conservatism and parsimony. In the 1990s, Colorado's per capita spending increased 44 percent, faster than in 35 other states. Yet Owens used his line item veto to cut 50 times more spending in his first five years than his immediate predecessors cut in 24 years.
Colorado law restricts the growth of per capita tax revenue to population growth plus inflation. This has prevented the spending or accumulation of surpluses. Instead, there have been tax cuts totaling almost $1 billion. To limit the collection of surpluses, Owens cut taxes on income, capital gains, interest, dividends and business property -- and opposed other governors' attempts to impose Internet taxation. And when his "paycheck protection" executive order ended the automatic deduction of union dues from state employees' checks, 70 percent of the members left the Colorado Association of Public Employees.
With regard to education, kindergarten through 12th grade, his school-choice program is even more ambitious than those in Milwaukee, Cleveland and Florida. Parents are given what the Washington-based Heritage Foundation, a conservative think tank, calls the nation's best report card on every school's performance. Owens says schools are rated on "more than 400 data points." If even a few schools in a district fail, struggling students from low-income families can apply for what will be, when the program is fully implemented, almost 20,000 tuition vouchers redeemable at public or private schools.
If a school fails to meet minimum standards three years in a row, the state replaces the school's management. And to give the new managers maximum latitude, the school becomes a charter school.
On a sparkling morning recently in the Mile High City, Owens stepped out onto the statehouse steps, where workers were moving a marker, the one that designates a particular step as precisely 5,280 feet above sea level. New data show that the marker belongs a few steps lower. That means Denver is even a bit more elevated than has been thought. Time will tell if that is a metaphor for Owens's political career.
Every weekday JewishWorldReview.com publishes what many in Washington and in the media consider "must reading." Sign up for the daily JWR update. It's free. Just click here.

George Will's latest book is "With a Happy Eye but: America and the World, 1997-2002" to purchase a copy, click here. Comment on this column by clicking here.

© 2003, Washington Post Writer's Group