Jewish World Review Nov. 28, 2003 / 3 Kislev, 5764

Debra J. Saunders
The Cat in the Hat strikes back
http://www.NewsAndOpinion.com | "No! No!" said the scold.
"I can't even look.
'The Cat in the Hat'
Is a very good book.
It should not be a movie.
Its 1,620 words are the magic.
If the Cat is Mike Myers,
The results will be tragic."
"Now! Now!" said the Fat Cat.
"That's what writers are for.
They'll add pranks and new plots
So the audience won't snore.
With double entendres and hairballs,
Booger, vomit and all that,
Why you won't even recognize
The cat in the hat."
"That's what's wrong," said the scold.
"That is no fun at all!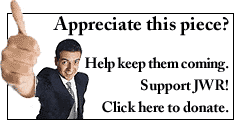 If you need to make over the Cat,
Then don't do him at all."
"There's big box office," said the Fat Cat,
"In the Dr. Seuss name.
We'll draw little kiddies
Without critical acclaim.
We'll make Mom into a single, working hottie.
Then we'll throw in a nanny
And a boss who is bonkers.
It will be quite uncanny."
"But look what you did
To a classic kids' book,"
The scold told the Fat Cat.
"You're a literature crook.
Your cat can't even rhyme.
And the toilet's a-flame.
Your so-called adult jokes
Are unfunny and lame.
Why, I even hear that
Either Thing One or Thing Two
Wanted to ditch the cat's hat
For an Elvis hairdo.
And who was the genius
Who wanted the Cat in the Cap
With the cap swiveled backward
To show off the strap?
Is that anyway to treat the Cat in the Hat?"
"Forget that darn cat," said the Fat Cat.
"There are deals to be made.
What the movie lacks in quality
Will be made up in trade.
Forget about fancy words.
Forget about plot.
Remember the bottom line:
There are things to be bought.
With promotional ties,
I can juggle
Febreez deodorizer
And Swiffer moppers,
And Smucker's,
And Frito-Lay,
And Burger King Whoppers.
A new Cat ride in Orlando
Will be all joy and niceness.
And the deal with Mastercard,
Well, to me, it's priceless.
Look at me!
Look at me!
It is fun to make dough.
I did it with The Grinch,
Also not a good show.
And still 'Cat' will draw children
Enthralled with the book.
And they'll whine and they'll pout
Until they are took.
And they'll beg for Cat burgers.
And they'll scream for Cat fries.
And their folks will pay up
Praying for my demise.
When the movie is over,
There won't be 1,600 words on their lips.
But my backers will remember
16 corporate sponsorships."
Every weekday JewishWorldReview.com publishes what many in Washington and in the media consider "must reading." Sign up for the daily JWR update. It's free. Just click here.

Comment JWR contributor Debra J. Saunders's column by clicking here.

© 2003, Creators Syndicate