Jewish World Review August 12, 2003 / 14 Menachem-Av, 5763

Art Buchwald
Don't call me
http://www.NewsAndOpinion.com | We were having a cookout in the backyard when the phone rang. I answered it and the man on the other end said he was offering me a free trip to Florida.
I screamed an obscenity and hung up.
Just as I was about to cook the hamburgers, the phone rang again and the man said, "I could have been a robber. You wouldn't know it unless you had our security system in your house."
I said, "Do you watch 'The Sopranos?'"
He said, "I do."
"Do you know what Tony Soprano calls someone he doesn't like? Well that's what I am calling you."
I turned the hamburgers over. My friend Wolf said, "You don't fool around when it come to junk calls."
"Why shouldn't I tell them off? They ring me when I'm in the bathtub, when I'm watching a ballgame and when I am having an argument with my kid."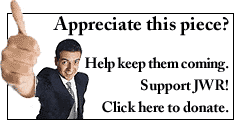 Wolf said, "You know they passed the 'Do Not Call' law. You can get on a list and if a marketer calls you, he could be fined thousands of dollars."
"How do I get on it?"
"It doesn't start until Oct. 1."
The phone rang again. Before the person spoke, I said, "I hope you get Lyme disease." There was a pause and I heard a voice say, "Is that any way to talk to your mother?"
"Mom, I didn't know it was you. I thought it was a junk call."
"Do I sound like a junk caller?"
"Of course you don't. After all, you're my mother."
"Well, if you ever wish me Lyme disease again, I'm going to hang up on you."
I said to Wolf, "That was my mother. Can I put her on my 'Don't Call' list?"
Wolf said, "I don't think so - she's not a telemarketer."
Someone said, "You burned the frankfurters."
Wolf said, "The junk phone people are fighting back. They say the 'Don't Call' list is a violation of the Constitution because they are entitled to freedom of speech."
I said, "What about my freedom of speech?"
"They have gone to court and asked for an injunction to stop the list from being enforced."
"I hope they lose."
I put baked potatoes on the grill and the phone rang. Wolf said, "Don't answer it."
"What if it's my mother testing me?"
"I never thought of that."
I picked up the phone. The lady said, "This is your last chance to get 50 percent off on a hot tub."
Since she was a woman, I was polite. "I don't need one."
"If you bought a hot tub, I could come over and we could drink martinis and soak in the hot water."
I said, "It was nice talking to you."
Wolf said, "What was that all about?"
I said, "Some junk calls are better than others."
Enjoy this writer's work? Why not sign-up for the daily JWR update. It's free. Just click here.


Art Buchwald's latest book is "We'll Laugh again." To commnt on his column click here.
08/08/03: Man vs. computer
08/05/03: Who remembers Watergate?
08/01/03: House for sale
07/29/03: Goodbye, my friends
07/18/03: THE BIG REWARD
07/03/03: Fund-raising dinners
06/26/03: Private Lynch as public Lynch
06/17/03: First Ladies books
06/13/03: Father image
06/10/03: STOP THE PRESSES!
06/05/03: OUT of GAS
06/03/03: Liars can make money
05/30/03: Spam the Greatest Generation
05/28/03: The Democratic solution
05/09/03: Suits on television
04/30/03: Americo-Shaft Airlines
04/22/03: More time with the kids
04/03/03: Rebuilding Baghdad
03/25/03: The Five Saddam Husseins
03/04/03: Tax free defense
02/27/03: Yelling at the TV
02/20/03: The fight for duct tape
02/14/03: Losing your identity
02/05/03: Whose reality is it?
01/17/03: Foreign Affairs for Dummies
01/15/03: No-news stories
01/13/03: The last pill
01/08/03: Come fly with me
12/20/02: Snooping for America
12/13/02: Give 'til it hurts
12/06/02: Pre-nursery is rough
11/20/02: The Princess and the butler
11/15/02: Preaching democracy
11/04/02: The blame game
10/30/02: The threat of golf
10/11/02: The wives of Hidden Valley
10/04/02: Will the real Saddam stand up?
10/01/02: To shred or not to shred
09/20/02: Plea-bargaining crime
09/17/02: Jack and Jane
09/12/02: Signing books is half the fun
09/10/02: To lose one's center
09/05/02: Moot court
08/29/02: I spy-you-spy
08/27/02: No smoking --- I love you
08/23/02: Ashes to ashes
08/14/02: Wall Street good news
08/09/02: Things in my attic
08/01/02: Damage control
08/01/02: Another icon
07/30/02: Draft all the lawyers
07/25/02: House for rent
07/23/02: Doin' time
07/19/02: The loophole game
07/16/02: Money as a game
07/11/02: Just desserts
07/02/02: So you want to win?
06/19/02: Homeland security parking
06/13/02: The Accused
06/11/02: Don't let them know
06/06/02: The FBI changes its ways
06/04/02: RED ALERT
05/28/02: Malice On Purpose: I'm scared!
05/23/02: Barbie Doll
05/21/02: Why Bermuda?
05/19/02: White collar prisons
05/15/02: Those in depression
05/09/02: Mother's Day in the market
05/07/02: Salary negotiations
04/26/02: Homeland security
04/24/02: The greatest breakthrough
04/18/02: Conflict of Interest
04/15/02: The Sign That Couldn't
04/11/02: It's Cherry Blossom Time
04/08/02: The Young Audience
03/31/02: Safe Deposit for Sale
03/26/02: Au Revoir to Soft Money
03/21/02: Andersen Defense Fund?
03/19/02: Celebrity kickers
03/15/02: A Mickey Mouse solution
03/13/02: Shadow government in the sandbox
03/07/02: The Way It Is
03/05/02: Not telling the truth
03/01/02: Book flogging
02/27/02: The players are mad

© 2002, TMS