Jewish World Review April 21, 2004/ 30 nissan, 5763

Mark Steyn
Stop whimpering, we're in a battle
http://www.NewsAndOpinion.com |
"This is the way the world ends / Not with a bang but a whimper." I'm saving the end of the world for my final column, but T S Eliot's words seem at least as pertinent to the present war - or "war", according to taste. It will be decided not by the bangs - whether in Fallujah or Bali or elsewhere - but by the whimpers. And, although the bangs have got a little louder in recent weeks, it's the whimpers that have become deafening.

Whimpers, whimpers everywhere. On American TV, the network sob-sisters tut sympathetically with the "Jersey Girls", four media-savvy 9/11 widows who've decided that metaphorically speaking George W Bush was at the controls of the planes that slammed into the World Trade Centre. Beltway reporters are a-twitter about the biennial doorstopper from The Washington Post's Bob Woodward, this time a huge book sourced up the wazoo portraying the President as a simpleton Christian avenger whose obsession with Iraq is a dark pathology as ingrained as paedophilia.

For some reason, this is being portrayed as some kind of dramatic revelation rather than media conventional wisdom for the past three years - or, come to that, the President's openly stated position: judging from the Campaign 2000 press coverage, he more or less campaigned as a religious halfwit bent on toppling Saddam. Does anyone actually read Woodward's books? I know I've never finished one. But every cable news channel is pretending to be riveted by the change to some alleged "Gotcha!" moment on page 743.

These days, the whimper of defeatism has several modulations. Sometimes it's a firm stand for some bogus principle, like that of Senor Zapatero, the Spanish Prime Minister who campaigned for office on a pledge to bring home his troops from Iraq unless the UN took over on June 30. Since then, Washington has agreed to let Kofi Annan's envoy put together the arrangements for the new transitional government. But Senor Zapatero has ordered the boys home anyway.

Sometimes the defeatist whimper emerges as a cocky metropolitan sneer, like that of Rod Liddle in last week's Spectator, braying that Iraq was better off under Saddam. Sometimes it comes out as whiney narcissism, like that of the White House reporters at President Bush's press conference last week. Bush wasn't on good form. He was punchy and rambling. But no matter how bad he was, the press corps looked worse. I happened to watch the speech from the United States Naval Academy where I was taking part in their foreign affairs conference and I can tell you the questions I got from the midshipmen were a lot smarter than the ones the President got from the blow-dried blowhards. What do you think your biggest mistake was? Are you going to apologise to the American people? Do you think you'll lose the election? If you had to name the most pathetic loser to occupy the Presidency, would you have difficulty coming up with a name other than your own? Etc, etc.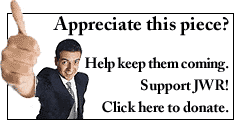 The biggest whimpers of all come from the 9/11 Commission. Have you been watching it? Me neither. But, when I catch the odd 10 minutes, I begin to feel as anti-American as Margaret Drabble and Harold Pinter. In its ghastly exhibitionist ersatz-legalism, it represents all the most malign features of American life. Tony Blair should have offered to loan Lord Hutton. Instead, a mélange of hacks and has-beens mugs for the cameras round the clock, and any piece of government paper from the summer of 2001 containing the words "plane" and/or "Muslim" is taken as evidence of Bush's complicity.

In fact, the so-called incriminating memo is notable mainly for its confirmation of the woeful state of US intelligence. The mention of "media reports" in the first sentence is a sly admission that you could have found out all the stuff in this "classified" briefing by reading the papers. If you'd read a piece by Kenneth Timmerman in the July 1998 Reader's Digest, you'd have been much more informed. Bush would have been better off spending half an hour in a well-stocked dentist's waiting room than reading CIA briefings, and the ensuing root-canal surgery would have been a lot less painful than listening to the Commission poseurs.

The only thing everyone seems to agree on is that counter-intelligence was severely hobbled by the so-called "wall" erected between the CIA and FBI. Who put up this "wall", or at any rate extended it several feet higher than previously? Why, former Clinton-era Deputy Attorney-General Jamie Gorelick. Has she testified before the Commission? Well, no, because she's on it. That would seem to be a prima facie conflict of interest. But instead she's huffing indignantly about being a victim of "partisan rancor". "Partisan rancour" is wholly improper unless directed at Bush and Ashcroft.

The other bombshell revelation from the hearings was trampled into oblivion in the stampede to Woodward's book and other flim-flam. Commissioner John Lehman remarked that "it was the policy [before 9/11] and I believe remains the policy today to fine airlines if they have more than two young Arab males in secondary questioning because that's discriminatory."

In other words, when Mohammed Atta's five-man terrorist crew went to check in that morning at Boston, the airline would have been punished by the Federal Government if it had questioned more than two of them. And that still applies today. And, if you were to suggest changing that regulation, you'd be drowned in whimpers from the New York Times, the Democratic Party and the ethnic grievance industry.

It's often said that the terrorists are only a "small minority" of Muslims. True. But, when it's well connected with everyone from the House of Saud to Pakistan's nuke maestro A Q Khan, a small minority can do a lot of damage. Likewise, the whimperers are only a minority of the American people, but they're even more plugged in - in the media, in politics, in the academy. The only relevant Vietnamese comparison is this: then as now, for America it's a choice between victory or self-defeat.
Every weekday JewishWorldReview.com publishes what many in Washington and in the media consider "must reading." Sign up for the daily JWR update. It's free. Just click here.
JWR contributor Mark Steyn is North American Editor of The (London) Spectator and the author, most recently, of "The Face of the Tiger," a new book on the world post-Sept. 11. (Sales help fund JWR). Comment by clicking here.
04/19/04: Clarke apologizes, but not for everything
04/11/04: Don't let Iraq's tempest in a teacup rattle you
04/05/04: The flip-flopper hip-hopper: John Kerry gets down — and not just his poll numbers
03/25/04: We tried appeasement once before
03/16/04: The Spanish dishonored their dead
03/10/04: Beware of the fruitcakes in government
03/01/04: It's the war, stupid
02/23/04: So which would America rather have: Pretty Boy or Long Face?
02/17/04: The Default Democrat from another world
02/10/04: Kerry won't scare any of the big beasts
02/02/04: The Kerry biography: He's risen without trace
01/26/04: Mad Dr. Dean jolts Kerry campaign to life
01/21/04: Undoing the party herd
01/13/04: llIegals the political 'untouchables'
01/05/04: Don't leave Saddam trial to the 'jet set'
12/30/03: Doers and disparagers
12/23/03: Spates of denial
12/16/03: Defiant? He's a Ba'athist who won't bath
12/10/03: Rummy speaks the truth, not gobbledygook
12/02/03: War on terror can't stop with Iraq
11/24/03: It's not Vietnam and Bush is no Kennedy
11/12/03: There is a Cold War between the US and the EU
10/28/03: Muslim paranoia: Enemies made us impotent!

10/28/03:The CIA scandal is important not because it put an agent's life at risk — it didn't — but because it shows that US Intelligence is either obstructive or inept
10/08/03: Palestinian death cult
09/29/03: Bring on the capitalists
09/22/03: Here comes General Clark, his policies will follow shortly
09/17/03: Don't wait for government protection
09/11/03: Predators aren't looking for peace
09/02/03: This is Hillary's moment — You go, girl!
08/29/03: There are now calls for greater UN involvement in Iraq. That's the last thing the country needs
08/26/03: There's only one hyperpower — so everything is our fault
08/04/03: The White Man's Burden
07/29/03: Bill Clinton got this right
06/25/03: It's Mullah time!
05/07/03: What counts is what a guy does when he's not talking
04/30/03: It's named UNSCAM for a very good reason!
04/14/03: Movers and shakers have moved on to the next 'disaster'
03/25/03: Give Saddam credit
03/18/03: 'Eurabia' will have to look after herself
02/27/03: Death wish
02/19/03: The curtain will come down on the peaceniks
02/10/03: Let's quit the UN
02/03/03: Columbia reality-check
01/29/03: Go forth and multiply
01/09/03: America's fake identity crisis
12/31/02: GOP underperforms, but Dems are laughable
11/26/02: A bombing pause --- for 12 months!?
10/30/02: Stop making excuses for Muslim extremists
09/27/02: The more inventively you try to ''explain'' the Islamist psychosis as a rational phenomenon to be accommodated, the more you risk sounding just as nutty as them
08/23/02: Battered Westerner Syndrome inflicted by myopic Muslim defenders
08/09/02: Friends in low places
08/02/02: Armageddon out of here
07/26/02: Enjoy the ''scandal'' while you can, lads
07/16/02: Arafat is toast; Bush knows it --- so why doesn't the rest of the world?
07/10/02: Hey, FBI: So, denial really is a river in Egypt!
06/20/02: A fight to the finish
06/11/02: Rock, royalty a good match
05/31/02: Unless we change our ways ... the world faces a future where things look pretty darn good
05/24/02: Sweet land of liberty: Britain and Europe have free governments, but only in the US are the people truly free
05/14/02: Extreme hypocrisy in the pursuit of 'peace' is ...
05/10/02: The home office of extremism
05/01/02 Slipping down the Eurinal of history: France, the joke is on you
04/23/02 It's time to snap out of Arab fantasy land
04/16/02 Mideast war exposes 'ugly Europeans'
04/09/02 Arafat has begun his countdown to oblivion. Now it's time to crush the Palestinian uprising
03/27/02 The good, the bad and the Gallic shrug
03/20/02 Grand convocation of the weird

© 2004, Mark Steyn