Jewish World Review Feb. 9, 2004 / 17 Shevat, 5764

Debra J. Saunders
The wrong man
http://www.NewsAndOpinion.com | Four years ago, private investigator Paul Ingels thought Death Row inmate Kevin Cooper might not be guilty.

A former Pomona cop, Ingels was involved in the manhunt when Cooper was wanted for the 1983 Chino Hills murders of Douglas Ryen, Peggy Ryen, their 10-year-old daughter, Jessica, and their 11-year-old houseguest Christopher Hughes, as well as the near fatal attack of Josh Ryen, 8. Later, when Ingels was hired to investigate the case by Cooper's defense lawyers, he was skeptical, but signed on in the conviction that it was his job to follow the facts wherever they led — guilty or not guilty.

"I was astounded more than anybody else when some of the facts started to show that perhaps he wasn't guilty," Ingels told "48 Hours" in 2000.

While prosecutors were fighting Cooper's push for DNA testing (which was not available when he was tried in 1985), Ingels supported Cooper. "There's a lot of evidence that says that perhaps he didn't do it. There's enough evidence that we need to pursue that evidence before we kill him, that's for sure," Ingels said on national television.

Now that a Feb. 10 execution date has been set — after the DNA tests were conducted and implicated Cooper — I wondered what Ingels was thinking today. So I tracked him down and asked.

"It proves, beyond any shadow of a doubt, that Kevin Cooper was involved in the murders," Ingels told me over the phone.

What about the claims that Cooper was framed? "They're just making this stuff up" was Ingels' assessment. As for Cooper's latest set of lawyers: "They're doing everything they can, professional, unprofessional, ethically, unethically," Ingels opined. "The end justifies the means."

Take their argument that Gov. Arnold Schwarzenegger should order testing of Cooper's DNA to see if the test-tube blood preservative EDTA is present. You see, the DNA tests Cooper demanded found his DNA in the Ryen home (which Cooper said he never entered), on cigarette butts in the Ryen car (which Cooper said he never drove) and on a T-shirt that also contained Douglas Ryen's blood. The presence of EDTA, the lawyers argue, would prove that police tampered with evidence.

"The EDTA test costs approximately $1,000 and can be completed in under three weeks," reads the Cooper clemency petition. "There is no justification for executing Mr. Cooper before this simple test is conducted."

But it isn't simple. EDTA is frequently used in hand creams, laundry detergent and other products. It could show up if the DNA came in contact with an EDTA-laced product. Prosecutors would be insane to agree to a test that could be inconclusive or, worse, misleading.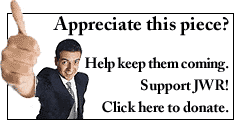 The corker: If the new tests don't implicate investigators, the results would not change a thing, as far as Cooper's lawyers are concerned. They will only use facts to muddy the waters.

What I can't figure out is why Hollywood and the hard left have chosen such a violent man as their cause celebre against the death penalty.

Is it because he's now a "writer"? Somehow, the thug huggers always fall for inmate artistes. Start with Jack Abbott, who killed a waiter just weeks after author Norman Mailer helped him obtain early release from prison.

Is this the thanks Schwarzenegger gets for not blocking the parole of a convicted murderer, Jeri Becker, in a case that, unlike Cooper's, at least had some arguably mitigating circumstances?

Or does Cooper simply provide a happy excuse for state Democrats and union bosses to take a cheap dig at Schwarzenegger in a full-page newspaper ad headlined "Does the state of California have the wrong man?"

Maybe Cooper boosters actually believe, as his lawyers told The Chronicle, that Cooper is "an intensely gentle and kind man who has found his peace with the system and the injustice that has been done to him."

For whatever reason, Cooper's fans have paved a dangerous path. Cooper is a violent man. He killed two adults and two children. He raped a teenage girl in Pennsylvania. He was caught after the Chino Hills killings because a woman went to Santa Barbara County authorities to report that Cooper had raped her at knifepoint. This "intensely gentle and kind man" has been in trouble with the law since he was 7 years old. He has been institutionalized so many times that he has escaped 12 times, and still was able to kill and rape by age 25.

If Coopers' supporters simply opposed the death penalty, one might respect their conviction. Instead, they invite the release of a violent criminal. They can't ask a governor to stop an execution because a man was framed and then allow that man to remain in prison.

They're the ones who have "the wrong man."
Every weekday JewishWorldReview.com publishes what many in Washington and in the media consider "must reading." Sign up for the daily JWR update. It's free. Just click here.

Comment JWR contributor Debra J. Saunders's column by clicking here.

© 2003, Creators Syndicate