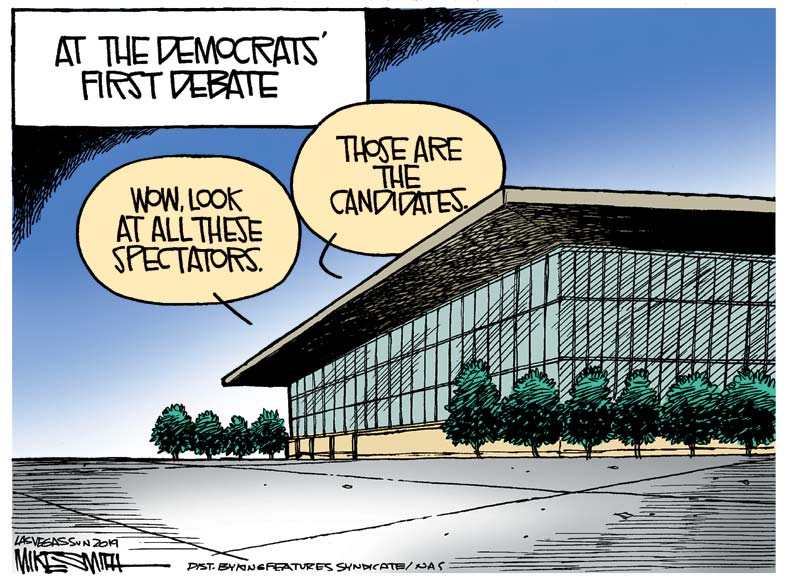 WASHINGTON — What will happen tonight if former Vice President Joe Biden pulls his pants down onstage when it is finally his time to speak?
I am told that he will have one minute to answer the first question — one minute! Moreover, so will all the other candidates. Apparently there will be a plenitude of one-minute answers whizzing through the Miami auditorium.
What a week this is going to be. For my part, I think it will be better for the former vice president to pull down his pants onstage than to answer whatever his questions might be.
His goal will be, I believe, to effect a "breakout moment" for his campaign. That is what the political commentators call it, a "breakout moment." Such moments are very important when the field is as congested as this one, with the candidates limited to one-minute answers. Former Gov. Jeb Bush should have tried the pants drop back in 2016.
If Biden pulls his pants down onstage, Democrats in the audience will remember him above all the other candidates. He will, indeed, have broken out, as the experts say. I am sure of it.
What if one of the female candidates is competitive in this undraping project? Or if one of the lady senators turns the table on the male candidates and hits a moderator with her handbag? It is not out of the question. Actually, nothing is out of the question this week.
I am told that rumors have been running riot in Washington ever since I took up the subject of the two dozen candidates seeking the Democratic nomination. One of the hottest rumors is that good ol' Joe has more tricks up his sleeve. Not only will he pull his pants down; he will be wearing shorts with a catchy slogan. The catchiest yet is "Vote for Biden. He's An Item." Well, I thought it was a little flat, too, when I first heard it, but I am told it grows on you. Wait until Thursday night.
There have been some complaints from progressive quarters that if Biden pulls his pants off, he will not be acting presidential. I think Congressgirl Alexandria Ocasio-Cortez objected. I understand she is the smartest of the freshmen Democrats in Congress, and she even carries a copy of her college transcript to prove it, along with her driver's license, in the event that bartenders on Capitol Hill doubt her age.
Now, Joe's critics have a point about his pants. No one in the history of this country has ever tried to effect a "breakout moment" during a presidential campaign by removing his pants, or even his shirt, though I thought Sen. John Kerry was headed in that direction when he ran for president in 2004. Certainly his wind surfing was an effort in that direction, and was it also skateboarding? Kerry was a lot of laughs. I miss him.
Now the mainstream media have been very dutiful about keeping us au courant about the Democrats' efforts to retire President Trump in 2020. I especially liked when the Washington Post reported over the weekend, "Candidates have been digesting briefing books and consuming hours of old debate footage." If any of the candidates comes to the debates this week with a mouthful of briefing books and old debate footage, I say he or she has gone too far. We must keep things in perspective. "Briefing books" are to be read. "Old debate footage" is to be analyzed. This passage was ridiculous. I think sometimes the members of the media get too close to their subjects.
The media have for days been speaking of Wednesday and Thursday's clutter of one-minute answers filling the Miami air as leading to two nights of "blockbuster ratings." This I doubt. I am not even certain that I will be in the audience. Whatever Joe does with his pants, it sounds like chaos to me.
It is unfortunate for the 23 Democratic candidates — now 24, with a Mr. Sestak from Pennsylvania throwing his hat into the ring Sunday — that the president chose last Tuesday to kick off his campaign. He did it in Orlando, Florida, and 20,000 delirious supporters showed up. There were many more outside clamoring to get in. He wowed them for well over an hour.
The Democratic candidates are lucky to turn out an audience of a few hundred for their appearances. Tonight, the Democrats ought to concede en masse.
Every weekday JewishWorldReview.com publishes what many in the media and Washington consider "must-reading". Sign up for the daily JWR update. It's free. Just click here.
(COMMENT, BELOW)