http://www.NewsAndOpinion.com | The Renaissance Vinoy Hotel in St. Petersburg, Florida may have been the Winter Camelot during the Kennedy years, but its grace has waned. I asked for 15 minutes beyond noon check-out so that I could use my room to change from my fancy meeting duds into travel clothes for the 4+ hours flight home. The front desk personnel would not budge, even as Jackie Kennedy and Leticia Baldridge glared indignantly from their portraits across the lobby.
So, I skulked into the women's room in the Vinoy lobby to change. Unpacking, changing and repacking requires a bit more time in this female respite than usual. Women came and left, and the cleaning personnel did a turn or two as I huddled in the corner, only Eddie Bauer khakis and a Skyway roller bag away from homelessness.
Enveloping the restroom comings and goings of hotel guests, luncheon patrons, and maids, in old-fashioned uniforms from an era of graciousness that belied the curtness of the front desk staff, was Muzak, playing the Carpenters' 1974 hit, "I Won't Last a Day Without You."
I can recite the lyrics to all the Carpenters' tunes, including "Won't Last," an underrated song that peaked at #11 during its 9 weeks in the Top 40. Bobbing my head to the Muzak and forming the words to the mediocre Carpenters' mediocre hit are autonomic functions.
But, astonishingly, the Savoy was loaded with Carpenters fans that day. Unaware of my quiet presence in the corner, occupants let fly. Each entrant sang along with the loud Muzak, to wit, "When there's no getting over that rainbow, When my smallest of dreams won't come true, I can take all the madness the world has to give, But I won't last a day without you."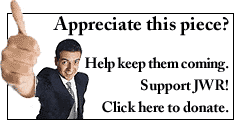 My favorite restroom karaoke came from a woman who was washing her hands during the song's big finale of "Without you," repeated several times. You don't often see a 55+-year-old woman in a St. John knit suit performing the Carpenters with Chaka Khan soul.
While the Vinoy caters to heartless beneficiaries of Republican presidents' tax cuts, I sensed Democrats succumbing to participatory joy. One woman in NOW's standard issue flowing skirts and dangling earrings, with hanging chads from both, sang aloud, "Day after day I must face a world of strangers, Where I don't belong, I'm not that strong." Blasphemy! What happened to Helen Reddy and "I am woman, hear me roar"?
Walt Disney once wrote that when we sing in the bathroom, it is because the child in us comes alive. The Disney theorem explains Bobby Darin's "Mack the Knife." We are like children reciting the pledge, it has a nice rhythm, but we have no idea what the words mean. Same with Mack, to wit, "Sukey Tawdry, Ooh . . . Miss Lotte Lenya . . . Five'll get ya ten old Macky's back in town." Disney's hypothesis also explains "The Ballad of Davy Crockett" being #1 for 5 weeks. Belting out "Dav-EE, DAVEE CROCKETT, KING of the wild frontier," with a twang is grand fun. And Sheb Wooley's "The Purple People Eater"? PPPPP! Need I say more?
Story songs grab the inner child too. Bobby Goldsboro's "Honey" would have them tearing up in the restroom. Tennessee Ernie Ford's "Sixteen Tons," made even libertarians grateful for the union movement. Tony Orlando & Dawn have had us tying yellow ribbons since the 17 weeks "Tie a Yellow Ribbon 'Round the Ole Oak Tree" was at #1 in 1973.
But why such intimacy with a schmaltzy Carpenters' song? Because corny love songs are indelibly etched in our brains. We are hard-wired for romance, eternal love and the Righteous Brothers. The #1 radio song of the past 50 years is "You've Lost That Loving Feeling," something we lip-synched long before Tom Cruise braved it a cappella in "Top Gun."
The songs that have lasted the longest at #1 include, "Sincerely," The McGuire Sisters, "You Light Up My Life," Debby Boone, "Memories Are Made of This," Dean Martin, and "Cherry Pink and Apple Blossom White," Perez Prado. Top songs by decade include Whitney Huston's "I Will Always Love You," and would I love to see that one performed in the women's room at the Vinoy. Roberta Flack's immortal love songs are now recycled by the hip-hop crowd. "Killing Me Softly" is perhaps, though, not the best idea for lyrics in Detroit's 8-Mile crowd.
Something happened in the 1980s. Love songs ceased their dominance. The #1 song for the decade? Olivia Newton-John's "Physical." Only one phrase of the song comes to mind, "I want to get physical." No melody. No easy recall. We murmur and mumble along with a tune that's not karaoke-friendly. By the 1990s, Will Smith's "Getting Jiggy Wit It" was a top hit. Today's #1 hit: Nelly's, P. Diddy's and Murphy Lee's "Shake Ya Tailfeather." The artists sound like Mack the knife characters. I'll pass on witnessing this song in the ladies' room.
The Carpenters captured the ladies that day because their simple lyrics ache of deep-felt love, of love beyond condoms, choice and the crassness of hooking up. The Carpenters, the McGuire Sisters, and Dean-o sang of once-in-a-lifetime love. A love that lets your guard down. A love that surrenders all pretense. Love zings all ages, sizes, shapes and political affiliations. Love is no respecter of persons, and neither are its songs. These tunes are perfect-we lose ourselves in the rapturous moment of love and we never let go, not of the lyrics, and not even in the ladies' room.
Enjoy this writer's work? Why not sign-up for the daily JWR update. It's free. Just click here.

JWR contributor Marianne M. Jennings is a professor of legal and ethical studies at Arizona State University. Send your comments by clicking here.