Jewish World Review Dec. 19, 2000 / 22 Kislev, 5761

Mona Charen

First false move

http://www.jewishworldreview.com --
NO ONE has mastered the fine Yiddish art of chutzpah like the Rev. Jesse Jackson. Having spent November and December stoking the fires of racial suspicion and hatred, he then places a call to President-elect Bush to offer his guidance on racial "healing."

Like all good Republicans, Bush took the call. He should not have. He should have told an aide to tell the Reverend that he expected a public apology -- after which he'd be delighted to meet personally with him to talk about reconciliation.

But my guess is that Bush is like so many other Republicans -- utterly naive about his opponents. He probably believes that once Jackson gets to know him, he'll realize what a fine fellow he really is, and Jackson will understand how wrong he was to accuse Bush of all those terrible things.

And they were terrible. Jackson compared so-called "voting irregularities" in Florida with hoses turned on civil-rights marchers during the 1950s. The word "Selma" has been on Jackson's lips almost daily since the election. Without evidence, he has asserted that there was "a systematic plan to disenfranchise black voters." Jackson also claimed to have found "a clear pattern of voter suppression" in Florida.

Now, if these charges were true, they would be clear violations of the Voting Rights Act, as well as a violation of the Fourteenth Amendment. Yet despite dozens of lawsuits filed in the aftermath of the election, there has been none alleging that blacks were turned away from the polls, or stopped by roadblocks, or "suppressed" in any other fashion (in fact, black voter turnout was up 65 percent since 1996 -- a higher percentage of blacks than whites voted on Nov. 7).

USA Today looked into the roadblock story and found that the one near Tallahassee was a routine check for faulty auto equipment, which resulted in police issuing citations or warnings to 18 drivers -- six to minorities and 12 to whites. The so-called "roadblock" near Tampa turned out to be a police attempt to catch a burglar who had victimized a black neighborhood.

But Jackson charged ahead. He compared the Supreme Court's decision to Dred Scott, and offered that George W. Bush was becoming president through "Nazi tactics."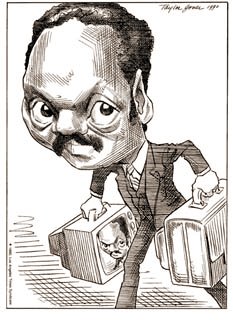 Jesse, being Jesse
These accusations have found fertile ground in the black community, where rumors are flying that blacks were turned away from polling places in droves. One caller to C-SPAN said President-elect Bush needs to investigate the plan she has heard about again and again to prevent all black people from voting in 2004. Many black Americans are nearly apoplectic with rage over what they perceive to be a completely illegitimate election.
Much has been said and written about the cynical desire on the part of "civil rights" leaders like Jackson to keep alive the sense of victimization among black people. But rarely has the tactic been on such obvious display.
What is almost equally dismaying, though, is the tendency on the part of Republicans to accept these "spokesmen" as legitimate. As Deroy Murdoch has written in a brilliant piece published in JWR, Republicans "always postulate the good intentions of our opponents while seeming secretly dubious about our own goodwill."
In truth, Murdoch argues, Republicans are actually "too nice." Sen. John Ashcroft conceded defeat to a dead man rather than seem unkind to his widow, who will take the seat in January. Republicans, caricatured as skinflints who would take crusts of bread from the mouths of starving children, have fallen all over themselves to outspend Bill Clinton on health care, school to work programs and even the IRS.
The Miami Herald has reported that at least 455 felons voted on Election Day in Florida. Has any Republican uttered a peep about it? No, it might turn out that half of them were black and then Republicans would be accused of racism.
Here's what Republicans need to understand -- the left is not benevolent or well-motivated. It does not accuse you of racism because it believes it to be true, but rather because it gives the left status and power. And when leading Republicans do things like take Jesse Jackson's calls after he has leveled scurrilous and utterly baseless charges, they enhance the power of demagogues and ensure that this corrupt process will never end.

Comment on JWR contributor Mona Charen's column by clicking here.

© 2000, Creators Syndicate