Jewish World Review

No idea is too wacky for imprint entrepreneurs

http://www.jewishworldreview.com | (KRT) They put Arianna Huffington on T-shirts, Larry Flynt on teddy bears and helped catapult Georgy Russell's fledgling gubernatorial campaign into the national spotlight.

Cafe Press, in San Leandro, Calif., is a major force behind some of the wackiest merchandise in California's bizarre, on-again, off-again Oct. 7 recall election.

This is where Russell, the 26-year-old software programmer from Mountain View, Calif., got the signature thongs to advertise her candidacy. And it's the place where dozens of other budding entrepreneurs have gone with bright ideas they want to see slapped on T-shirts, lunchboxes or mouse pads to celebrate the election. At Cafepress.com people can buy the "Chickenator" tank top (a reference to Schwarzenegger's reluctance to debate) or the "Me for Governor" T-shirt.

Campaign wear has been a fixture on the election scene since the first candidate produced a button with his name on it. But just as the Internet has transformed other aspects of life, it's made it possible for just about anyone to set up his or her own small business, which is exactly the idea behind Cafe Press.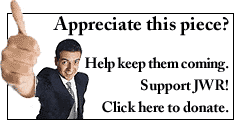 Founded in 1999 by two Northwestern graduates, Maheesh Jain and Fred Durham, Cafe Press uses a simple business model: People provide their own logo and the company will print it on any of 50 different items. The products are displayed and sold through the Cafe Press Web site. Cafe Press charges a set price for each piece; the sellers keep any amount above that price. For example, if a T-shirt is $10, the seller can offer it for $15 and will make a $5 profit on each shirt sold.
"We are a service that makes it very easy for business to do business online," said Jain, the company's vice president of sales and marketing.
The company is privately held and does not release sales figures, but Jain said it turned a profit in 2001 and she expects to ship more than a million items this year.
When Russell decided to run for governor she knew she wanted to sell merchandise to help spread her message - and raise money for her campaign. So far, she's raised "a couple of thousand dollars" with the Georgy for Governor line of merchandise.
"The thong has definitely been a standout," she said. Russell said she even donated one to the Oakland Museum, which is collecting recall-related items for possible display.
While political merchandise has been this season's hot seller, Cafe Press got its start selling items for bands. Now, it is the official purveyor of merchandise for popular comic characters Dilbert and Cathy as well as for hundreds of non-profit groups.
There's a constant buzz at the company's Hayward, Calif., warehouse as workers rush to turn out a steady stream of T-shirts, mugs, bumper stickers, clocks and dozens of other company offerings.
In one area, a group of women press decals on to fresh white T-shirts. In another corner, huge rolls of bubble wrap hang in the air within easy reach for workers wrapping mugs and other breakables for shipment. In yet another section, a man is carefully punching out bumper stickers.
Since products are manufactured on demand, there's no telling what might be coming down the Cafe Press production line on any given day. On this particular day, the hottest item is Wesley Clark logo wear. Clark is the former NATO commander who recently announced he was jumping into the Democratic race for president. More than a half-dozen bins are stacked with "Draft Clark" mugs, T-shirts and bumper stickers.
Jain said in some way their production line is a reflection on what's happening in the world at any particular moment.
Before the war in Iraq began, Cafe Press' production line was turning out anti-war themed T-shirts and bumper stickers, Jain said. But as soon as U.S. troops began fighting, sentiment shifted, and merchandise with slogans supporting U.S. troops was in high demand.
The company has recently started two new ventures: book publishing and music publishing - the latter of which harkens back to the days when bands were the bulk of Cafe Press' clients.
"Seeing the creativity of people - that's the most fun," Jain said. "We give people a chance to play out their passions."
Every weekday JewishWorldReview.com publishes what many in Washington and in the media consider "must reading." Sign up for the daily JWR update. It's free. Just click here.
Comment by clicking here.

© 2003, San Jose Mercury News . Distributed by Knight Ridder/Tribune Information Services