Jewish World Review

Sept. 11 sculpture distributed exclusively to families sold on eBay

http://www.jewishworldreview.com | (KRT) A memorial sculpture made of steel from the wreckage of the World Trade Center has been sold on the Internet, infuriating relatives of Sept. 11 victims and the artist who created the poignant tribute.

The 5-inch sculpture - one of nearly 3,000 created from mangled steel beams - sold for $255 in an auction on the eBay Web site last week.

It wasn't immediately clear how one of the sculptures - distributed exclusively to victims' families - got into the hands of the company that hawked it on eBay.

"What a shame," said Lee Ielpi, whose firefighter son, Jonathan, died on Sept. 11. "It's tasteless that someone would want to profit from a memorial."

Bryan Hunt, the Tribeca sculptor who created the simple memorials, called the online auction "grotesque."

"It's very sad and extremely disturbing," he said.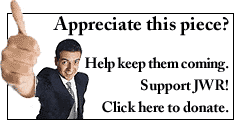 The simple sculpture, along with a card reading "to honor those who were lost," was listed for sale by Cargo Largo, a dealer of items lost or damaged during shipment.
The company's president apologized for the sale and offered to donate the proceeds to a victims' fund or to ask the winning bidder to sell the sculpture back.
"We're not interested in profiting off someone's misfortune," said Dee Pack, president of the Independence, Mo.-based company. "We are very sensitive to what happened in New York."
Pack didn't know how Cargo Largo got hold of the tribute. Pack's company listed the sculpture last week with photos and a brief description.
"This would be a great piece to display in your home or office," the description read. "May we never forget those who were lost on that tragic day."
The sculptures were created last year to lend solace to victims' relatives.
Ielpi helped arrange for the steel beams to be sliced, and Hunt came up with the minimalist design, which includes the inscriptions "Recovered Steel World Trade Center" on one side and "September 11, 2001" on the other. The sculptures were sent free to all relatives who responded to an official letter.
The bidding started at $9.99 and rose to $255 before the piece was sold to someone identified on the Web site by the user name "leehamilton."
An eBay spokesman said the company placed a moratorium on sale of Sept. 11-related items for 90 days after the attack but would block the sale only of items considered "offensive."
Every weekday JewishWorldReview.com publishes what many in Washington and in the media consider "must reading." Sign up for the daily JWR update. It's free. Just click here.
Comment by clicking here.

© 2003, New York Daily News Distributed by Knight Ridder/Tribune Information Services