Jewish World Review

Supermarket checkout lines have been virtually Arnold-free — 'til now

http://www.jewishworldreview.com | (KRT) Actor Arnold Schwarzenegger's decision to run for governor was expected to unleash the kind of screaming tabloid headlines that have dogged high-profile politicians from Bill Clinton to Gary Hart.

But supermarket checkout lines have been virtually Arnold-free. Until now.

America's leading tabloid publisher, which last year reached a lucrative business deal with one of Schwarzenegger's earliest business partners, has filled checkout stands not with salacious scandal - but with a glowing tribute to the Republican candidate and Hollywood star.

American Media Inc., which publishes the National Enquirer and Star tabloids, has produced a 120-page glossy magazine called "Arnold, The American Dream." The $4.95 magazine is crammed with flattering photographs and auspiciously hit the streets as Schwarzenegger heads into the final lap of his campaign for governor in the Oct. 7 recall election.

The company - which never identifies itself in the ad-free magazine - has spread a half million copies around newsstands and supermarkets across California and the rest of the nation.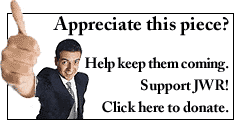 While the publication comes across as a slick advertisement for Schwarzenegger's campaign, political reform experts said it doesn't qualify as an independent expenditure supporting the actor because it's for sale.
"This may be a first of its kind in the country," said Robert M. Stern, head of the Center for Governmental Studies in Los Angeles. "I can't think of a candidate that has been so popular that they were actually selling something like this."
Last year, American Media reached a lucrative deal with Schwarzenegger business partner Joe Weider to buy his fitness publishing empire - which includes Muscle and Fitness, Shape and Men's Fitness magazines - for $350 million. Weider, one of the actor's key mentors, brought Schwarzenegger to America from Austria and helped make the aspiring star a bodybuilding icon. Schwarzenegger still writes an "Ask Arnold" column for Muscle and Fitness, and Weider is supporting his longtime friend's campaign.
American Media spokesman Richard Valvo said the company produced the magazine not to help the candidate, but to boost its profits.
"We're out to sell books and make money," he said. "We have no other agenda with Arnold that I know of."
Valvo didn't know why the magazine contained no identification of American Media as the publisher and said it was rushed into production because "Arnold is hot."
Many people expected U.S. tabloids to dig up unflattering stories about Schwarzenegger's alleged affairs the same way they introduced America to Clinton lover Gennifer Flowers and Gary Hart paramour Donna Rice.
Over the years, American Media's papers have splashed unflattering stories on Schwarzenegger across their covers. Two years ago, the Enquirer ran a sensational story about the actor's alleged seven-year affair with an actress from "Little House on the Prairie."
But since the actor has entered the race, Schwarzenegger has been virtually absent from the pages of American Media's top-selling tabloids. The Enquirer and Star have run no negative stories on the actor or even reprinted their scandalous allegations about Schwarzenegger's affairs and mistreatment of women in the entertainment industry.
Instead, American Media's Weekly World News tabloid ran an "exclusive" this week about a politically savvy alien throwing his otherworldly support behind Schwarzenegger. Under the screaming headline "Alien backs Arnold for Governor!" the extraterrestrial not only lauds the actor, but vows to help amend the U.S. Constitution so the Austrian-born candidate can some day run for president.
Valvo said the fact that the tabloids had produced no scandal stories had nothing to do with the company's links to Weider or Schwarzenegger and everything to do with what sells.
"What's on our covers is hot stories of the week," he said. "Him on a political campaign is not a hot story."
Every weekday JewishWorldReview.com publishes what many in Washington and in the media consider "must reading." Sign up for the daily JWR update. It's free. Just click here.
Comment by clicking here.

© 2003, San Jose Mercury News . Distributed by Knight Ridder/Tribune Information Services