Jewish World Review

Frequent flier with same name as fugitive can't escape hassles

http://www.jewishworldreview.com | (KRT) Who is Jose Luis Alvarez?

Jose Luis Alvarez would love to know, because that other Jose has been making his life miserable since 1996.

If that sounds confusing, imagine what it's like to be a regular Joe - which everyone calls him - who gets hauled off to a Miami International Airport detention room after each international business trip because he and a fugitive share the same name and birthday.

Imagine being a 39-year-old, Presbyterian Church-going Kendall, Fla., father of four with a loving wife, two dogs, a pet bunny and a career that supports them in comfortable, suburban style, who is "treated like a criminal" even though he carries documents from U.S. Customs officials assuring that he is not the bad guy who apparently has eluded Interpol for the better part of a decade.

Imagine anticipating a return to the country Aug. 23 with two of your kids - who have been visiting relatives in Argentina - knowing how rude and threatening the federal agents who hold you for 15 to 45 minutes every time can be.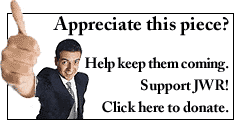 "The anxiety starts building on the plane," says Alvarez, an Argentine-born naturalized U.S. citizen who grew up in Virginia as the stepson of an American foreign service officer and who travels Latin America for British Telecom. "I'm mad. I want to hit someone."
It began in 1996 when Alvarez got off a plane in Miami from Brazil, was handcuffed by federal agents and taken past hundreds of onlookers to a detention room.
"You don't know what just happened," he told his wife, Nicole.
It was terrifying, recalls Alvarez, a soft-spoken man who claims his sole brush with the law involved a speeding ticket as a University of Florida student.
After the handcuffing incident, he complained to U.S. Customs. K. Brian London, then the director of the administrative services division in the office of investigations, wrote on Oct. 17, 1996, to Alvarez that he was "not on record as a criminal suspect."
He advised Alvarez to carry the letter stating as much, which "will differentiate you from the records with the same or similar name as yours."
The letter didn't help. Alvarez has been stopped once in Atlanta and always at Miami where, he says, "the treatment is horrendous." He knows little about his namesake because, he says, authorities won't give him any information.
Since 1996, Alvarez has written dozens of letters to what used to be Customs and the Immigration and Naturalization Service - both absorbed by the Department of Homeland Security - and to Sen. Bob Graham, D-Fla., and Rep. Lincoln Diaz-Balart, R-Fla.
Since, he's gotten responses nearly identical to the London letter from a long roster of succeeding federal officials, but nothing changes. Media attention to his plight in 1998 accomplished nothing (though he hopes it will now).
Zachary Mann, a Miami-based spokesman for the Customs and Border Patrol arm of the Homeland Security department, said he couldn't discuss the case because of confidentiality.
"We will look into the matter and try to work with Mr. Alvarez toward an amicable solution," he added, offering to meet personally with Alvarez, whose travails have sufficiently troubled Graham and Diaz-Balart that over the years, they too have searched for answers.
"The U.S. Customs Service needs to correct the deficiencies in its computer system so that innocent and hard-working Americans can travel without the fear that they will be embarrassed when they return to the U.S.," Diaz-Balart said via e-mail on Friday.
"He's legit," said Jill Greenberg, Graham's press secretary. "We've contacted Customs and he's supposed to carry a letter from them … . But if you have a name 1/8similar to a fugitive's3/8, you can have a problem. What do you do?"
For a brief time - one trip - Alvarez, who's moving to Jacksonville this month but will still travel through MIA, thought he'd found relief. After an initial rejection, Alvarez secured an INSPASS: a card that permitted him to use a palm-print reading device to enter the country.
INS pulled the plug on the system after the Sept. 11 terrorist attacks.
Last July, a distraught Joe Alvarez again wrote Diaz-Balart following a London trip.
`As the agent scans my passport, she begins to tell me that I will need to go to the detention room … . She refused to even open (the Customs letter) … . I bite my lip and … remain furious but calm. So instead of `Welcome to the U.S.,' it becomes, `Welcome to your nightmare …' "
Diaz-Balart, despite having advised Customs last summer that Alvarez "continues to undergo the same humiliating situation every time he travels," has gotten little satisfaction. Likewise Graham.
"Please allow me to express our empathy for Mr. Alvarez," Nicole Nason, assistant commissioner/Office of Congressional Affairs, wrote to Graham last July. "We certainly understand how discouraged and dissatisfied he has been … . We only ask that he try to understand that the TECS (Treasury Enforcement Communications System) and NCIC (National Crime Information Center) … produce `near' matches to ensure that all possibilities are viewed … . The importance of this crucial assessment process has been magnified by the tragedy of Sept. 11, 2001 … .
"We hope Mr. Alvarez will agree and continue to graciously cooperate with our inspectors as he has always done."
Alvarez feels anything but gracious.
Three weeks ago, Alvarez wrote to Homeland Security chief Tom Ridge that he has been detained "about 50 times, even after showing the enclosed (Customs) letter to the officer at the passport inspection booth. The inspector at U.S. Passport Control refuses to read the letter or even consider letting me go home. This is just not right.
"Often times, customers of my company … may travel with me … and it is very embarrassing to have them see me experience these detentions and explain the reason for them."
Once, he said, he went so far as to bellow, "This is wrong!" in the detention room.
The response? "Siddown!"
Alvarez says the children returning from Argentina, Gianina, 11, and Alejandro, 8, know of his plight and know not to panic if he's detained.
One potential, if drastic, solution: Alvarez is considering changing his name to Palanza, his mother's maiden name.
"I don't want to," he sighed. "It complicates everything."
Every weekday JewishWorldReview.com publishes what many in Washington and in the media consider "must reading." Sign up for the daily JWR update. It's free. Just click here.
Comment by clicking here.

© 2003, The Miami Herald Distributed by Knight Ridder/Tribune Information Services