Jewish World Review

Democrat buys, preserves Ronald Reagan birthplace in Ill.

http://www.jewishworldreview.com | (KRT) TAMPICO, Ill. - For 27 years, this village's slight fame as Ronald Reagan's birthplace has been sustained by two local couples, the Nicelys and the McElhineys. Now, with the Nicelys dead and the McElhineys ailing, keeping Tampico's name on the map has fallen to an unlikely outsider, a big-time lawyer from Chicago - a Democrat, no less.

Few of this community's 772 residents have known that Wayne Whalen, a partner at the international firm Skadden, Arps, Slate, Meagher & Flom, has been leasing since January the two connected Main Street buildings that house the Ronald Reagan Birthplace and Museum. Last Friday, Whalen just as quietly bought the properties from the estate of Helen Nicely.

Whalen made the purchase, terms of which he declined to disclose, through a partnership formed with his wife, Paula Wolff, a former president of Illinois' Governors State University and key aide to former Illinois Gov. James Thompson. But Whalen said Wolff, the Republican of the power couple, "is not involved in this at all."

Asked how Wolff feels about his Tampico turn, he said, "She's tolerant of me."

Whalen, 64, said his involvement reflected his interest in history and in resolving questions about the future of the museum. Previous efforts to sell the place or obtain government funds had failed, and concern had heightened after Helen Nicely, 88, died on June 19.

Reagan is the only U.S. president born in Illinois.

"Other than Lincoln's Tomb (in Springfield, Ill.), it's probably the most significant piece of historical geography in Illinois," said Whalen last week from his Chicago office. "If it should burn down or fall into disuse, it would be terrible."

In Tampico, 120 miles west of Chicago, the McElhineys, Amy, 79, and Lloyd, 81, are expressing relief that a new owner is in place. They don't know how much longer they can hold the Reagan fort.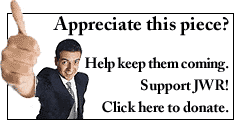 The couple have been spending seven days a week, eight months a year (and weekends in February and March, and by appointment in December and January) showing tourists the second-story apartment where the nation's 40th president was born on Feb. 6, 1911, and the memorabilia in the spare museum and gift shop below.
Because of health problems, Amy can no longer climb the narrow 20 stairs leading from the street to the apartment. So Lloyd, despite his health problems, handles the upstairs tours and she the downstairs ones when visitors trickle into Tampico.
"It's been a blessing because it keeps us occupied and interested, and we've loved it," said Amy of an unpaid stint that began 5 ½ years ago and is in addition to her duties as president of the local historical society. "But we need to cut back."
"Seven days a weeks is too much anymore," said Lloyd, a former farmer and manager of the local elevator who has never associated retirement with ease. "But we would be available as docents a few days a week."
Which, in turn, is a relief to Whalen. He has no plans to abandon his job or Chicago to shepherd tourists up those stairs. He hopes the McElhineys will continue their involvement as much as they can.
"They are such extraordinarily dedicated and informed people," Whalen said.
Helen Jalovec, of Florida, likes to visit Tampico when she and her husband, Leonard, vacation along the Ronald Reagan Trail. The trails links 11 communities in northwest Illinois associated with young "Dutch" Reagan and his itinerant family, including a boyhood home in nearby Dixon.
"It's not like other presidents' birthplaces. It's so down to earth," she said. "I like this place better than the one in Dixon, but then they don't have this couple to show you around."
The McElhineys have become experts on Reagan and confess to being a little obsessed with him. As tour guides, they are informative, if somewhat reverent, about the Reagan clan.
"People feel as though they have visited the Reagans," Amy said. "It's a warm and fuzzy tour."
The Birthplace draws an average of 15 visitors a day and fewer than 4,000 a year. In Dixon, the Ronald Reagan Boyhood Home, a $4 million complex bankrolled by a wealthy Florida couple, Norman and Harriet Wymbs, draws about 13,000 visitors a year. Through a foundation, the Wymbses plan to spend $11 million to convert a school once attended by Reagan into the Dixon Historic Center, said the foundation's president, Bill Jones.
Whalen has no grand scheme to compete with Dixon for tourists or outspend the Wymbses. He plans to keep the Birthplace as is, but he hopes to restore the space below to a bank. He believes it was a bank when Reagan was born; the McElhineys say it was a bakery then and the bank came later.
Few would have pegged Whalen as a closet Reaganite. He was an adviser to the late Chicago Mayor Harold Washington and has long backed other liberal Democratic candidates and causes. But he said he was impressed with the Republican Reagan as president and his admiration has grown as he had read extensively about Reagan's life.
The McElhineys were quick to volunteer for Birthplace duty. They are big Reagan fans: Lloyd has long admired Reagan's politics and Amy his good looks.
"I thought he was the handsomest man in the movies when I was young," she said.
"When I was a child, we moved a lot," Illinois native son Ronald Reagan has written. A classic understatement: He and his family -- father Jack, mother Nelle and brother Neil --lived in numerous rented quarters in Tampico, Chicago, Galesburg, Monmouth and Dixon.
Reagan has said his father, a salesman of shoes and other goods, sought better work. But historians suspect Jack, an alcoholic, couldn't keep a job.
The future president was born on Feb. 6, 1911, in a Tampico apartment. The family moved that May to a nearby house, living there until late 1914. They returned to Tampico in 1919, then moved to Dixon in late 1920.
Tampico 100 years ago was a vibrant town of some 1,200 people, many drawn by the building of the Hennepin Canal. Reagan wrote of his boyhood there:
"My existence turned into one of those rare Huck Finn-Tom Sawyer idylls. There were woods and mysteries, life and death among the small creatures, hunting and fishing; those were the days when I learned the real riches of rags."
Every weekday JewishWorldReview.com publishes what many in Washington and in the media consider "must reading." Sign up for the daily JWR update. It's free. Just click here.
Comment by clicking here.

© 2003, Chicago Tribune Distributed by Knight Ridder/Tribune Information Services