Jewish World Review

Washington Mutual is 1st national chain to abandon ATM fee

http://www.jewishworldreview.com | (KRT) Washington Mutual wants to be known as a friendly thrift, an inclusive thrift, a thrift that loves everybody - even if they don't have an account.

So the Seattle-based company that moved into New York and New Jersey when it paid $5.2 billion for Dime Bancorp last year announced Wednesday that it has repealed its $1.50 ATM surcharge for non-customers.

The company, one of the nation's top mortgage lenders, made the decision about a year ago for the bulk of its nationwide network of about 1,500 branches. Last week it cut the fee in the Chicago area, where it is expanding.

Now the 123 former Dime branches have been brought into the fold, along with 22 new branches in New York and New Jersey.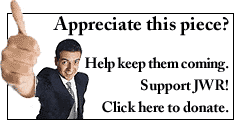 Washington Mutual is the only major bank or thrift with a nationwide presence that does not levy an ATM surcharge.
"It is very unusual," said Greg McBride, spokesman for bankrate.com, the online publisher of personal finance information.
Banks earn nearly $2.3 billion a year from ATM surcharges, he said, and such charges "have grown in popularity and magnitude."
Washington Mutual Chief Executive Kerry Killinger has said dropping the surcharge has helped it add accounts in other states. When non-customers use the machines they see Washington Mutual ads for home loans and free checking accounts.
Bankrate.com has found that 89 percent of all banking institutions charge non-customers a surcharge. Nearly three out of four charge $1.50 or more. Those that don't are for the most part very small regional banks and community banks, McBride said.
Consumers who go to an ATM that's controlled by a bank where they do not have an account will often pay not one, but two fees. A single ATM withdrawal of even as little as $20 can cost as much as $4.
The surcharge goes to the company that controls the machine. The other fee is from the ATM user's own bank. Banks usually call it an out-of-network fee or foreign ATM fee.
Some politicians - including New Jersey Gov. James McGreevey, when he was mayor of Woodbridge, N.J. - have tried to ban ATM surcharges in their municipalities, but courts have rejected the bans.
Banks generally reward their regular checking account customers by giving them free ATM access while making non-customers pay a surcharge to offset the cost of deploying and maintaining the machines.
Fleet Bank, New Jersey's top deposit holder, charges a $1.50 surcharge to non-customers, but spokesman Steve Lubetkin points out that people can switch to Fleet and have the benefit of a network of nearly 800 ATMs in New Jersey where they are not charged.
Washington Mutual, by comparison, has about 40 ATMs in New Jersey and plans to add eight new branches with ATMs.
Fleet waives foreign ATM fees for some holders of premium accounts, Lubetkin said.
At Wachovia, the second-largest deposit holder in New Jersey, "ATM fees are an issue we grapple with," said representative Fran Durst.
Being new to Manhattan, Wachovia has few ATMs there. So at its financial centers opened this year, the bank offers those who open a new checking account a way to offset that disadvantage. The usual charge for using another bank's ATM is waived. And customers get a rebate of up to $5 a month to compensate them for other banks' surcharges.
Every weekday JewishWorldReview.com publishes what many in Washington and in the media consider "must reading." Sign up for the daily JWR update. It's free. Just click here.
Comment by clicking here.

© 2003, The Record Distributed Knight Ridder/Tribune Information Services