Jewish World Review

Maker of high-calorie 'diet' ice cream to pay $1.2 million settlement — but only in scoops

http://www.jewishworldreview.com | (KRT) Sweet tooths who sued after being deceived about the devilishly low fat and calories in Big Daddy Ice Cream have gotten their just desserts.

DeConna Ice Cream, the Orange Park, Fla., maker of Big Daddy, agreed to a $1.2 million settlement of a class-action lawsuit filed in 2001 in Broward (Fla.) Circuit Court that accused the company of understating the ice cream's fat and calorie content.

The catch: Most class members — some presumably watching their weight — stand to be rewarded with free ice cream. Big Daddy's sales took off when word spread among dieters in Weight Watchers about the "reduced-fat ice cream."

"At least they're offered that," said Vince DeConna, DeConna Ice Cream's owner, addressing the irony of dieters receiving free ice cream. "People who purchased the product never said they disliked the product. They were unhappy it did not have the calories it said it had. It had more calories than they thought."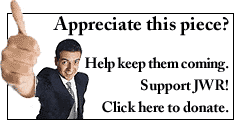 Big Daddy's label claimed just 2 grams of fat and 100 calories for each 12-ounce serving. In truth, the ice cream had 7 grams of fat and 300 calories.
DeConna conceded the label was wrong and increased the serving size for each 12-ounce container to three from one.
"Now they'll be able to enjoy the product, but in the appropriate serving size," said Howard A. Tescher, a Fort Lauderdale, Fla., lawyer who filed suit on behalf of Plantation, Fla., resident Mardi Cohen.
"They did something bad and they should be held accountable," Cohen said.
The settlement covers consumers who bought Big Daddy from May 1, 1995, through June 17, 2001, when the mislabeling became public. More than 3 million cups of ice cream were sold during the period, Tescher said, but the number of consumers who purchased the ice cream isn't known.
Consumers still holding receipts will receive a full refund or coupons for two free cups of ice cream for each cup purchased. About $25,000 of the $1.2 million settlement has been set aside for refunds, Tescher said.
Tescher acknowledges most consumers no longer hold receipts. Therefore they are eligible to receive two free cups for each cup purchased, up to a maximum of 12 cups. All class members who submit claims also will receive four coupons for 25 cents off.
Cohen said she "went for the refund," rather than accept free ice cream. "I would never eat that ice cream. It just put a bad taste in my mouth," she said with a laugh. She declines to reveal the amount of her refund.
Big Daddy also will be tested quarterly by a laboratory to confirm the accuracy of its label under terms of the settlement.
Claim forms can be obtained at www.deconna.com/settlement.htm. Deadline for claims is Dec. 31.
Every weekday JewishWorldReview.com publishes what many in Washington and in the media consider "must reading." Sign up for the daily JWR update. It's free. Just click here.
Comment by clicking here.

© 2003, Miami Herald Distributed by Knight Ridder/Tribune Information Services