Jewish World Review

Bush lobbies to expand police powers to go after terrorists

http://www.jewishworldreview.com | (KRT) QUANTICO, Va. — Nearly two years after the attacks that led to the FBI's rebirth as a counterterrorism force, President Bush told agents Wednesday that he wants to give them more tools to battle terrorists.

Civil libertarians warned that the powers agents already have threaten the freedoms of all Americans.

Bush's proposed changes to the Patriot Act would make it easier to obtain information about and deny bail to suspected terrorists and to secure the death penalty for those convicted, Bush said at the FBI Academy about an hour south of Washington, D.C.

Congress, he said, should "untie the hands of our law enforcement officers so they can fight and win the war against terror."

As he prepared to commemorate the second anniversary of the Sept. 11 attacks on the World Trade Center and Pentagon, Bush provided a broad outline of efforts to fight back, from creation of the Department of Homeland Security to the invasion of Iraq.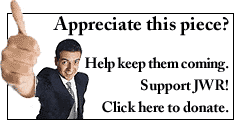 His counterterrorism policies, both foreign and domestic, are coming under increased criticism from those who say the administration talks a good game of security, but is not doing and spending enough to back it up.
Rep. Dick Gephardt of Missouri, a Democratic presidential candidate, told supporters this week that Bush "has tried to ride on this issue for, frankly, the last two years." But, he added, "you are not safer today than you were before 9-11, because this president has not done the right things to make you safer."
Opponents are already organized against Bush's hopes for expanding the Patriot Act that Congress passed shortly after the attacks.
The American Civil Liberties Union, which is financing radio ads dubbed "Keep America Safe and Free," said agents already have the authority for "sneak and peek" searches without notification, as well as easier access to records from bookstores, libraries, and medical and educational facilities.
"It's unfortunate that President Bush would use this tragic date to continue to back what are the increasingly unpopular anti-civil liberties policies of Attorney General (John) Ashcroft and the Department of Justice," said Laura Murphy, director of the ACLU's Washington Legislative Office.
Members of Congress from both parties are already looking to roll back parts of the Patriot Act, indicating a tough road ahead for Bush's proposals.
Speaking not far from an elaborate fake town that the FBI academy set up to practice raids, Bush said many of the proposed changes are already being used in other types of investigations.
For example, administrative subpoenas for records - issued by law enforcement agencies instead of a judge or grand jury - are used in medical fraud and child abuse investigations the president said, arguing that because speed is of the essence in terrorism case, the same rules should apply.
Drug traffickers are presumptively denied bail, Bush said, looking to apply the same rules to suspected terrorists.
And Bush noted that the federal death penalty does not currently apply in certain kinds of crimes linked terrorism, such as sabotage of a nuclear plant.
"For the sake of the American people, Congress should change the law and give law enforcement officials the same tools they have to fight terror that they have to fight other crime," he said.
Before his speech, Bush toured a recently opened lab at the FBI Academy, which is next to a major Marine base. Bush said the lab symbolized the bureau's new priority - preventing terrorism.
Bush also praised the agency for improving the sharing of terrorism threat information across government. Investigations have found that the FBI, the CIA and other agencies failed to compare notes that, taken together, could have revealed the al-Qaida hijacking plot.
Speaking just before the president, Ashcroft praised the FBI's efforts.
"We live in a time when liberty is under assault by terrorists," said Ashcroft, who recently completed a national tour defending the Patriot Act.
Bush cited a litany of achievements since the Sept. 11 tragedy, including creation of the Department of Homeland Security, which combined nearly two dozen agencies into one group designed to thwart terrorist attacks.
In addition, stricter screening of baggage, stronger cockpit doors, and the use of air marshals will help prevent the kinds of hijackings that took place two years ago, Bush said.
Bush also defended his counterterrorist approach to foreign policy. That includes his decision to invade in Iraq, where guerilla war since the toppling of Saddam Hussein continues to take American lives and erode Bush's political standing.
Terrorists are "desperately trying to throw Iraq into chaos," Bush said, because they know the spread of freedom threatens the way of life they envision.
"The forces of global terror cannot be appeased, and they cannot be ignored," Bush said. "They must be hunted, they must be found, and they will be defeated."
When it comes to defending the homeland, Bush's critics said, his administration has not provided enough money for local police, fire, and emergency service departments.
Sen. Joe Biden, D-Del., said this week that the United States is safer today, but "if for no other reason than Americans are more alert." In addition to criticizing what he called the underfunding of homeland security, he questioned Bush's approach to foreign policy.
"This administration's priorities, policies and actions demonstrate how they have too narrow a definition of what constitutes our national security," Biden said.
Bush's speech continued a weeklong remembrance of the attacks of Sept. 11, 2001, including a prayer ceremony and moment of silence planned for Thursday. Bush spent the early part of the week on international relations, asking Congress for an additional $87 billion, most of which would be used to resist guerilla fighters in Iraq and rebuild the country. The request also covers Afghanistan, which the U.S. invaded in 2001 to dislodge the Taliban government that harbored al-Qaida.
While members of Congress indicated that the money will probably be approved, they will press the administration over how it will be spent. And they criticized Bush for failing to develop a post-war plan, leaving U.S. soldiers vulnerable to attacks.
Bush said the United States has done its best to prevent another Sept. 11 but must always be ready for the worst.
"Even with all these measures, there is no such thing as perfect security in a vast and free country," Bush said.
Every weekday JewishWorldReview.com publishes what many in Washington and in the media consider "must reading." Sign up for the daily JWR update. It's free. Just click here.
Comment by clicking here.

© 2003, Dallas Morning News Distributed by Knight Ridder/Tribune Information Services